Luxman L-509X integrated amplifier Page 2
The Luxman L-509X is the first audio component I've reviewed for which the operative descriptor is
tender
. Without my going all red-faced and teary on you, the L-509X seemed to enjoy reproducing the music as much as I enjoyed listening to/through it. Record after record, the L-509X illuminated every important aspect and area of the recording. It lived and breathed in the air
around
the notes, consistently creating big, solid, spatially natural images that presented me with: a) the roundness and complexity of each instrument, b) a holistic sense of the musicians' intent, c) excellent touch and texture and impact, and d) a unified whole, regardless of musical style or dynamic level. This was essentially the same quality of sound I'd heard in the Luxman/Adirondack Audio room at the 2017 New York Audio Show, and I had the same response I had then: feeling riveted to my seat as I heard music reproduced with not only excellent fidelity, but naturalness and something approaching real emotion. The devil is in the details? With the L-509X, what was in the details were God and Tetsuo Hayakawa.
The Luxman never lost its composure, even when "Larks' Tongues in Aspic, Part One" barked and leered and stormed. It seemed to relish the challenge of faithfully reproducing complex arrangements and all manner of tonally and texturally specific percussive sounds, from triangle, gong, and snare drum to temple blocks and timpani. When Muir whacks his ice bell in "Easy Money," the pitch-dipping metal dome resonated in a burst of tone, texture, and projection—radiant, real, and solid as a rock.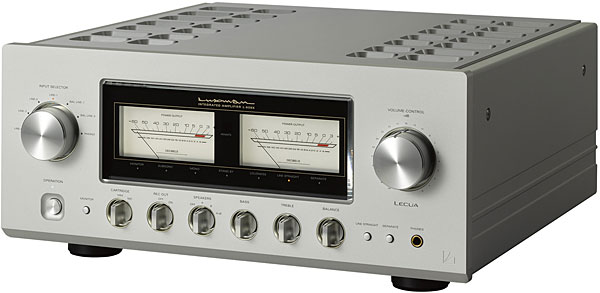 Playing a first pressing of John Coltrane's Soultrane (mono LP, Prestige PRLP-7142) confirmed the Luxman's spatial capabilities. In Tadd Dameron's "Good Bait," the Luxman presented Trane's huge tenor sound in all its textured burr and hard-toned grandeur. I could hear the air passing over Coltrane's reed, the placement of the musicians in Rudy Van Gelder's Englewood Cliffs studio, the tone and touch and grip of Trane's tenor. From high-pitched squeals and weighty low-end trills to the air surrounding the horn, Trane's tenor appeared spookily whole before me. It was hot, humid, dynamic, real.
Transparent to a fault, the Luxman also exposed the unerring musicality of the Hana EL cartridge, LP after LP. Still, the L-509X didn't possess the tonal depth, roundness, color saturation, and corporeality of my Shindo separates. It also sometimes sounded a mite dry, but that's nth-degree nitpicking. The L-509X reproduced music with what, in my experience, was a unique sonic signature. Its resolution of spatial information, its ability to re-create musical events with care, even thoughtfulness (do analog amplifiers dream of spinning LPs?), added up to a calming experience. The L-509X created in me what was almost a meditative state. There I go again, letting the red-eyed tears flow. (We Maltese are an emotional lot.) I blame the L-509X for forcing me to wear my heart on my sleeve.
Via Michael Fremer's AnalogPlanet.com, I was recently introduced to Canteloube's Songs of the Auvergne, performed by soprano Netania Davrath, with an orchestra conducted by Pierre De la Roche (LP, Vanguard VSD-713). This charming performance—Davrath's wondrous voice flies in music that conjures a mountain rainforest of enchanted orchestration—is a folk/classical masterwork. Maybe this LP is familiar to classical cognoscenti; for me it was a revelation. If music can you leave you drunk, delirious, and spent, Songs of the Auvergne is a magical first course in a banquet of musical debauchery. The Luxman was tailor-fit to Davrath's bird-like vocal grace and the complexity of Canteloube's orchestrations, and did justice to this recording of remarkable subtlety and nuance.
Diving into the digital domain provided further confirmation of the L-509X's musical superiority.
A recent influx of UK jazz musicians is breaking up hackneyed US ways. These include Binker & Moses's Journey to the Mountain of Forever (CD, Gearbox GB1537CD). This sax-and-drums duo emerged from the band of Zara McFarlane, another British jazz trailblazer. Including influences of Caribbean island music as much as of hip-hop, grime, and jazz, Journey is infectious fun. The CD's sound is warm and rolled-off at the frequency extremes, which led me to think that its phono stage aside, the Luxman's sound was simply soft and pleasing.
Slipping into my BD player Stockhausen's Complete Early Percussion Works, performed by Red Fish Blue Fish (2 CDs, Mode 274/75), changed that. From the first bracing, humongous piano chords of the Trio for Percussion, the Luxman delighted me with a super-deep, "black" background, huge images, and powerful percussion explosions. There are no literal explosions on this disc, but the dynamic swings and the sheer size of the instruments shocked me. Equally engrossing was Hamilton de Holanda Quintet's Brasilianos (CD, Adventure Music AM1075-2), which transported me to Brazil with dreamlike yet brisk guitars, and percussion that seemed to reach out and surround me. Stunning.
A final note: adjusting the Luxman's Treble and Bass controls did little to improve my listening experience. Or perhaps I'm so removed from the idea of tone controls that my brain shuts down before the effect takes hold. Nonetheless, I did find that the Treble and Bass dials provided very smooth, finely graded adjustments. But they're not for me.
Conclusions
In the mid-2000s, when I bought my Shindo Laboratory Allegro preamp and Haut-Brion power amp, that was, for me, the amplification endgame: I'd arrived at my final destination. The Shindos' traits of naturalness, tonal richness, flow, and superb dedication to the source have, in my opinion, never been equaled—and this review doesn't change that.
But the Luxman L-509X integrated amplifier takes a different path to musical involvement. The L-509X is one of the most intimate-sounding, dynamic, texturally nuanced, truthful purveyors of music of my experience. As it did at the 2017 New York Audio Show, the Luxman put me in a trance, focusing my attention on the music in profound ways. It's a joy to hear familiar recordings recontextualized by an electronic component, and new truths revealed. I could happily live with the Luxman L-509X till kingdom come.