Luxman L-509X integrated amplifier
We're well past the day when the sound of top-tier tube amplifiers can be described as "syrupy" or "too warm" or producing "soft bass." Equally true, solid-state designs have reached a level of maturity at which "sweetness," "fluidity," and "flow" are similarly applicable descriptors, thus smashing the cliché of "cold transistor sound."
One high-end audio manufacturer, resourceful in both tube and solid-state designs, has weathered selloffs, acquisitions, and fickle audiophile demands to create beautiful, enduring audio art under a name synonymous with Japanese high-end audio supremacy: Luxman.
Founded in 1925 by Tetsuo Hayakawa as part of an Osaka picture-frame business, the Lux Corporation was the first to import to Japan radio receivers from abroad. Playing those receivers in the store fascinated Hayakawa's shoppers and listeners, and inspired him and his brother and eventual partner, Kinji Yoshikawa, to experiment with circuits of their own design. Their research resulted in audio treasures that found favor far outside Japan, and that even challenged Marantz and McIntosh for tube-amp supremacy.
Luxman's classic models include the SQ-38 integrated amplifier (1963 "an old standby found in almost all the jazz music tearooms in Japan," per the company history on Luxman's website), the MQ-36 OTL power amplifier (1966), and the M-6000, a 300Wpc power amplifier (1975). Enriched by financial success, Luxman changed hands in a series of transactions that culminated, in 1987, in the ultimate insult: its purchase by car-stereo hawkers Alpine, who forced the revered high-end brand to compete on the street with the mid-fi hoi polloi.
The reputation of its brand diluted, Luxman nearly capsized, but in the 2000s was rescued by private-equity investment. In 2009, stability was fully regained when Luxman was acquired by the International Audio Group (IAG). In early 2017, Luxman opened a US office, Luxman America, under the leadership of president Jeff Sigmund. The introductions of eight new products confirmed Luxman's US ambitions. Eye-catchers include the LX-380 tubed integrated amplifier ($7995), the CL-38uSE preamplifier ($5995), the D-380 CD player ($5495), the MQ-88uSE power amplifier ($5995), the P-750u headphone amplifier ($4995), and the subject of this review, the L-509X solid-state integrated amplifier ($9495).
Design
Compared to electronics from other contemporary manufacturers, Luxman CD players, amplifiers, and DACs have a look all their own—and it's a look the company has been working for a goodly long time. Placed side by side, it would be hard to tell classic Luxmans of the 1960s and '70s from their distinctively styled products of today.
The silver-matte, 64.6-lb L-509X is a behemoth of beauty. Part of its retro flair are its two large VU meters—I found them extremely sensitive to power-output fluctuations—and something even more old school: tone controls! Audio perfectionists who can swing this amp's cost may not be inclined to use them, in which case they're defeatable with a push of the Line Straight button.
The L-509X's casework is made from steel and aluminum. The 6mm-thick aluminum top plate alone is gorgeous, and is machined with rows of square and rectangular openings—with a lovely honeycombed grille at the bottom of each—for generous venting.
The L-509X's output section features Luxman's Only Distortion Negative Feedback (ODNF) system. They claim that ODNF applies feedback only to distortion products—which can otherwise result in less-than-"black" backgrounds and listener fatigue—detected at the speaker outputs.
"At Luxman we pursue as natural sound as possible," wrote Masakazu Nagatsuma, head of Luxman R&D, via e-mail. "So we came up with ODNF which detects the difference of input and output. Difference is distortion. ODNF feeds back distortion only to the amplifier. Coming in with 29.3dB (Luxman amp has 29.3dB), going out with 29dB, thus only 0.3dB is fed back, almost untouched like Open Loop circuit, which is very fresh and lively, but contains high distortion and is often unstable. So both merits of Open Loop and Negative Feedback are possible."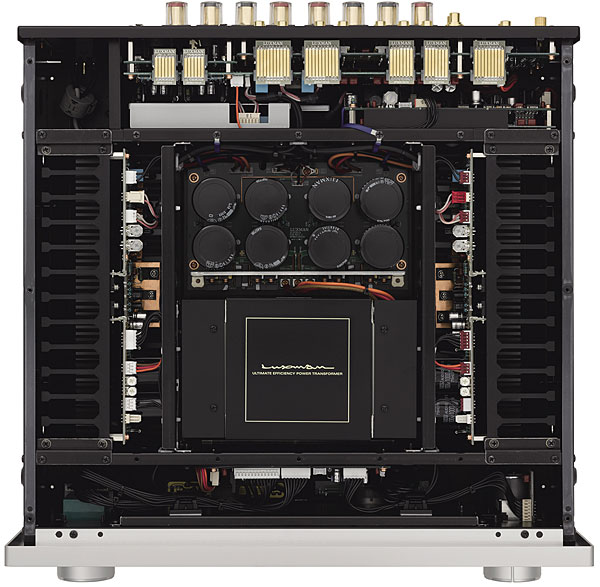 The L-509X employs a push-pull output circuit with an output of 120Wpc into 8 ohms or 220Wpc into 4 ohms. Also featured in this and other Luxman amplifiers are "peel coat" printed-circuit boards: After the copper signal paths have been traced—with gentle curves and a thorough avoidance of drastic bends—Luxman peels off the board's PVC coating, then gold-plates the traces to eliminate any dielectric effect. Of the amplifier's 64.6 lb, 14 lb are accounted for by its 600VA, EI-core-type power transformer, made by Nippon Chemi-Con, "with customizable 10,000µF x8 capacitor blocks." Toshin and Nippon Chemi-Con capacitors, Schottky and ROHM diodes, cast-iron footers to "damp out unwanted resonant frequencies" (per Sigmund), and wiring of unplated, oxygen-free copper are other standout elements of the L-509X.
Looking at the L-509X straight on, my gaze was instantly drawn to those black-framed VU meters, below which is a row of seven small LEDs: from left to right, Monitor, Subsonic, Mono, Standby, Loudness, Line Straight, and Separate. When Line Straight has been deactivated by pressing the button so labeled in the faceplate's lower-right corner, these functions can be accessed via the L-509X's aluminum remote-control handset. The meters are flanked by two large knobs: Input Selector on the left (Line-1 through -4, Balanced Line 1 and 2, Phono), and, on the right, the Luxman Electronically Controlled Ultimate Attenuator (LECUA) knob. Across the bottom of the faceplate, from left to right, are the small Operation (on/off) and Monitor buttons; six switches for Cartridge (MM/MC), Rec Out (Off/On), Speakers (Off/A/B/A+B), Bass, Treble, and Balance (!); small buttons for Line Straight and Separate; and a headphone jack. This is one tricked-out giant.
The L-509X's rear panel is equally populated, with inputs and outputs both familiar and foreign. From left to right along the top are the ground screw, a single pair of phono jacks (RCA), and the Line-1 through Line-4 inputs (RCA). The Line-1 pair are massive "high quality copper alloy terminals, which combine the conductivity of copper with the hardness of brass," wrote Sigmund. Why the heavy-duty hardware for only Line-1? "Copper alloy terminal takes a big space," replied Kunihiko Koki, Luxman's Engineer & Manager of R&D. "If we have more terminals of copper alloy, the number of inputs will have to be less."
Farther to the left are Rec Out and Monitor jacks (RCA), followed by Pre Out and Main In jacks (RCA), should you care to use the L-509X solely as a preamp or stereo power amp. Then come two pairs of balanced inputs on XLR jacks, Bal Line-1 and Bal Line-2. Each jack came with a snug-fitting plastic cap to protect the signal contacts from contaminants—evidence of the thoughtfulness and care applied throughout Luxman's signal chain. Below the input/output connections are four pairs of very sturdy Emuden speaker binding posts and the inlet for the AC power cord (included).
Setup
Unless you're the towering type or, like me, a dedicated gear junkie, I highly recommend you get help to lift the L-509X and slide it into your rack. I huffed and I puffed, I cursed and howled, until, finally, the L-509X had taken up residence on a shelf of my Salamander rack. I inserted the RCA connectors of my Kuzma Stabi S turntable's phono cable directly into the L-509X's phono jacks, set to moving-coil, and ran Triode Wire Labs Spirit interconnects from my PS Audio NuWave DAC into the Luxman's single-ended Line-1 jacks. DeVore Fidelity's Orangutan O/93 speakers joined the party via Auditorium 23 speaker cables.
Listening
I put the Luxman through its first paces with King Crimson's landmark 1973 epic, Larks' Tongues in Aspic (Japanese LP, Atlantic P-8330A). The title track/opening salvo in this veritable rock symphony always leaves me depleted, having survived its whisper-to-scream dynamics. Jamie Muir's critter-like percussive sounds, Robert Fripp's animalistic fuzz-guitar squeals, and the magisterial drumming of Bill Bruford remain timeless prog-rock guideposts, withstanding the years and lesser musicians that have followed in their wake. The Luxman played this track for all its worth, cleanly resolving the many shades of dynamics, from the opening tintinnabulations and pulsing massed violin through the thunder-crunching climax and various solo sections, all with a fine sense of touch and attention to fine detail.