Listening #183: Stenheim Alumine Five Page 2
Fortunately, I had help installing the Alumine Fives: Gideon Schwartz of Audioarts, the Manhattan retailer that also serves as Stenheim's US distributor, visited my house in early November, and between the two of us we got the speakers unboxed and moved into place in my new listening room. After a few rounds of listening and fine-tuning, each Alumine Five had wound up 42" from the front wall and 27" from its sidewall—both distances measured from the center of each front baffle—with the cabinets toed-in toward the central listening area, about 8' away, although not so drastically that I couldn't see the cabinets' inner panels when I sat down. (The Stenheims are handed: the tweeters and midrange drivers are mounted a little more than an inch off-center on each speaker's front baffle, the intention being that these drivers should be nearer the side panels that face each other.) Although the Alumines come with a total of eight height-adjustable spiked feet, plus the tool necessary for adjusting them in situ, Schwartz and I felt they performed well without them, with the cabinets sitting directly on my hardwood floor.
I started simple, with a mono recording of works by J.S. Bach transcribed for piano by Liszt, Busoni, and Myra Hess, and played by Yvonne Lefébure (10" LP, EMI FBLP 1079/Electric Recording Company ERC ERC011). In the Fantasia and Fugue in g, BWV 542, Lefébure's arpeggiated chords had the right tactile and tonally rich sound, each note bursting forth with distinct pitch and well-defined attack. (This was with my 20Wpc Shindo Haut-Brion amplifier, itself no stranger to the task of tactile music-making.) Lefébure's left and right hands were in fine balance with each other, and her dynamic nuances were not compressed—in this regard, the Stenheims approached those kings of drama, the Altec Valencias. Lines of notes had fine momentum, and the recorded performance was as emotionally stirring as I've ever heard it—again, no small feat.
Listening to Lefébure's Bach, I kept in mind my review of the earlier Stenheim speaker, and how it exhibited "a slight departure from neutrality" with piano music, heard as a dulling of notes in the left hand. The Alumine Five had no such colorations with this or any other piano recording I tried—in fact, it seemed free of obvious colorations of any sort.
That's not to say that the Fives were colorless: "Chelsea Bridge," from Gerry Mulligan Meets Ben Webster (mono LP, Verve MG V-8343)—a standout LP not only musically but also for its ultra-saturated tonal colors, and about as close as I get to the idea of a "reference" recording for reviewing purposes—came to life between the Stenheims, Webster's richly hued tenor sax coming across with good body and presence, and just the right amount of texture. Leroy Vinnegar's double bass was reproduced just as colorfully by the Alumine Fives—there is, forgive me, a juicy quality to the sound of his instrument in this recording, and the Stenheims nailed it—though my Altecs allow the instrument greater weight and slightly greater force.
The Stenheims' good way with musical colors carried over to the recording, by Peter Pears, hornist Barry Tuckwell, and the London Symphony Orchestra, of Britten's Serenade for Tenor, Horn, and Strings, conducted by the composer (LP, Decca SXL 6110). Pears's very English tenor voice sounded especially right—additional evidence, if I needed it, of the Stenheim's lack of timbral distortions. Note attacks in the pizzicato strings weren't as realistic as through my Altecs, lacking that last degree of tactile snap. But through the Stenheims this recording's spatial information became more apparent, and more integral to my enjoyment, than through my references. The balance between the solo voice—not too far forward, not at all recessed, but simply, rightly there—and the horn and strings surrounding him was convincing. The sense of scale was imperfect—I like a bigger sound from this record, and my Altecs deliver that, though I can't say whether they're correct in that regard (see paragraph four)—but in all other respects, the Alumine Fives' spatial performance really impressed me on this one.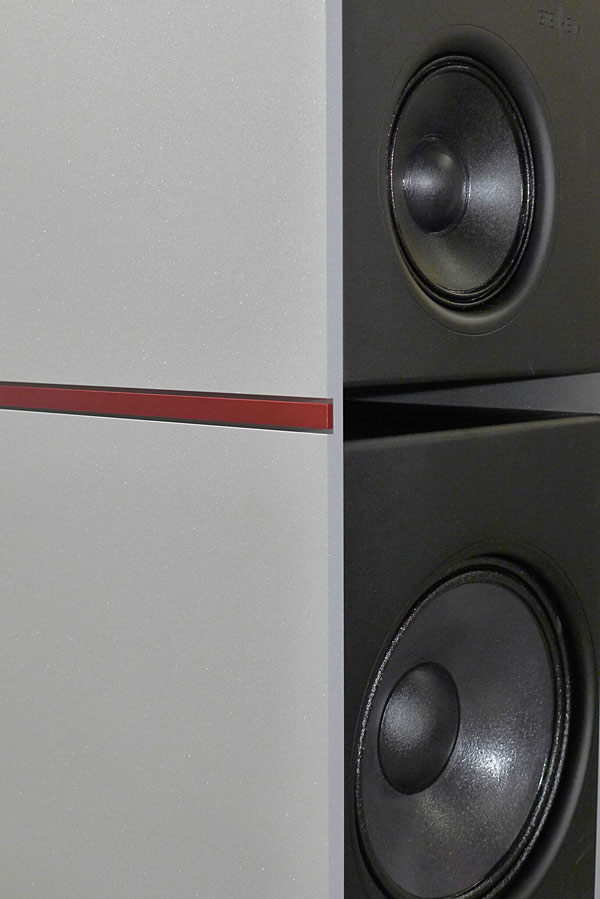 Curious as to whether the Stenheims could rock as well as they did everything else, I tried the title cut of King Crimson's Red (LP, Discipline Global Mobile KCLP 7). Robert Fripp's electric guitars sounded appropriately raw, as did John Wetton's bass—both players adopt suitably metallic tones in "Red"—and the music lunged forward with all due momentum and force. For his part, William Bruford's drumming sounded small and compressed—but that's how it is on the recording, and it's a rare loudspeaker that can do a better job of it. To hear how the Alumine Fives could do with a record with a little more raunch in its grooves, I played a few songs from Big Joe Turner's Careless Love (Savoy MG 14016), here on loan from Ken Micallef, who found it while he and I were record shopping (just five minutes from my house!). To hear this ostensible mainstream high-end speaker play a gutbucket R&B number like "Johnson and Turner Blues," and to put across not only the perfect rolling rhythm of the piano and the relentlessness of the simple guitar solo but also the song's undiluted and slightly dangerous attitude, was impressive: Yes, these slimly elegant-looking things could rock.
Hour of low power
There was something else I had to do before parting with the Stenheims, something urged on me by their distributor: Gideon Schwartz all but insisted that I spend time with the combination of Alumine Five speakers and Fi 421A power amplifier, the latter a single-ended design that tops out at 4Wpc. (Through Audioarts' retail business, Schwartz commissioned and sold a number of amps made by Fi's founder, the late Don Garber.)
The suggestion seemed overly optimistic, perhaps even reckless, but I saw no harm in trying, and I'm glad I did. Not only did the combination work, it sounded lovely. As I'd discovered four years ago, when I bought my 421A, playing large-scale music at higher-than-average volume levels is beyond its pay grade—but especially at the more modest levels associated with late-night listening, even a work such as Sibelius's Symphony 4, performed by Paavo Berglund and the Bournemouth Symphony Orchestra (LP, EMI ASD 3340), sounded enchanting, with decent levels of flesh and blood, and superb flow and pitch definition. Only with piano music—even Yvonne Lefébure's Bach LP, which wouldn't strike the casual listener as being nearly as "big" as the Sibelius—did the combo falter, the hardest-struck notes sounding more timbrally fierce than they should.
Over the years I've thought of a few products as all-arounders: things that seem capable of pleasing almost any hobbyist, regardless of his or her sonic and musical priorities. The Stenheim doesn't quite fit in that category; if nothing else, its price seems sure to keep it from being daydream fodder for the vast majority of hobbyists. But the Alumine Five sets itself apart by offering traditional high-end audio strengths—very wide bandwidth, excellent spatial performance, and freedom from gross colorations—with the drivability and consequent good levels of touch, force, and musical momentum that are seldom associated with loudspeakers of contemporary design and manufacture. Especially for the audiophile of means with an interest in very-low-power amplifiers, it would seem to have few peers.
Linens: highly overrated
I promised updates on my record-storage crisis, and here's the first: At deadline time for this issue, I finished transforming a first-floor linen closet in my new house into an LP closet. With all sleeping accommodations upstairs—a downstairs bedroom now serves as my office—there was no need to store linens on the ground floor anyway, and those louvered doors were way out of place in their surroundings.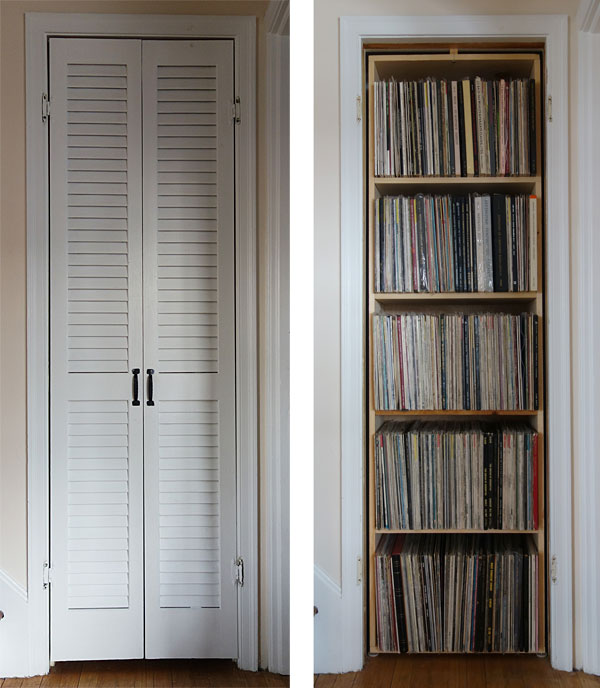 The cost of lumber was minimal—roughly $100 for the necessary 1" x 12" pine boards—and the most difficult part of the job was removing the hinges that held those louvered doors in place. (The ancient screws that fastened hinges to woodwork had been painted over so many times that their slots were no longer visible.) The second-most-challenging task was to precisely cut the boards to length—lacking a table saw, I used bar clamps and a straight piece of plywood as a makeshift rip fence to guide my circular saw—and maintain perfect right angles. I wound up spending an extra $12 on a new, clean T-square, and I'm glad I did: Instead of routing dadoes or assembling the thing with wood screws, I assembled this rack with Titebond glue and ¼" wooden pegs; the T-square was invaluable in lining up the many holes I had to drill.
The finished product holds some 700 LPs. That's just a small portion of my collection, but hey—it's a start.
Still, IKEA beckons . . .