Listening #183: Stenheim Alumine Five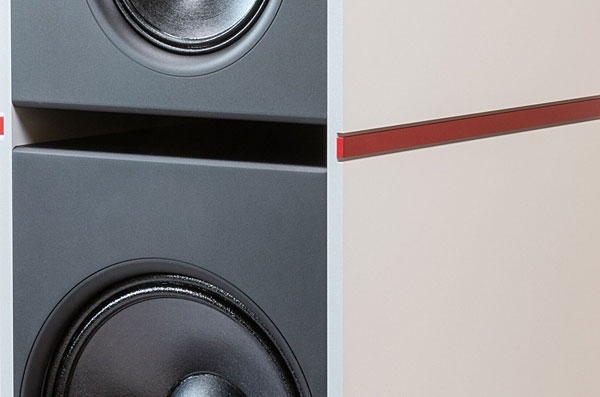 Five years ago, I reviewed the
Alumine loudspeaker
from Stenheim, a Swiss company founded by four former employees of Goldmund SA (footnote 1). I noted the Alumine's surprisingly "high sensitivity and easy drivability," praised its performance for being "clean but neither sterile nor colorless," and admired, in my geeky way, the coated cellulose-fiber cone of its 5" midbass driver, which is made in Chartrettes, France—just southeast of Paris—by a company called PHL.
One year later, almost to the week, I bought my first vintage Altec loudspeakers: a pair of 1967 Valencias, in which a multicell-horn–loaded compression driver is mated to a pulp woofer, the latter a low-compliance thing with a surround of impregnated fabric. The Altecs were revelatory, owing mostly to their even higher sensitivity and even easier drivability, and consequently—or so I think—their breathtaking sense of touch (footnote 2). They redefined my concept of loudspeaker efficiency, and exposed every other ostensibly sensitive, easy-to-drive speaker of my experience as being, by comparison, only somewhat so.
Man gave names to all the distortions
But the Stenheim Alumine, like other speakers that have passed through my hands, had advantages of its own. It was less colored than the Altec, with a less peaky lower treble, and two of them were better at reproducing the spatial information on my stereo recordings, disconnected from reality though that information often may be. The Alumine, which measures 13" high by 9" wide by 10.8" deep and cost $12,795/pair in 2012, is also considerably smaller and thus easier to place—and to live with, in an aesthetic sense—than the Altec, each of which is 28" high by 27" wide by 19" deep, not counting stands.
To each his own should be the whole of the law—reviled though that philosophy may be in domestic audio, where one is asked to accept that the enjoyment of certain products is simply wrong. So, at the end of 2017, I was pleased to review a new Stenheim loudspeaker: the floorstanding Alumine Five ($60,000/pair), which was introduced at the 2017 High End show, in Munich. It's worth noting that the Alumine Five's high price—higher than that of any other speaker I've reviewed—is no less remarkable than other of its qualities, including its weight of 231 lbs. Each.
The Stenheim's heft stems from the fact that its 46"-tall cabinet is made entirely of aluminum—10mm-thick sheets of the stuff, precision-machined and assembled, with hidden fasteners and sparingly applied silicone gaskets, to form four independent chambers: one for its 1" fabric-dome tweeter, one for its 6.5" pulp-cone midrange driver, and one each for its two 10" pulp-cone woofers. The woofer chambers are formed with front-facing ports that Stenheim's English literature describes as laminated, although I suspect the term they had in mind was laminar, as in streamlined. (I intend no snark: Their English is far better than my French, and my German vocabulary is limited to the six words required for ordering a beer.)
Another telling spec: Stenheim describes the Alumine Five as having a sensitivity of fully 94dB, with a nominal 8-ohm impedance that does not dip below 3 ohms. By contrast, the sensitivity of the stand-mounted Stenheim Alumine of 2012 was "only" 90dB (with an 8-ohm nominal impedance claimed to remain above 5.8 ohms, footnote 3).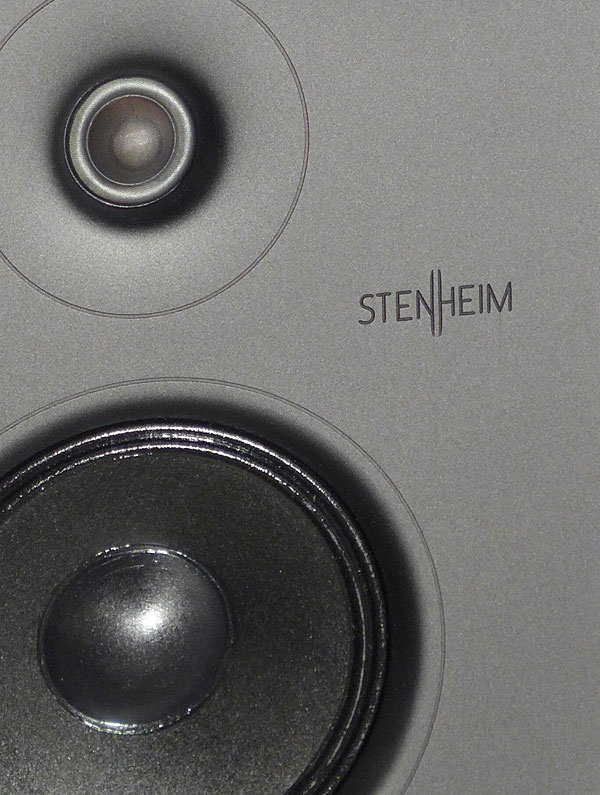 Surely the Alumine Five owes at least some of that sensitivity to its midrange and bass drivers—which, like its tweeter, are made by PHL. Those pulp cones terminate in accordion-style impregnated-fabric surrounds and appear to be very stiffly suspended, not unlike the Altec 416-Z woofer used in the Valencia. Indeed, the PHL cone drivers, which appear very well made, lend an anachronistic touch to the all-aluminum Alumine Five, though Stenheim eschews the polished-metal sheen seen elsewhere (the KEF Muon and some YG Acoustics models come to mind) in favor of a lightly textured black front baffle and a more coarsely textured gray finish on the rest of the enclosure, save for a thick, bright, horizontal red line between the midrange driver and the woofers. (Child herpetologist that I once was, I couldn't help being reminded of some species of the North American ring-necked snake, especially the pretty coral-belly ring-necked snake, Diadophis punctatus pulchellus.) The look is elegant, and far more svelte than you might expect from a 231-lb anything.
Slimly, not slimy
Speaking of which: Before their arrival, I wasn't aware of the Alumine Fives' extreme weight, though I should have been: I was fully aware that it's a floorstanding loudspeaker in a metal cabinet. The two Fives were sent from the Albany, New York, airport via a freight truck, strapped to a single pallet. Because, during the last leg of his journey to my house, the driver had to travel uphill, that pallet slid toward the rear of his truck and got caught against the inside of the overhead door, preventing it from being opened—and the pallet was so heavy that it could be induced to move away from that door only by pointing the truck downhill, coasting a bit, and slamming on the brakes.
That was a stroll through the park compared to removing the two cardboard cartons from the pallet and getting the speakers into my garage, pending installation. They were sufficiently heavy that at first I thought I'd failed to cut all their hold-down straps. I hadn't. Ultimately, I needed help just standing them up, let alone walking them, as one walks a refrigerator, from one side of my driveway to the other. After all that, I went inside and left the pallet at the edge of my back yard, where it remains today, gazing at me in mute approbation. I can laugh about it now.
---
Footnote 1: Stenheim, Des Gorges 6, 1963 - Vetroz, Switzerland. Tel: (41) 21-731-5886. Web: www.stenheim.com. US distributor: Audioarts, 210 5th Avenue, Ste. 301, New York, NY 10010. Tel: (212) 260-2939. Web:
www.audioarts.co
.
Footnote 2: Only a 1966 pair of Altec's supposedly identical Flamenco loudspeaker could have—and did, in 2015—tempted me away from my Valencias (which I still think are the slightly better of the two).
Footnote 3: I don't know the sensitivity of the original (1966–71) Altec Valencia, but its impedance was a healthy 16 ohms.