Listening #158 Page 2
When the MH40s arrived, I enjoyed the M&D experience as would a paying customer: The packaging and presentation were first-rate, and the headphones themselves appeared well made. The MH40s' earcups are machined from aluminum alloy, while various structural bits—most notably the pins around which the size-adjustment mechanisms pivot—are stainless steel. The earpads, made of a memory foam, are covered in soft, supple lambskin, as is the headband's underside; the headband's top is made of cowhide. (Obviously, this is not a product for vegans and/or biocentrists.) The MH40s weigh 360gm, and their 45mm, neodymium-magnet–powered drivers present a load of 32 ohms—with which my
AudioQuest DragonFly
DAC–headphone amp seemed happy.
Although I'm not qualified to rank the MH40s in the greater context of contemporary headphones, I can tell you that these Master & Dynamic headphones sounded clear and explicit—qualities they delivered in a manner that was smooth rather than brittle. My first impression, formed while listening to AIFF files ripped from Tony Rice's Unit of Measure (CD, Rounder 11661-0405-2), was that the MH40s were tonally on the warm side of neutral. It took only an additional hour of listening to correct that impression, as I came to realize that the M&Ds' were balanced in a manner that prevented sonic artifice from overwhelming the musical message. Put another way: The MD40s had just the right amount of bass extension in proportion to their treble extension, and vice versa—and although I never lacked for information at the frequency extremes, neither was I bombarded with "boom and sizzle," to use the phrase coined by loudspeaker pioneer Jim Winey.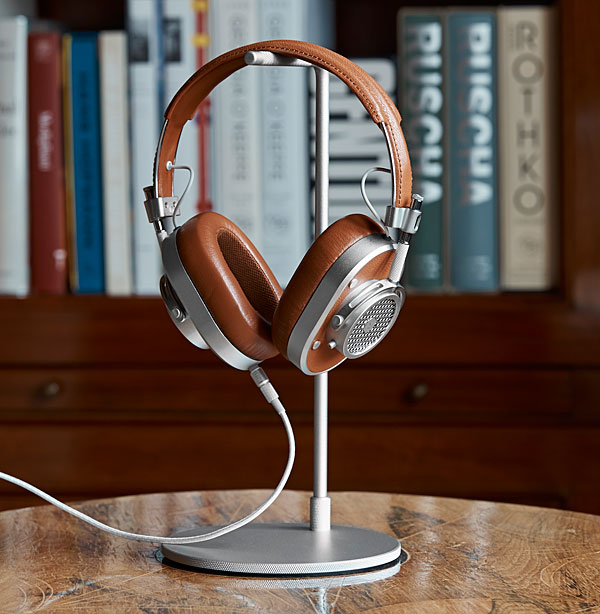 Were the MH40s accurate in their reproduction of the soundstage? Beats me. Since there's really no such thing as a "soundstage," and since the compulsion to apply to the ephemeral such words as "accurate" and "correct" is best left to autocrats and their most ardent followers, I can't provide a useful or relevant answer. I might as well tell you that, while listening to a WAV file of "Sapokanikan" from Joanna Newsom's Divers (CD, Drag City DC561), the guitarist was seated firmly in the marginal portion of my sulcus cinguli, just to the left of the corpus callosum, and an accordion-like sound appeared near the subparietal sulcus—while the drums were spread out just above the left and right cerebellar hemispheres. All of which is true.
In a general sense—by which I mean that these comments could apply equally well to all headphones, and not just to the MH40s—I found that personal listening suited some musical styles and types of recordings better than others. Studio recordings of adventurous, ornately arranged pop music were very well served. On the other hand, when trying to enjoy more visceral music, or music in which the sonic whole is far greater than the sum of its parts (the Scherzo of Bruckner's Symphony 9 comes to mind), I often found myself confounded by a fiddly, ants-in-my-brain sonic presentation that seemed bent on making me listen to everything as if it were a Yes album. But I guess what I'm really talking about here is the reality of different styles of listening for different styles of people. Nothing new there.
A final observation: I'm easily exasperated—too easily, I'm sure—by headphones that don't make it immediately clear which earcup is meant for the left ear and which for the right. At first, I was cross with the M&D MH40s for seeming to commit that sin. I then discovered, at 7 o'clock on the right earcup, a little metal nub, on the end of which is painted a tiny red dot—and when I pushed it, that little nub turned out to be a mute switch. I was very impressed, and from that moment forward my isolation anxiety went down a notch: I knew that I could rouse myself with the push of a button.
It's time
John McEuen of the Nitty Gritty Dirt Band tells an amusing story (footnote 2) about the father of bluegrass music, Bill Monroe. In 1971, when the Dirt Band was in the process of inviting first-generation bluegrass stars to appear on their next album—which would be the monumental three-LP set Will the Circle Be Unbroken—McEuen approached Monroe and asked if he would like to participate in the sessions. Monroe turned him down. But after the album came out and sold in the millions, giving a huge shot in the arm to the careers of all the older stars who participated—including Earl Scruggs, Doc Watson, Jimmy Martin, and Merle Travis—Monroe approached McEuen at a festival and said, "If you ever do another one of those Circle records, give me a call this time."
It's with this in mind that I report news of a pending LP release from the Electric Recording Company, the London reissue house that, in 2012, set tongues a-wagging by offering for sale, in a very limited edition, an ultra-high-quality remastering of one of the most collectible records of all time: Johanna Martzy's recordings of J.S. Bach's Sonatas and Partitas for solo violin. Each of the three LPs was remastered from the original 1956 tape using period equipment, the acquisition and refurbishing of which cost in excess of £1 million. Only 300 copies of each disc were offered for sale, at £300 each. ERC's is a unique business model—and, yes, $456 is a lot to spend on a single LP. Nevertheless, those three ERC LPs—which, in addition to re-creating the sounds of the original LPs, were packaged in period-correct, letterset-printed jackets—have sold out, and are now collectibles in their own right. Many subsequent ERC reissues have also sold out.
One day after the copy deadline for this issue of Stereophile, the Electric Recording Company announced plans to reissue three more Martzy LPs, which will be available by the time you read this. The recordings, which Martzy made in 1954 with pianist Jean Antonietti, are all of music by Franz Schubert: the Sonatinas in D and a (33CX 1359), the Rondo in b ("Rondo brillant") and Fantasy in C (33CX 1372), and the Sonatina in g and Sonata in A (33CX 1399). Once again, each LP will be pressed in a limited edition of 300 and priced at £300, with the pledge that no reprints will be made.
There is no greater folly than telling someone else how to spend his or her money, but I'm happy to share the perspective that serves me well enough: I am personally acquainted with scores of audio enthusiasts who wouldn't balk at spending $500 or more on a tweak whose sonic benefits are dubious at best—I have done so myself—and experience tells me that few such products remain in the buyer's system for longer than a year. On the other hand, only once in my life have I ever discarded an LP—I don't want to get too specific here, so let's just say it had a picture of a morning glory and the words Sheffield Track Record printed on it—and the pleasure the best records have given me, in contrast to the pleasure afforded by most tweaks, is simply too great to be measured. Life is brief—and if I'm going to buy myself the occasional lavish gift, I would rather it be a thing of lasting value, in case someone else gets hold of it when I'm gone.
Boarded up
A final note: Five years after building it, I'm finally getting around to putting a veneer on the stacked-plywood plinth I use with my primary source component, a vintage Garrard 301 turntable. My veneer of choice is cocobolo, which, even after thickness-sanding, is a full 2mm thick. (Perhaps cladding is a more appropriate word than veneer.) As you can perhaps tell from the accompanying photos, a few seams want filling, and the whole thing requires finish-sanding and lacquering, but the basics are done: After a month-long break, my Garrard will be back in service in just a few more days.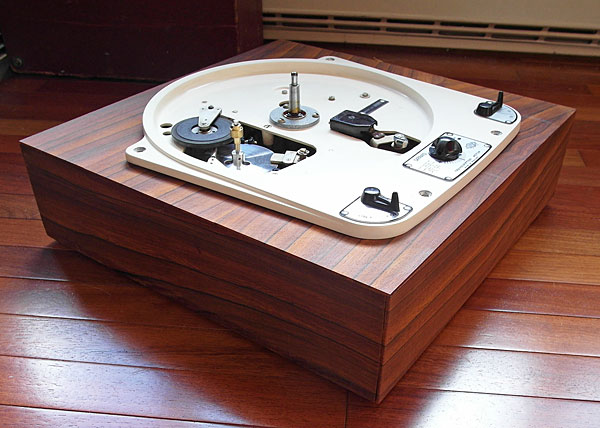 I don't imagine this project is of sufficiently universal appeal to warrant a DIY piece in Stereophile, but eventually I will post a few pics on Stereophile.com, for anachrophiles who desire a few pointers in how—or maybe how not—to do a job such as this.
---
Footnote 2:
Listener
, May/June 2001, Vol.7 No.3.