Letter From Japan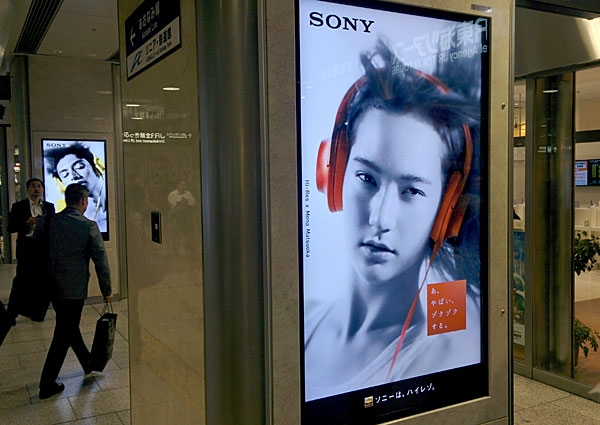 How many advertisements for hi-fi or head-fi hardware do you see on your morning commute? Two? Three? If you live in Los Angeles, Sydney, or Paris, most likely it'll be zero.
Not so in Tokyo, where commuters, tourists, and shoppers moving through the Shinjuku or Shibuya subway stations will find it almost impossible to ignore Sony's latest advertising campaign, which colorfully announces a new range of affordable portable audio players (né Walkmans). Inside, banners suspended from the cars' ceilings promote Panasonic's latest headphones and shoebox-sized stereo system. Many of the bigger Japanese manufacturers treat audio gear as a mainstream concern.
Further evidence of Japan's wider embrace of all things audio can be found at Yodobashi Camera, an electrical-goods department store that spans eight floors in Shinjuku. An entire floor is given over to literally hundreds of headphones, portable amplifiers and players, and mini-systems, including the aforementioned Sony and Panasonic products. For a proper sense of scale, picture this scenario multiplied throughout Yodobashi's numerous retail outlets in and around Tokyo. That's hi-fi winning!
Across town, at the Nakano Sun Plaza Hotel, headphone retailer Fujiya Avic runs a biannual show dedicated to portable audio: the rather grandly titled Fujiya Avic Headphone Festival. There are six floors of headphone-related exhibits featuring some of the industry's biggest local and international hitters: AKG, Astell&Kern, Audio-Technica, Cowon, Denon, FiiO, Fostex, Jerry Harvey, JVC, Marantz, Luxman, Onkyo, Oppo, Pioneer, Sennheiser, Shure, Sony, Stax, TEAC, and many more.
The audiophile world's male dominance isn't quite as pronounced at the Headphone Festival as it is at Munich's High End Show or the Rocky Mountain Audio Fest. In Nakano, a higher percentage of women work as exhibitors, too. Even more obvious is the age difference. At Head-Fi's CanJam event in Denver last October, the median age easily exceeded 40. At the most recent Fujiya Avic Headphone Festival, I'd peg it at under 30.
Japan's biggest headphone retailer isn't Fujiya Avic but e-earphone, with stores long established in their home city of Osaka and in Tokyo's Akihabara. , who recently opened stores in Nagoya (a 90-minute bullet-train ride southwest of Tokyo), and, in Shibuya, a smaller space in the glass-fronted Tsutaya bookstore that overlooks the famous pedestrian crossing.
Inside Tsutaya, just next to the e-earphone space, sit row on row of CDs. They're not for sale but for rent.
The market for used goods in Japan is similarly robust. Twenty percent of e-earphone's revenue reportedly comes from sales of secondhand hardware, and Disk Union's well-stocked stores are, in my experience, some of the best places in the world to score used vinyl. Gems from the 1990s, long since vanished from record racks in US, Europe, and (especially) Australia, often turn up in superb condition. Think you'll never find on vinyl, in good nick and for a reasonable price, Global Communication's 76:14, Plastikman's Musik, or Aphex Twin's Drukqs? Think again. Want a first UK pressing of Roxy Music's For Your Pleasure? Easy. Disk Union's newest outlet, in Shinjuku, even offers multiple copies of (almost) every Beatles album. Take your pick from 15 or so different versions of the "White Album." Or how about thumbing through a 30?strong selection of different pressings of Sgt. Pepper's Lonely Hearts Club Band?
One of Japan's most respected hi-fi journalists is Takahito Miura, who writes for Stereo Sound, which is also published in China. Over dinner one night he described how the Japanese take great pride in owning physical formats, to which they apply the most meticulous care. Miura reckons that the most hard-core Japanese record collectors might spin their freshly purchased vinyl only once before ripping it to a high-resolution digital file and then storing it away. No doubt this is why LPs turn up on the Japanese used market in such stellar condition.
The view from the 40th floor of the Tokyo Metropolitan Government building shows that the city's high-rise density doesn't know when to quit. Unsurprisingly, living quarters in Japan's big cities are smaller, daily commutes longer. With the average home unable to do justice to big high-end speakers, and long hours on trains to and from work, is it any wonder that Japan's portable-audio market is exploding?
Two US-based manufacturers of in-ear monitors (IEMs), Noble Audio and Campfire Audio, cite Japan as being by far their biggest market. Noble's Brannan Mason and Campfire's Ken Ball journeyed from the US to represent their brands at the Fujiya Avic Headphone Festival. So did Thorsten Loesch, of AMR/iFi; Skylar Gray and Steve Silberman, of AudioQuest; and Dan Clark, of MrSpeakers.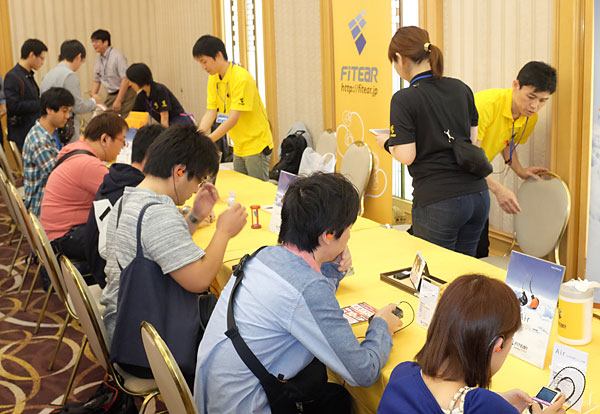 Similarly, local players, such as Japan's much-revered IEM maker FitEar, find that local demand is more than enough to keep them from having to rely on export markets to turn a profit. Other examples of Japan-only products come from portable amplifier manufacturer VentureCraft and Sony's new custom IEM offshoot, Just Ear. Overseas sales of these brands, if any, are just cream for these guys.
Then there's the promotion of Fujiya Avic's Headphone Festival, which is almost nonexistent outside Japan. And yet, across its two days, the show attracts in excess of 20,000 attendees. The e-earphone show attracts 30,000, despite taking place the weekend before Christmas.
Could it be that the high-end audio industry needs Japan more than Japan needs it? In the portable audio sector, at least, the answer to that question is "Yes."—John Darkø
---
Footnote: Australian globetrotter John Darkø is the editor of webzine
Digital Audio Review
.