Lawrence Audio and Jeff Rowland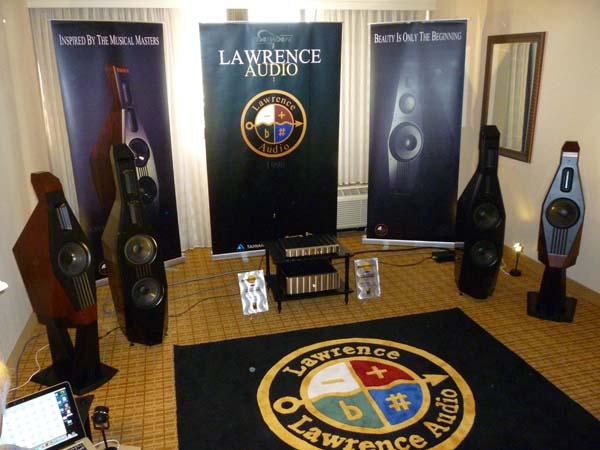 Based in Taiwan, Lawrence Audio Co. ("Inspired by Musical Masters") manufactures limited-edition and custom-made loudspeakers modeled after stringed instruments. Lawrence Liao, founder and chief designer, is also an interior decorator, music lover, and musician: He plays saxophone, violin, and piano.
Lawrence's line includes the two-way, standmounted Mandolin; the slightly larger Violin; and the 3.5-way, floorstanding Cello ($18,000/pair), which was playing when I walked into the room.
The Cello uses an Air Motion tweeter, a rear-firing aluminum ribbon tweeter, and two 8" woofers; the speaker's specs include a frequency range of 32Hz–40kHz, a sensitivity of 90dB, and a 4 ohm nominal impedance.
Driving the speakers was Jeff Rowland's distinct Model 625 power amplifier ($13,800). Milled from a single block of aircraft-grade aluminum, the 625 is rated to deliver 300Wpc into 8 ohms. Directly connected to the Model 625 was Jeff Rowland's Aeris DAC ($9800), which is said to reduce jitter to 10 picoseconds from any of its inputs (USB, TosLink, and S/PDIF).
A percussion piece was reproduced with good speed, drama, and scale, and I noted surprisingly realistic impact and tone to piano and cymbal sounds.