Jason's First Day in Los Angeles Gets Underway
Industry veterans EveAnna Manley (left) and Mary Cardas (right) were in a particularly ebullient mood when I encountered them in the second-floor hallway. "We just got mansplained," laughed EveAnna. "Whatever you do, man, don't mansplain us," she continued, as the two women recounted the tale of entering an exhibit incognito—they were judges for the "Alfies," the LAAS awards—and discovering some salesman talking down to them.
"This guy did not know who we are. As in we have almost 60 years of audio geek experience between us," she continued. "We were trying so hard to not burst out laughing as he treated us as ignorant girls proverbially patting us on our little girl heads while couldn't really explain anything in any great detail anyway. At one point, he said something about the product putting 3dB more output than its predecessor. When I turned to Mary and said, 'That's twice as loud,' he stared at us and then awkwardly agreed with me."
Mary, of the fabled Cardas family, is currently running a cooking spice shop in Palm Springs, while EveAnna is importing a line of motorcycle armored denim jeans while continuing her work at Manley Labs.
The Source A/V's two world-premiere products—the Dan D'Agostino Master Systems Progression preamplifier ($22,000 for analog-only, or $26,500 complete with optional DAC module), which is shown on the top of the rack, and the D'Agostino Progression Stereo amplifier ($22,000), which appears in black on the bottom—were really turning heads. In fact, at the LAAS Awards Ceremony/Dinner on Saturday night, the Progression preamp won an Alfie.
Together with an Esoteric P-03/D-03 transport/DAC combo, Focal Maestro Utopia loudspeakers ($53,000/pair), and Nordost Valhalla 2 cabling, the D'Agostino products produced bass so tremendous, and so absolutely in control that I initially asked, "Are these speakers' woofers powered?"
No, they weren't. In fact, the speaker cables weren't even broken in. Nonetheless, the bass was world-class, the midrange wonderful, the top lively and excellent, and the pace exemplary. I only visited perhaps a third of the rooms at LAAS, but this was certainly one of the best-sounding I encountered. My review of the D'Agostino Progression monoblocks ($36,000/pair) will appear in the September issue.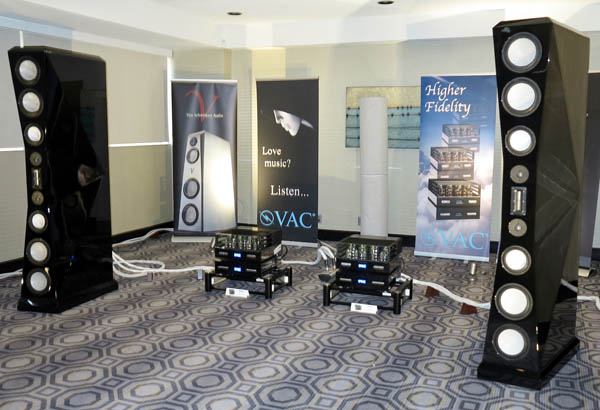 VAC and Von Schweikert do seem to like it big. Showing the same system that I'm told was in Munich, the two companies used a Kronos Pro turntable ($38,000) with SCPS-1 power supply ($13,500), Andre Theriault Black Beauty tonearm ($8500), and ZYX Ultimate 4D cartridge ($4400) as one source; Aurender N10 music server ($8000), Rebuilt Technics J-Corder ($14,000), and Lampizator Golden Gate DAC ($20,000) as other sources; VAC Statement phonostage ($80,000), VAC Statement linestage ($75,000), and VAC Statement IQ 450W monoblocks ($120,000/pair) to drive Von Schweikert Ultra 11 loudspeakers ($295,000/pair) with Von Schweikert Shockwave V12 subwoofer used for active room correction ($11,500/each). Master Built Ultra Line cabling and Artesania equipment racks and amp stands, as well as ASC Tube Traps completed a system that, once the tweeter was turned down a bit, displayed a gorgeous midrange and huge, extremely transparent soundstage.
Not everything was hunky-dory, however. Hindered by flabby walls, lack of time to settle in—this was Friday morning, after all—and all else that comes with large hotel rooms, the treble on Capriccio Italien was a bit wiry, with cymbals and tambourine somewhat glass-like, and bass was not as tight as could be.
Von Schweikert's Leif Swanson tells me that he and Damon Von Schweikert designed the speaker, with Albert Von Schweikert joining in on the voicing. Taking me to the back of the speakers, he showed me various transformers and other devices used to adjust tweeter, rear super tweeter, ambient delay, phase, and other properties.
Synergistic Research's Ted Denney and retailer Scott Walker are two smart salesmen. Once Denney's half-hour demos had concluded, visitors were guided into a separate, large, well-stocked room in which a number of salespeople were on hand to offer products on the spot. Hence, I am told, a huge amount of business was conducted with minimal hassle.
Ted's demos were hugely impressive. Despite a room that he said "loads bass like you would not believe," liberal application of various Syngergistic Research devices helped create a huge, expansive soundstage and gorgeous midrange.
"I do believe we will get rid of the bass hump by tomorrow," said Ted, as he guided the company's Andy Wiederspahn in the placement of HFTs on the ceiling next to lighting fixtures. The music I heard—Morricone's theme from The Good, the Bad, and the Ugly and some nonsense from Olde London on FIM—was rather tacky, but the sound was excellent. For equipment, we are talking Berkeley Alpha DAC Ref 2 w/Alpha USB module ($19,500), Baetis Reference 2 music server ($14,620), McIntosh C1100 preamp ($13,000) and MC 601 power amp ($7000), and Magico S7 loudspeakers ($58,000/pair). Power treatment was Synergistic Research PowerCell 12 UEF SE power conditioner ($5995), while room treatment included Synergistic Research's Active Ground Block, Black Box, Atmosphere XL w/ATM, UEF Acoustic Panels, three kinds of HFTs, Vibratron, MiG 2.0, Tranquility Base XL UEF, and High Definition ground cable. Cabling was Synergistic Research Galileo UEF and Ethernet Active SE along with a Transporter Ultra SE.
The Audio Association of Anaheim Hills commandeered a long room to showcase the world premier of the six-years-in-the-making Evolution Acoustics Exact series Maestoso 3-way loudspeaker system with outboard crossover ($TBD). In a system that also included darTZeel NHB-458 reference monoblocks ($170,000/pair) and NHB-18NS reference preamplifier with integrated reference phonostage ($40,000), Wave Kinetics NVS reference direct-drive turntable ($45,000) with world premier W8 record weight ($600) and world premiere A10-U*R vibration control system ($300 each), Durand Kairos tonearm ($6450) with tonearm cable ($1850), Ortofon MC Anna MC cartridge ($9000), Taleo Audio DAC prototype ($TBD), Sound Galleries SGM2015 reference music server ($16,000), Evolution Acoustics cabling, and more, the sound was lively, with excellent pace.
Bass, in fact, was tremendous, the midrange excellent, and the top lively on the Brahms Hungarian Dance No. 1 in g. However, on Vanessa Fernandez's Led Zeppelin cover at 45rpm, the top was bright, and bass a bit wooly.
When I visited, virtually all attention of listeners was focused on the outboard crossover of a speaker whose ceramic aluminum drivers were designed by Kevin Malgren. Kevin tells me that the drivers were not fully broken in, and the speaker cables out of the box. Between those two factors and a room with a big 5dB hump at 80Hz, who knew what was going on . . . besides the fact that the crossover has filters specifically designed to break up peaks.
"This is a new product," Kevin said of the Maestoso. "We're still discovering things about it."
Audio Plus Services' visually striking Naim/Focal display produced a beautiful midrange, huge soundstage, and excellent top on Boz Scaggs' "Thanks to you." The presentation, however, lacked the last bit of beauty and air. Switching to a harpsichord/flute duo produced a huge harpsichord—bigger than life—and a top that, while lovely, was somewhat artificial-sounding. I'm still struggling for words adequate to explain the system's sonic signature, but I found it a bit unyielding, as though unwilling to let me in emotionally.
Doing the honors: Naim NAC N 272 preamp/DAC/streamer ($5995), Naim NAPS 555DR optional power supply for the above ($11,495), Naim NAP300 DR, power amplifier with external power supply ($13,995), Naim Fraim racking system ($4696 for this configuration), Naim cabling, and Focal Scala Utopia loudspeakers ($32,995/pair).
Another of my jaw-dropping best-of-(my) show systems—one that wrapped me in its warm embrace—was created when mbl paired its Radialstrahler 101E MKII loudspeaker ($70,500/pair) with its new Noble line stereo preamplifier N11 ($14,600), N15 mono amplifier ($17,800/each), and N31 CD-DAC ($15,400). Together with United Home Audio Ultima 2 OPS-DC ¼" tape deck ($28,000), Wireworld Eclipse Series 7 cabling, and SMT room treatment ($500 each for panels and bass traps), the system enabled a hi-rez track from a forthcoming Naxos CD of the Portland State University Chamber Choir, engineered by John Atkinson, to exhibit a huge expanse, gorgeous dynamics, and a totally mesmerizing sense of space.
The soundstage, warmth, and color on another track from Blue Tofu were near unbelievable. Seated in the exactly positioned single sweet spot, it was a case of total immersion.