L'Arpeggiata: Memory and Music Collide
Lenny Abramov thought he found immortality in Eunice Park, the woman who gave him the will to live. He thought he found it in his job, where he sweat endlessly soaking through his acrylic shirts while mindlessly serving Joshie, a back-stabbing "friend". Eunice would leave him too. In fact, the only true happiness Abramov ever found and returned to were the sounds of his mother and father's native Russian tongue, their coddling words and thick, laborious accents. In their speech, he could reconnect to the compassion they shared, the basketball they played, and his basement bedroom. Abramov's parents were the only thing he had, until they died. He was left with bells "tolling, deep and sonorous and thoroughly Russian" (Footnote 1). Lenny never chose his parents. He never chose their boundless affection. It was the sound of bells at their deathbeds that reminded him he was loved.
The music performed by Christina Pulhar's ensemble L'Arpeggiata at Carnegie Hall on a mildly chilly spring evening reconnected my own moments of love and memory from childhood and illuminated how these songs and sounds made me the man I am today. I arrived to my present state in time, having relived something both new and old because emotions never die. Through art and song, they are remembered, morphed, and cataloged.
I'm talking about the power of transitive emotional hearing: the ability to be taken by the music to a moment in the past. As audiophiles and music lovers, we often use our hi-fis to get us back to that time: "When I first heard the Beatles!" or "When I realized the grass, my friends, and Jerry's guitar are all on the same plane of existence". Live music can be a venue for transference as well. L'Arpeggiata, Pluhar's 12-year old ensemble of stringed instruments, woodwinds, and percussion, brought me back to so many places in time; it did as well for my Peruvian compadre Luiggi. As South American brothers, we began our journey inside the box office of Carnegie Hall, unknowing of how to actually receive our reserved tickets.
After sitting on the steps for a little while, befriending the ushers, and sneaking into the bathroom in the main concert hall, we finally asked the right questions to obtain our guest passes. One of the friendly ushers guided Luiggi and I to Row F of Zankel Hall, one of the sub-halls at Carnegie.
Pictured below, Zankel Hall is a tall room, deep room. One reaches the bottom floor by descending a pair of escalators. Prior to the performance, I asked myself if the escalator sound would be heard in during the concert. It was not. When patrons left, they redirected the motor stairs upwards.
The size of Zankel was striking, an NYC concert hall that makes you wonder just how they squeeze that big empty space within the tight city blocks. The ceiling above the stage reached no apparent end, shadowed by a jagged wall of PA speakers, lights, and black steel beams. Wooden grid-like panels lined the sidewalls and more crisscrossed the back of the stage. The most consistent sound characteristic throughout the show from the right side of Row F was a high-reaching reverb to all the sounds with a surprisingly short decay. The sounds reached forward and up, with added emphasis on the first attack of each note but did not necessarily wrap around the listener from where we were sitting.
Prior to the show, all of the instruments that constituted L'Arpeggiata's artillery semi-circled around the stage. Instruments included the theorbo, psaltery, chitarra battente, charango, baroque guitar, lute, harpsichord, arpa llanera, and a cuatro. Stringed instruments spanning time eras and oceans, from the Italian Renaissance to early 18th Century Latin America, all put together to recreate moments described in song from different periods of each songwriters existence, yet somehow seeming whole within the context of the evening's program.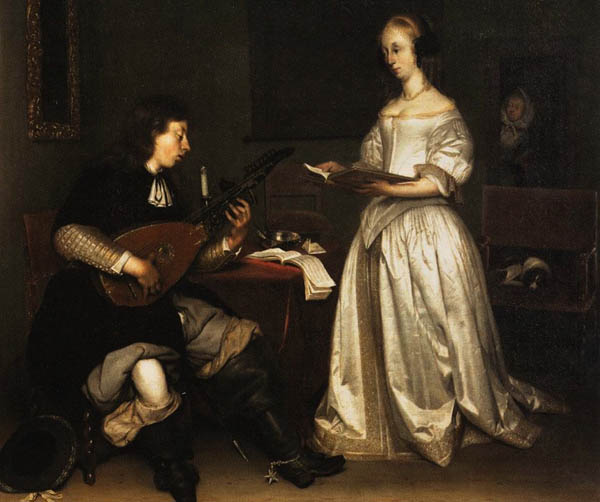 Speaking of which, before the ensemble took stage, a representative from Carnegie approached the microphone forewarning us that the night's show would not be following the provided program, and in the spirit of improvisation within much of the night's music, there would be changes.
Leading the vocal charge for the evening was Lucilla Galeazzi, beginning the set with two of her own compositions "Ah, vita bella" and "Voglio una casa". Galeazzi, a key player in the Italian folk movement particularly during the 1970s and 80s, inspired the light of life and brought smiles across the room. The second Galeazzi made her pure connection with the audience and myself, I understood more fully what my roommate Jared, an opera student at Brooklyn College, had explained to me as the role of the opera singer: "If you can make everyone else feel it, while you are feeling it, then you are doing it right." Galeazzi's vibrant disposition inviting listeners certainly made you feel it from ear to ear. In "Voglio una casa," Galeazzi welcomes the audience with her wishes:
I want a house for lots of people,
I want it to be strong and welcoming,
Firm and warm, simple and real,
For making music morn and eve,
And where poetry would have its bed;
I want to live under that roof.
She concluded her invitation with a resounding, "Dididindi, Dididindi"!
Bam!
My first moment of time-space transference, as she sang her dididindis. Though the song was a modern Italian folk song written by Galeazzi, it zapped me both south of the Equator, and to the Bible Belt simultaneously, a joyride on the scuttling centipede of time. Galeazzi's ecstatic chirps sat me in the backseat of my mother's forest green Ford Taurus stationwagon, and the bumpy and soft hills of Birmingham, Alabama, singing along with Argentinean vocal pioneer Mercedes Sosa's "Maria, Maria", smiling with my sister and pointing at the sky. This was a happy time. Just as my sister and I swayed to Sosa's "Ah-ehs!", Galeazzi brought the audience to an equal level of joy, and those black beams and heavy PA speakers could have parted like clouds, and even on a mildly chilly New York City evening, it would have made sense for the sun and blue skies to peak through.
In between the first two songs, the audience was treated to an improvisation showcasing the different instruments in the band. The hearty short-stringed sounds of the charango, chitarra battente, and cuatro settled on a jumpy rhythm, punctuated by the short reverb of the hall. Boris Schmidt played a killer solo on his gorgeous ebony– wood-toned bass that excited my bass playing amigo Luiggi. Following was a solo by Doron Sherwin on the cornetto, an early wind instrument dating back to Medieval times, with a refreshing tone like a morning dew. Boldly interrupting Sherwin's solo with his silver-sheathed basset horn was a towering Semitic-looking version of Bleeding Gums Murphy, but much to my surprise, it was actually Gianluigi Trovesi, an established performer and teacher in the school of Italian jazz. I guess the Simpsons' stereotype expands internationally.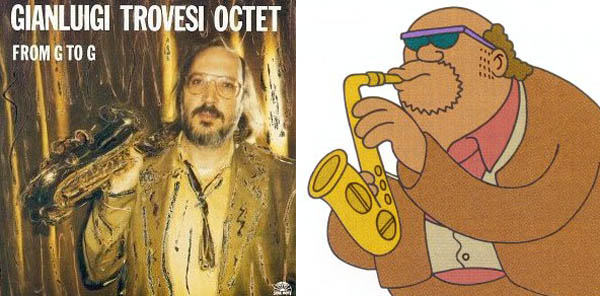 With the jubilee of dididinis and heartwarming rivalry between Trovesi's big clarinet and the passive cornetto, L'Arpeggiata's stage was turning into an old-fashioned brouhaha: ensemble members gallivanting from one side to the next, sharing words through their instruments, and beating their chests and cheering at emotional turns, all within the first ten minutes.
"Pizzicarella mia" just took that kinetic energy and catapulted it further: just as the strings established their progression and pattern, a wild maned and barefooted Sara Dego stormed the stage, freeform dancing to this Italian folk tune that sounded a lot like Beyonce's "Single Ladies". Accompanied by Dego's swagger and foot stomps, I was nearly convinced that it WAS "Single Ladies", but the program's translation indicated to me otherwise.
After the foot-stomping flower lady exited the spotlight as did our initial guide for the evening Galeazzi. I grew worried. Her voice and bosom so comforting, would I ever feel so welcome ever again?
At this moment, Vincenzo Capezzuto strode to the stage's ledge, brooding. A black magic smirk dashed his face, but upon letting his voice ring out, the atmosphere shifted. The once slyly menacing presence of Capezzuto converted to one of sunshine and laughter as this countertenor beamed up to the highest regions of his register.
The 'scallywag' Dego returned powerfully, this time gyrating her hips to the deep and flesh-toned bounce of the drums. In that moment, she became the earth and fire and all which moves our primal urges, an embodiment of the Creole roots of Latin America: the primitive yet complex African rhythms, the Gypsy heart, and the Spanish sense of poignancy.
As the lady of interest twirls and shifts her hips, 'Bleeding Gums' Markowitz, I mean, Trovesi lures her with his Klezmeric scales.
But L'Arpeggiata would not let my heart stop racing here. The real object of my eye that evening, Luciana Mancini, took center stage as the rhythm and strings laid down a familiar groove. Instantly, I forgot about Mancini's long luxurious face and was warped back to my brother's Nissan Maxima, driving to Atlanta, Georgia. He asked, "Have you listened to Los Jaivas?" He puts on Alturas de Machu Picchu, a record which later became one of my first picks for our annual Stereophile Records To Die For feature, which you can read here. Although not my favorite song on the record, "Sube A Nacer Conmigo Hermano" is undoubtedly the album's iconic track, most notable for it innovate use of the cueca as its rhythmic base. The cueca is the national dance of Chile, based off of the zambacueca a dance of Creole origins. After laying down the gently galloping rhythm, electric guitar and synthesizer wizardry spin circles around descriptive lyrics of the unification of working peoples. In that one second, where L'Arpeggiata laid down the groove for Mancini's first song, "Montilla," I was transferred to the car with my brother, hearing Los Jaivas chant the words of Neruda, "Horas, dias, años / edades ciegas / siglos enterrados." Hours, days, years / blind eras / centuries buried. Are the memories of our past ever truly buried? How do we elicit the soul of our past experiences?
"Sube a Nacer Conmigo Hermano" is a cueca, and L'Arpeggiata's "Montilla" a joropo, technically speaking, two different forms, but their like-minded rhythms fused nodes together in my brain, electrifying a neural network of memory and sound. I remembered the joy I felt with my brother's sharing of his favorite music which would become my own, and I readapted the excitement to "Montilla". You can hear the Los Jaivas progression starting at 4:20 in the video below and at the beginning of L'Arpeggiata's performance of "Montilla".
Los Jaivas: "Sube a Nacer Conmigo Hermano"
The sound was being a little funny in Zankel. Not only did Mancini have unevenness in her projection but so did the countertenor Capezzuto. Maybe it had to do with microphone placement, or maybe neither were as consistent in breathing power and clarity as the Galeazzi.
"Pajarillo Verde", the debut of Raquel Andueza's singing for the evening, conjured images of flashing trees with their broad leaves whipping fast in tropical gusts of wind, scented love letters in script text, and stucco houses with dried mud crumbling at their forefront.
The short little silent breaks on "Duerme Negrito" accented by the gentle shaking of goat hooves allowed one to hear just how quiet it was in the hall.
The program had made its transition from the Italian folk songs to traditional Latin American material. Butterflies fluttered in my gut: just when would they play it? As indicated before the start of the show, L'Arpeggiata would not be following the program so I had no idea when they would perform Ariel Ramírez and Félix Luna's "Alfonsina y el mar." But I knew it would happen. It had to.
The matriarch with the uplifting voice returned to center stage as that familiar melody began…
da-da…da-da-dah. da-da…da-da-dah.
Now Galleazi is my mother in the car playing a Haparvarim tape, listening to this song in Hebrew, singing to me in Spanish. Strange how most of our musical memories happen in automobiles and, like a dream, in a language which is not understandable except in the form of ideas, images, and movement.
I wanted to get up and scream and cry and raise my arms and rest my body in Galeazzi's embrace. This is my song! So happy and sad the same time, memories flooded. It's been a while since my mother has made me Sunday lunch or we drove a long distance listening to music. I am working full time for Stereophile and playing full time with band in the after-hours in New York City. She is re-married, living a social dream in Birmingham, Alabama reintroduced a community she never really integrated into, and a successful guitar teacher for little children. Like the music, the mother I once had is reduced to a forlorn memory.
Pluhar fades out her ensemble and Galeazzi draws back as she concludes the song's mournful melody.
Here's a video of L'Arpeggiata's performance of "Alfonsina y el Mar".
In Zankel Hall that night, I felt the pain in the lines more than I ever had.
Turn down the lamp a little, nurse,
and let me sleep in peace.
If he calls, don't tell him I'm here,
tell him Alfonsina won't be back.
And if he calls, don't ever tell him I'm here,
say that I've gone away."
When we bring back the sweet and bitter emotions of our lifetime that were accompanied by melody with our hi-fis or live concerts, are we creating a new memory or reliving an old one? Certainly something is added to the older experience. We have lived longer and learned more from these times. Galeazzi did not sing in Hebrew harmonies like the Haparvarim Duo or with the same gravitus as the Mercedes Sosa version, but she made me long for my mother. Not because of Galeazzi's soft white skin, gentle smile, or welcoming arms, but because she made me remember that my mother taught me there can be pain in music. She would say, "This song makes me so sad." Memories are not to be buried, but to be felt, time and time again, and this is what we have the music for.
---
L'Arpeggiata's release on EMI
Los Pajaros Perdidos
highlights lost compositions by Astor Piazzola, Argentinean tango master, further establishes Pluhar's point of the interconnectedness of Latin American music that she extends further back to Italian folkloric traditions through diverse instrumentation. The interconnectedness of her selections stimulate the weaving of melody and memory, where style and subgenre become irrelevant and melodic emotion and rhythmic gestures become the guiding forces to where we are going.
---
Footnote 1: Check out Gary Shteyngart's
Super Sad True Love Story
to find out more about Abramov's abject existence.