Maserati and B&W Pimp Each Other's Rides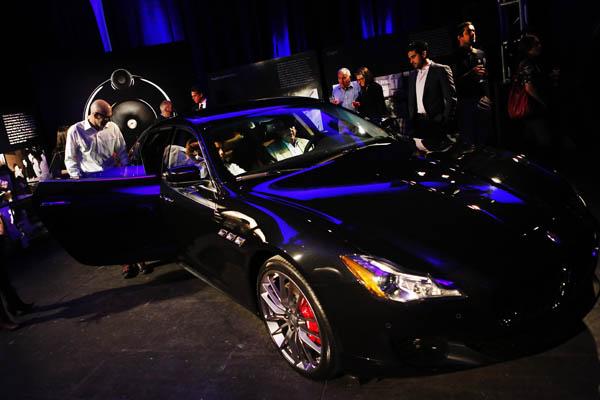 On Thursday, June 13th, British hi-fi mainstay Bowers & Wilkins and Italian luxury car manufacturer Maserati brought their Seven Notes World Tour to the Industria Superstudio in New York City's Meatpacking District. The event presented the B&W-designed in-car audio system, the new B&W 805 Maserati Edition loudspeaker, and a performance from Howie B.
At the entrance, exquisite women in wavy, knee-cut, blue-gray dresses granted permission to enter via iPad guest-lists. Diamond ear-pierced, broad-collared male fashionistas and evenly tanned belles waited outside. Caterers handed out never-ending glasses of Prosecco with vodka and sliced pears or Prosecco with Campari and blood orange. B&W products under spotlights lined the main floor including the Nautilus, 800 loudspeaker, Zeppelin Air iPod Dock, and B&W P3 headphones.
In the back corner, guests circled around and crammed into a Maserati Quattroporte for their chance to listen to the B&W system. The vibrant-colored cocktails were confiscated before entering the automobile. The B&W audio system features fifteen drivers: five 25mm aluminum dome tweeters, five 100mm Kevlar midrange drivers, two 165mm Kevlar bass/midrange drivers, two 165mm Rohacell bass drivers, and one 350x20mm subwoofer. A 1280-Watt Class D amplifier powers the speakers.
In a short interview, Danny Haikin, Director of Brand Management at B&W, described how the B&W and Maserati relationship developed. Maserati was looking to improve their automobile's sound, disappointed with their previous partner. Upon discussions with B&W, the two companies felt they shared much in common. B&W designed the speakers and sent blueprints to Harman in the United States to build. Audio processing is provided by Harman's QuantumLogic Surround Sound. The B&W car audio system is currently available in the Quattroporte and Ghibli but will be in all Maserati cars in the near future.
As part of their continuing partnership, B&W and Maserati redesigned the B&W 805D loudspeaker with elements of the Maserati car interior. The outer speaker cabinet is finished with a bird's eye maple real wood veneer like Maserati woodgrain panels. Black Italian leather lines the front baffle, and a Maserati trident logo is emblazoned on the speaker's feet. The B&W 805 Maserati Edition will cost approximately $10,000 per pair. The standard 805D costs $5000 per pair. "This is the same speaker as the 805D, sonically speaking," Haikin advised. You don't get better sound for the money, but you do get exclusivity. The B&W 805 Maserati Edition will be available by November 2013 on a limited basis through select dealers.
B&W and Maserati plan on releasing a P5 Maserati Edition headphone by the end of 2013.
The name "Seven Notes Tour" originates from the seven distinct musical notes generated from a revving Maserati V8 engine. Scottish music producer and DJ Howie B performed a semi-ambient fifteen-minute set based on this engine tones through a row of eight B&W CM8 loudspeakers. The song featured interesting dynamic contrasts of engine bursts and silence. The crowd parted halfway through the set at the discovery that beer was now being served.
B&W and Maserati will bring the Quattroporte Maserati, the B&W 805 Maserati Edition loudspeaker, and Howie B to Dubai, Bejing, Shanghai, Tokyo, Los Angeles, and London as a continuation of the Seven Notes Tour.