Krell Cipher SACD/CD player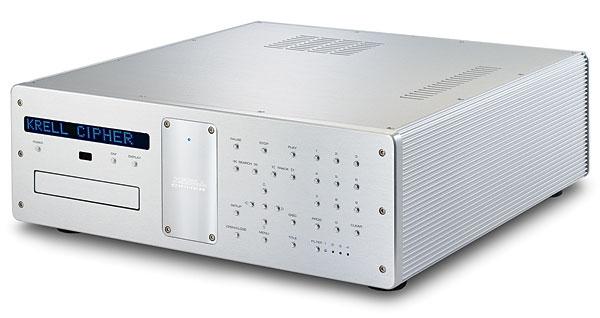 Around the turn of the century, a review of the latest hair-raisingly expensive turntable would often begin with a soothing chant that, yes, the RotorGazmoTron XT-35000 is a tad pricey, but it
will
be the last piece of analog gear you ever buy—so go ahead, take the plunge. A dozen years later, pressing plants are stamping out LPs 'round the clock, and new high-end turntables are rolling off production lines at a respectable clip. So who knows whether today's Cassandras might be equally premature in bewailing the death of the Compact Disc? Which is to say that I can't in good conscience urge you to pay $12,000 for a CD player on the grounds that the medium's about to die, so splurge now while there's still something to splurge on. But if you have the scratch, and the itch for such a product, step right up and let me tell you about the Krell Cipher.
The Cipher—a strangely inert name for such a dynamo machine—is Krell's follow-up to the slightly cheaper Evolution 505 ($10,000, reviewed by me in the September 2008 issue). Like the 505, the Cipher is a fairly massive SACD/CD player: 29 lbs, half a foot high, and a foot and a half wide and deep, with a case of aircraft-grade aluminum (it comes in silver or black) sporting slitted edges on the side, which give it a modicum of grace. Also like the 505, and like all amps and preamps in the Evolution series, the Cipher employs Krell's proprietary CAST circuitry.
Description
As outlined in my reviews of Krell's Evolution 505 and FBI integrated amplifier (July 2007), the company's Current Audio Signal Transmission (CAST) circuitry manipulates audio signals in the current domain rather than in, as is usual, the voltage domain. It does this in the circuits within a component and—if you have a Krell preamp and a special CAST cable—the connection between two components (more about that later). In theory, this approach reduces distortion in two ways. First, the signal is a continuous stream of current; it doesn't have to be converted from current to voltage and back to current. Second, signals in the voltage domain go from low impedance to high, while signals in the current domain go vice versa. As a result, say Krell's technicians, factors that inevitably corrupt a signal—stray capacitance and inductance on a circuit board, the various effects caused by the mismatched impedances of interconnects—are reduced or eliminated. But operating in the current domain requires about twice as many transistors, which means the component must be bigger and heavier, run hotter, and thus cost more.
Except for the name on the faceplate, the Cipher looks outwardly identical to the Evolution 505. Inside there are some similarities—the disc transport still rests on a rigid aircraft-grade aluminum subchassis, and its drawer is mounted on a steel plate to maximize reading accuracy—but much has been upgraded. The disc drive—made by a Chinese company called Raymedia, and also used in the 505—incorporates newly customized firmware said to improve reading accuracy further, and extra damping material to reduce noise when it's tracking a hard-to-read disc. The separate output levels for the CD and SACD laser heads are now individually hand-calibrated. (Krell will apply this upgrade to your 505 if you send it to the factory.) Whereas the 505 had a single stereo D/A converter, the Cipher uses a pair of 24-bit/192kHz DACs, which deliver higher current to the analog stages and expand the dynamic range by 3dB. New current-mirror technology are said to generate a closer match between the hot and cold signals of the balanced circuitry. The new output stage, which requires about one-third more components than that used in the 505, is said to produce less distortion and wider dynamic range. The Cipher also uses the same anti-jitter circuit that was retrofitted to later units of the 505, and which Krell claimed reduced jitter between the transport and the DAC by a factor of five.
Setup
I did all of my listening with the Cipher resting on three Black Diamond Racing Mk.IV Cones (footnote 1)—which, as usual, tightened the transients a little bit—and plugged into Bybee Technologies' Signature Model Power Purifier, which in turn was plugged into hospital-grade wall sockets wired to a dedicated 20-amp circuit. Speakers were a pair of Revel Ultima Studio 2s. (The Cipher can play multichannel SACDs, but I didn't.) For most of the time I used Simaudio's www.stereophile.com/content/simaudio-moon-evolution-700i-integrated-amplifier">Moon Evolution 700i integrated amplifier and Nirvana cable, but I also swapped it out for Krell's FBI integrated, so that I could test the Cipher's CAST output circuitry using a strand of Nordost CAST interconnect.
Although the Cipher offers a choice of two filters for CD playback and four for SACD playback, Krell told me that Filter 1 was the best in general. I listened to the others, but just briefly, as it struck me that Filter 1 was indeed the best. That's what I used.
Sound
In my review of the Evolution 505, I singled out the player's finesse at revealing the finest subtleties of a musical passage, untangling the knottiest complexities, and showering light on the tonal colors of a voice, an instrument, or an ensemble. I also praised its airy highs, its subterranean lows, and its knack for tossing up a palpable soundstage (wide width, deep depth, sharp but not Etch-a-Sketch images). Summing up the Cipher, I'd say: all that, taken up a notch or two on every count.
On "Tangled Up in Blue," from the SACD of Bob Dylan's Blood on the Tracks (Columbia CK 9032), I still heard the "extra octave of air [that] seemed to rise from the steel guitar," but the acoustic guitar's strumming was also harder, clearer, and more melodic. On Michael Tilson Thomas and the San Francisco Symphony's performance of Mahler's Symphony 9 (SACD/CD, SFSO 821936-0007-2), sounds were still "popping out all over the soundstage, very precisely but in full harmonic richness," but now with greater clarity. For instance, just before 2:00, clarinets come in under the strings for just a measure or two, but I'd never heard them jump out with such vibrancy or sound so much like clarinets, with their reediness and the wind jetting out the long narrow tube, as opposed to horn-like notes coming out of some ill-defined something.
---
Footnote 1: We are sorry to report that Black Diamond Racing's Donald "DJ" Kasser succumbed to lung cancer and its related complications on January 13, 2012 at Columbia-St. Mary's Hospital in Milwaukee.—
Ed.