KEF Q350 loudspeaker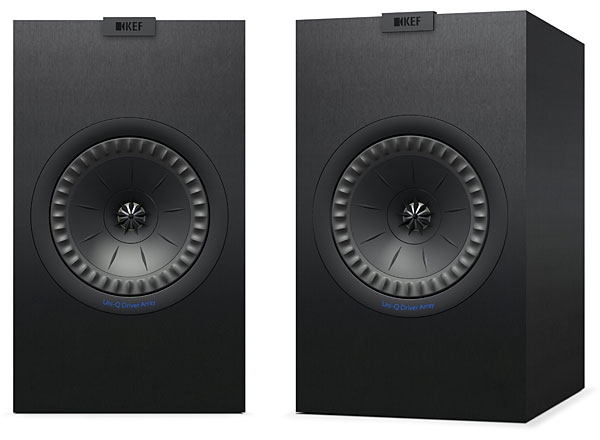 During the hour preceding my removal of the
KEF LS50
loudspeakers from their spiked, rough-iron stands, I was lost in the recurring still moments, reverberating tones, and contemplative spirit of Sir John Tavener's
Eis Thanaton
and
Theophany
, in the recording by soprano Patricia Rozario, bass Stephen Richardson, and Richard Hickox conducting the City of London Sinfonia (CD, Chandos CHAN 9440).
After replacing the LS50s with the not-yet-broken-in KEF Q350s, I restarted Eis Thanaton. Three minutes in I was staring blankly, eyes closed, swaying slowly in my seat, astounded by how much larger and more serious every note had become. Voices, instruments, and recorded atmosphere not only felt more expansive; everything seemed more exposed, more sacred, more directly communicative, possibly even more darkly transparent. These differences in degrees of directness and exposure made me excited to be reviewing a British loudspeaker that could accomplish such things while costing only $649.99/pair.
Description
I was first drawn to KEF's Q350 because I wondered how a larger version of their signature Uni-Q driver than the one used in the LS50 would sound in a less expensive, vinyl-wrapped enclosure of larger volume and thinner walls. I'd logged a lot of hours with KEF's reference-quality LS50, and I wondered if comparing it to its lower-priced, Q-series sibling might disclose not only another high-value stand-mounted bookshelf speaker, but also show me some things about the effects of cabinet mass and crossover slope on loudspeaker performance.
The LS50 has a 5.25" Uni-Q coincident array with an aluminum-magnesium alloy midrange-bass cone, a 1" aluminum dome tweeter, and a cast-aluminum basket, in a 7.5-liter, 15.8-lb cabinet made of MDF and a sculpted structural foam solid molding. The Q350 has a similar, 6.5" Uni-Q array with an aluminum midrange-bass cone, a 1" aluminum dome tweeter, and a stamped-steel basket, in a 14.5-liter, 16.75-lb, generic-looking MDF box.
According to Dipin Sehdev of KEF America, the stamped basket "is equal in rigidity to the cast one" because "We designed the chassis using Finite Element Analysis (FEA) to increase its strength. The Q350's box material is 0.59" MDF, with a 1.34" thick front baffle. There is a single horizontal brace in the middle of the cabinet. The Q350 doesn't have the same constrained layer damping as the LS50."
While the motor systems of the LS50's and Q350's drivers are the same, the Q350's specified sensitivity is slightly higher: 87dB/2.83V vs the LS50's 85dB/2.83V. The Q350's Uni-Q driver includes a damped loading tube for its tweeter, which, Sehdev says, "gives a gentler termination at the back of the tweeter—improving response at the bottom and reducing harshness."
The LS50 crossover has a third-order low-pass filter and a second-order high-pass filter; the Q350 has first-order filters for the high and low passes. According to Sehdev, "The lower component count for 1st order network allows us to use better quality components for the price." (footnote 1)
The Q350's cloth grille is optional at $39.98/pair, but KEF does include concentric, two-piece foam plugs to partially or fully block the rear-firing ports when the pair are positioned near room boundaries.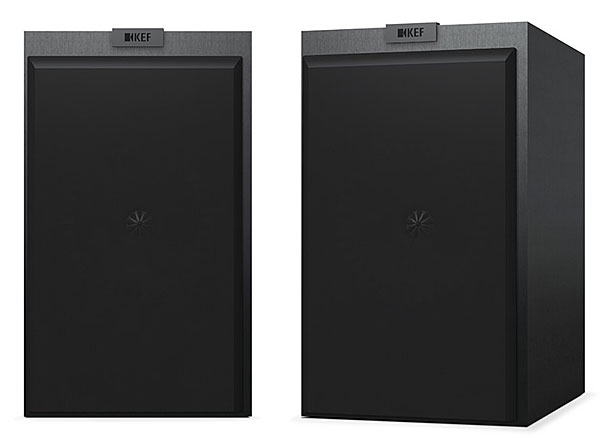 Setup
Reviewing loudspeakers is plagued with uncertainty. Everywhere I place them and every amp I connect them to makes a pair of speakers sound different.
Throughout the five weeks of my listening, I never stopped adjusting the Q350s' positions, but not because they never sounded right—they sounded fundamentally good everywhere. I kept moving them to determine which combination of wall-to-speaker distance and port plugging worked best. In the end, I slightly preferred the Q350s 6' apart, toed in just a little, 33" from the wall behind them to their front baffles, and with their ports partially plugged.
Listening
I prefer loudspeakers with well-controlled directivity, which is the main reason I admire KEF's Uni-Q concentric drivers. Optimizing a loudspeaker's radiation pattern is the Uni-Q's raison d'àtre. The Q350s generated a proper soundstage and good timbres throughout my small listening room.
The last speaker I reviewed, the Totem Signature One, had a rear port that whistled at about 560Hz, so the very first thing I listened for with the Q350s was noise from their ports and cabinets. The port seemed quiet, but not as quiet as when it was partially or fully blocked. I also noticed a bit of "talk" from the cabinet, but only rarely did I detect any cabinet resonances in the fundamental range of human speech—approximately 200–750Hz—while listening to music.
To roughly assess the maximum amplitude of the noise produced by the Q350's enclosure, I drove the KEFs with Bel Canto Design's e.One REF600M monoblocks ($4990/pair) to play François Couperin's complete works for organ, with Michel Chapuis performing on the Jean-Esprit Isnard "large organ" of the Basilica of St. Mary Magdalene, in Saint-Maximin-la-Sainte-Baume, France (LP, RCA Victrola VICS 6018). I used the powerful Bel Cantos to hear how well these little speakers could reproduce the sound of a big organ recorded in a giant cathedral. The Q350s replicated Couperin's "Parish" and "Convent" organ masses with greater scale and finer, more intricate detail, but less forcefulness, than did the LS50s with the same amps.
Imagine how I felt as I lay on the couch in my night-dark, candlelit apartment, feeling like I was surrounded by the stone walls of a Gothic cathedral begun in 1295. Imagine expansive pipe-organ notes energizing the air and echoing throughout my little room. These modest stand-mounted speakers let me feel that.
At one point in my critical listening, I got up and put my hands on the sides of the Q350s' cabinets. I could tell where the internal brace was. The vibration I felt, especially toward the bottom front of each side, was not subtle. But maybe this isn't a bad thing? It certainly did no harm to the reproduction of this glorious organ recording.
I replaced the Bel Cantos with the Pass Laboratories XA25 stereo amplifier ($4900) and listened to Robert Palmer's Quintet for A-Clarinet, String Trio, and Piano, composed in 1952 and performed by clarinetist Arthur Bloom, violinist Kees Kooper, violist Paul Doktor, cellist Warren Lash, and pianist Mary Louise Boehm, and produced by Marc Aubort and Joanna Nickrenz (LP, Vox Turnabout TV-S 34508, now available on CD as Albany 153). The Pass Labs amp and KEF Q350s reproduced the sound of each instrument with almost pitch-perfect tone and above-average force and texture. I could sense the thicknesses of the wood of the stringed instruments. I could feel the pull and push of the players' bows. On other selections on this LP, the flute made breathy, lifelike notes. The attacks of piano notes felt surprisingly natural. Note decays were blurry, and slightly too long. But overall, the Q350s allowed the piano to sound full-bodied and musically satisfying.
Driven by Rogue Audio's Sphinx hybrid integrated amplifier (tubes, class-D, $1299), the Q350's sound had stout bones, especially through the bottom octaves. The midrange was clear as water. Unfortunately, there was a leanness that turned dry and flat through the uppermost octaves. The big drum in Guo YaZhi's Sorrow of the River (CD, M•A Recordings M074A) was taut and surprisingly powerful, but YaZhi's various Chinese wind instruments sounded annoyingly hard and two-dimensional.
I'm proud of my Stereophile reviews of Schiit Audio's Yggdrasil DAC ($2299) and Ragnarok integrated amplifier ($1699). Now, one and two years later, respectively, I'm enjoying both Schiits more than ever. Therefore, the natural-feeling energy, hip-shaking momentums, saturated colors, high-relief textures, and relaxed coherence they brought to the Q350s did not surprise me. The Ragnarok showcased the Q350's reproduction of instrumental tones. The sound was thicker than it should be, but instruments and voices appeared more tangibly in the room than with the Rogue Sphinx.
---
Footnote 1: See John Atkinson's
video interview
with Jack Oclee-Brown, KEF's Head of Acoustics.—
Ed.