Head-Direct HiFiMan HM-602 Digital Audio Player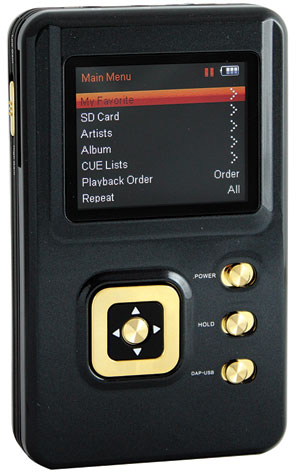 Head-Direct's HiFiMan HM-602 is the second in a growing line of perfectionist-quality portable music players designed by Fang Bian, a 31-year-old audiophile and student of nanotechnology at the City University of New York's Hunter College. Bian's first HiFiMan design was the larger, heavier, more versatile HM-801 ($790; see my review
here
). In building the HM-602, Fang sacrificed the '801's removable amplifier module, 15V rechargeable battery, and coaxial input, thus creating a smaller, more portable product. Much sleeker and less substantial than the '801, the HM-602 measures approximately 4" L by 2.5" W by 1" D and weighs just 7oz—it can rest comfortably in the palm of a hand or a coat's inner pocket.
Overall, the HM-602 has a handsome, rather serious appearance: With its gold controls and its fine metallic finish, which at times seems a deep green and at others takes on a smoky charcoal, the HM-602, like its predecessor, exhibits an air of elegance and sophistication. And while the HM-801 proudly takes after Sony's famed Walkman—Fang Bian once owned every available model of the now-discontinued portable cassette player—the HM-602 much more closely resembles Apple's iPod Classic. On its front panel, below the 2" LCD screen, the HM-602 has a four-way control ring similar to the iPod's scroll wheel, and three sliding switches: Power, Hold (deactivates controls while music is playing), and DAP/USB.
The HM-602 is equipped with an inexpensive 5V, 1A power charger. On a full charge, the battery is good for about 10 hours of music, but be sure to keep the battery charged before any long listening session. As I discovered, the HM-602 doesn't shut down gracefully: One quiet afternoon, while casually listening to music, I was terrified by what sounded like a loud, violent siren announcing the end of the world. Fight-or-flight took over—I ran from the kitchen toward my bedroom, where the sound seemed to have originated. Once there, standing in the doorway between bedroom and listening room, I realized that the music had come to an end, and that the awful sound was actually coming from my speakers. I turned to the HiFiMan and noticed that its battery had run dry, thus causing the player to send out a death signal. Fang Bian might consider augmenting his player with some sort of soft mute to avoid any catastrophic damage to speakers—or to their owners.
According to Bian, the HM-602 is the first portable music player to use the Philips TDA-1543, a 1990s-vintage 16-bit DAC chip, which, he says, offers a sound similar to that of the Burr-Brown PCM1704 in the HM-801. For its amplifier section, the HM-602 uses a Burr-Brown OPA2107 op-amp. There's a headphone output, a 1/8" line input, a five-pin mini data exchange port for transferring music files from a computer, and a slot that accepts SD cards up to Class 4 32GB HDSD (cards not included). The HM-602 also offers 16GB of onboard memory for storing MP3, WAV, OGG, and 24-bit/96kHz FLAC files. Whereas the '801 boasts a modular amplifier design, the HM-602 has a High/Low Gain switch that allows the player to drive both high-sensitivity in-ear monitors and most full-size headphones. Finally, like the '801, the HM-602 has a USB DAC port, so that you can, you know, feed it data from a computer.
But I didn't do that. Instead, I primarily used the HiFiMan HM-602 as I do my iPod Nano: as a portable music player, and as a dedicated source in my main system. Over time, in both applications, the HiFiMan distinguished itself as the more engaging player, with enhanced bass weight and control; a more expansive soundstage; larger, more precisely placed images; and a richer, fuller overall sound. In direct comparisons, the iPod consistently sounded restricted and more mechanical, with less clarity and definition. Additionally, and most important, the HiFiMan exhibited a greater sensitivity to nuances of tonal color, enabling it to reveal deeper levels of musical meaning. Through the HiFiMan, music made more sense and was therefore more enjoyable and more enriching. Each time I went back to the HiFiMan, I suddenly felt more relaxed and more engaged. My body was talking to me, and it was saying, "This is right."