Gibson and Onkyo form strategic partnership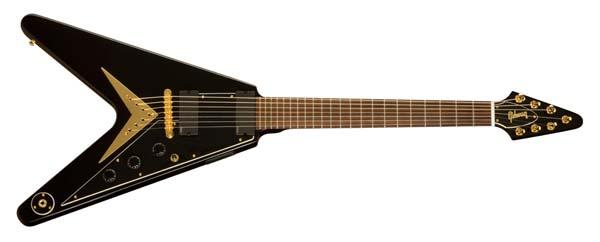 Gibson Guitar Corp., makers of some of the world's most iconic electric guitars—the Flying V, SG, and, of course, the Les Paul come to mind—yesterday announced a strategic partnership with Onkyo Corporation, perhaps best known for their versatile multichannel A/V receivers and 2-channel power amplifiers. If approved, Gibson will purchase a stake in Onkyo Japan and acquire a majority interest in Onkyo USA, becoming the second largest shareholder in Onkyo Corporation. The agreements are subject to Japanese regulatory clearance, further negotiations, and financial considerations.
What would Gibson gain from Onkyo? According to the press release, "Onkyo offers Gibson's newly formed Pro Audio division substantial technology resources." That Pro Audio division already includes KRK, Cerwin-Vega!, and Stanton, and Onkyo USA would become its newest member. What would Onkyo gain from Gibson? Again according to the press release, "Gibson will provide Onkyo with its marketing resources and expertise."
Through the partnership, Gibson would become an Onkyo distributor for Central and South America and the exclusive distributor for North America. Would we then see Onkyo products in musical instruments stores such as Guitar Center and Sam Ash? Will Gibson-sponsored guitarists endorse Onkyo products? Will Onkyo products, which in recent years have acquired an attractive, business-like appearance—the Reference products, in particular, offer a great modern take on vintage hi-fi—receive a new, more daring look? No word as of yet.
Gibson's Chairman and CEO, Henry Juszkiewicz, will be given a position on the Onkyo board of directors, while Onkyo's President and CEO, Munenori Otsuki, will take a position on Gibson's board. The two companies will form a Hong Kong-based joint venture "focusing on design and development of unparalleled consumer audio products." One might assume that these products would fall under the umbrella of Gibson's Pro Audio division. At this time, it's unclear whether the joint venture will grow into a new, distinct brand or if Onkyo USA's current product line will fold into Gibson's Pro Audio division.
Says Juszkiewicz: "While people may be listening to more music, they are listening to it primarily in a severely compressed format. The aural disparity between a real system and compressed sound is vast, and, as a result, they are simply not hearing tremendously rich sounds. With Onkyo, our goal is to bring the same exceptional experience artists demand in the studio to a larger consumer base."
No products have been mentioned at this time, but does this mean we can expect headphones, DACs, iPod docks, powered loudspeakers? Stay tuned.