The Fifth Element #81 Page 2
The high-quality outlet I'm most familiar with is Shunyata Research's SR-Z1, widely available for
ca
$95. Unless you're an experienced home handyman, hiring a licensed electrician to do the changeover pays dividends in peace of mind. If you do swap out these outlets yourself, an inexpensive outlet-polarity checker such as Klein Tools' RT-100 (
ca
$5, available at Home Depot) will confirm, before you've touched any wires, that you've turned off the power to the correct outlet; and, later, that you've properly reconnected the neutral and hot wires.
During installation of a better outlet, at the very least scrape or sandpaper the exposed ends of the wall wiring in the outlet box until they're clean and bright. If there's enough slack, snip and re-strip the ends to expose fresh, clean copper. (The new wire ends will, of course, immediately start to oxidize.)
AI Technology Silver Paste
The best way to enhance wall-wiring connections while preventing oxidation is to use an electrically conductive silver paste on the mating surfaces. The highest-quality silver paste I'm aware of is ELGR8501, from AI Technology. Its resistivity is 0.005 ohm/cm. The paste is more than 80% silver, which explains its price of about $85/half ounce. You need only a light smear of the paste—it's not a caulking compound. (Perhaps you can split the cost with a couple of audio buddies.) Remember, silver paste is only for wall-wiring connections. Never use any kind of silver paste on audio connections such as RCA plugs or jacks, or amplifier speaker terminals—the silver might migrate and create an amp-killing short circuit.
Caig Laboratories DeoxIT Gold Wipes
Over time, even a gold-plated audio connector will develop a thin film of corrosion, oxidation, dried condensation, or just plain nastiness. Caig Laboratories makes small squares of slightly abrasive textile that have been impregnated with its DeoxIT Gold (formerly Pro Gold) contact cleaner. I find the small wipes more convenient to use than sprays or liquids (which Caig also offers, along with pens, brushes, oilers, and needle dispensers). When I use a Caig wipe on the outside of an RCA jack or on the pin of an RCA plug, I usually see a smudge of dark residue left on the wipe. A plastic jar of 50 wipes costs about $30.
D.W. Electrochemicals Stabilant 22
Stabilant 22 is a nonconductive, proprietary (and formerly patented) complex block-polymer liquid that, under the influence of electricity in a contact, becomes conductive. The theory is that Stabilant 22 fills in microscopic gaps between the conductors, making the electrical contact more complete while excluding the causes of corrosion and oxidation. Test results have confirmed the substance's effectiveness. Stabilant 22 was the active ingredient in the contact enhancer Tweak (no longer available).
Stabilant's US importer for the audio field, Jerry Bruck, of Posthorn Recordings (New York City), sells a Field Kit ($37.50) suitable for home-stereo use. Due to shipping regulations, Stabilant 22 is shipped only in concentrated form. You have to get 99%-pure alcohol from a local pharmacy, then dilute the Stabilant concentrate with alcohol in a ratio of 4 to 1. I recommend using Stabilant 22 on all signal-level connections (it's not suitable for household voltages). Especially if you use bare-wire speaker-cable terminations, you should snip and strip the cable ends and dunk the clean, bare wire ends in diluted Stabilant 22.
Ayre Acoustics' Irrational, But Efficacious! System Enhancement Disc Ayre's Irrational, But Efficacious! System Enhancement Disc, Version 1.2, is available from Music Direct for $20, and it's backed by a money-back guarantee. After you've upgraded your wall outlet, and cleaned and Stabilanted all your signal connections, play a piece of favorite music (mine is "Easy to Love," from Ella Fitzgerald Sings the Cole Porter Songbook), then run the "Full Glide Tone" (5 minutes). Then play the music again!
It's not voodoo or snake oil. Does anyone think that the successful operation of an old-fashioned analog tape-head demagnetizer is a figment of someone's imagination? Of course not. Ayre's CD, I believe, works in an analogous manner, starting with high signal levels rarely heard in music, then tapering down to near nothingness, so that the system does not snap back to its previous noisy state.
By the time you read this, Ayre should have made available for download a hi-rez (24-bit/192kHz) version of the "Full Glide Tone." I'll report on it in a future issue.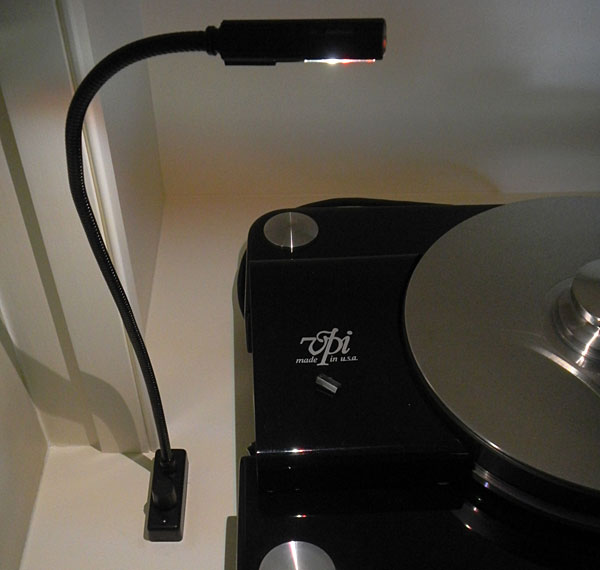 Littlite LED task lamps
This last recommendation won't make your system sound better, but it will make it look very cool. Littlite lamps have long been the standard in mixing-console lamps for sound reinforcement, and also in many recording studios. Their latest generation offers high-efficiency, long-life LED illumination; a rotary switch selects either red (nighttime) or clear white light. The 18" version (Model IS-#2, 18") is especially helpful near a turntable or CD player. Littlite even makes models with power cords that exit straight down underneath, for a neat custom installation. About $100 from several sources.
Two terrific new recordings
Destination Paris I've been listening to a lot of new CDs by young string quartets, and the playing is scary good. Now, it seems, the same can be said for young string trios.
Enter the Lendvai String Trio, a European ensemble with members from Sweden, Britain, and Holland. They came to my attention because the cover of their Destination Paris (CD, Stone 80079) shows the three of them in a Citroën DS sedan, their instrument cases precariously perched atop the car's fiberglass roof. Nice, off-the-beaten-path programming: Martinu's two string trios, Françaix's sole effort in the genre, and Enescu's early Aubade.
The connecting theme is that all three composers moved to and composed in Paris. I found it curious that they sequenced Martinu's second trio first; perhaps they thought the earlier work was not as strong an opener. In any event, while I found Trio 2 as challenging and as rewarding as Martinu's String Duo 2, I was pleasantly surprised by the echoes of Dvorák I heard in Trio 1. The Françaix trio is energetic and a bit of a put-on, like much music from Paris in the 1920s and '30s (think Satie and Milhaud). The late-19th-century, rather romantic Enescu piece rounds out the program. Wonderful sound, recorded in a stately music room in England, and excellent program notes. If you need a break from Beethovenian intensity, this might be just what the bartender ordered. Highly recommended.
Basically Bull One of my favorite music-industry shibboleths is the saying that once track 1 of a new CD has started playing, the record company has only about 10 seconds to make the sale. In other words, the sound and the playing must really grab the listener—even from the other room. Of course, that's not always possible. Mahler's Symphony 1 takes a while to get going—there just doesn't seem to be any musically valid way for a conductor to really distinguish him- or herself there, at least not until the music gathers force and speed (footnote 2) But when you put together a recital program, you get to choose the opening work. So you should be able to convey that feeling of "You're in good hands with Allstate" (another of my favorite record-producer catchphrases) within 10 seconds.
All that is a lead-in to virtuoso pianist Alan Feinberg's new Basically Bull (CD, Steinway & Sons 30019), a disc of very early English keyboard music. Early, indeed, in that this project is based on the first collection of keyboard music ever printed in England (1611). These works by Bull, Byrd, and Gibbons were composed for the early instrument known as the virginals.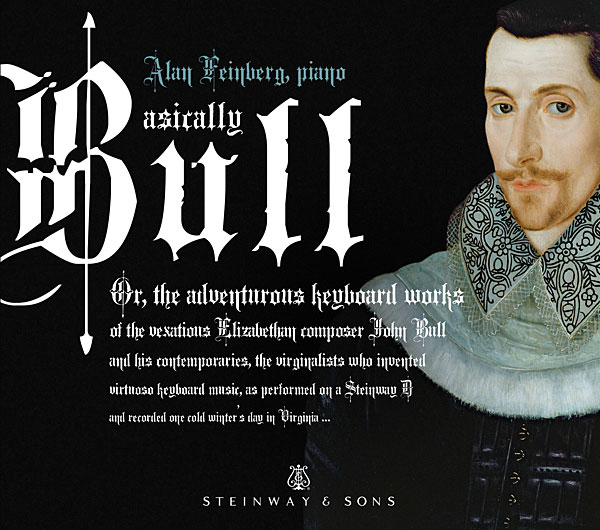 The virginals is a smaller, less complex version of the later harpsichord, with only one string per note. The virginals also plucks the string closer to the middle than to the end, both factors resulting in a softer tone than the harpsichord—vox virginalis (the voice of a young girl) might be the origin of the instrument's name. All of which is carefully calculated to bring on a big case of historically informed heebie-jeebies. Take music originally written for an instrument so quiet that a normal conversation will drown it out, and so small that you can tuck one under each arm, and rack that music on one of Steinway's half-ton D-series concert grands. Yeah, right. It'll never work.
It took Alan Feinberg about 10 seconds to prove me wrong. Which was a surprise, in large part because my previous encounters with Feinberg had been his Argo series of American piano works. I'd been tremendously impressed by his red-blooded performance of Percy Grainger's transcription of Fauré's Après un Rêve, with lusciously rolling romantic chords. (American? Grainger emigrated to the US and became a citizen during WWI.)
Given that, and the fact that Feinberg's teacher at Juilliard, Mieczyslaw Munz, was a student of Busoni's, I was expecting piano playing beyond large-scale. Wrong-ola. To me, Feinberg's chaste, almost self-effacing playing on Basically Bull calls to mind Glenn Gould's Bach and André Watts's Scarlatti—not bad company. If he used the Steinway's pedals at all, this nonplayer couldn't hear it. The result is as close to period-correct as I can imagine a grand piano's being capable of. Bravo.
The usual online retailers have sound samples up. Listen to track 1, "A Sad Pavan: for these distracted times," which Thomas Tomkins composed a few days after the beheading of Charles I. Earlier in the English Civil War, Worcester Cathedral had been desecrated and its organ destroyed, and Tomkins's house nearby rendered uninhabitable by cannon shot. I and every musical friend I've stplayed this CD for decided within 10 seconds that the result musically justifies itself. Played with dynamic sensitivity, extreme virtuosity in finger control, and a certain humility in approach, a grand piano can offer valid insights into this music. The instrument's ability to sustain a note longer than can early keyboard instruments brings out harmonic complexities in ways plucking does not.
The sound is excellent. The venue, a former church in Virginia, is now the home of Sono Luminus Studios, the outfit that picked up the pieces of Dorian when that label went bankrupt. Even if the last solo-piano recording you really enjoyed was George Winston's December, I think you'll love Basically Bull. Highly recommended.
---
Footnote 2: Leopold Stokowski solved that problem for his LP of Franck's Symphony in d by preceding it with the 90-second
Fanfare
from Ravel's
L'Eventail de Jeanne
. Smart.