Escape into Reverie with Stephen Hough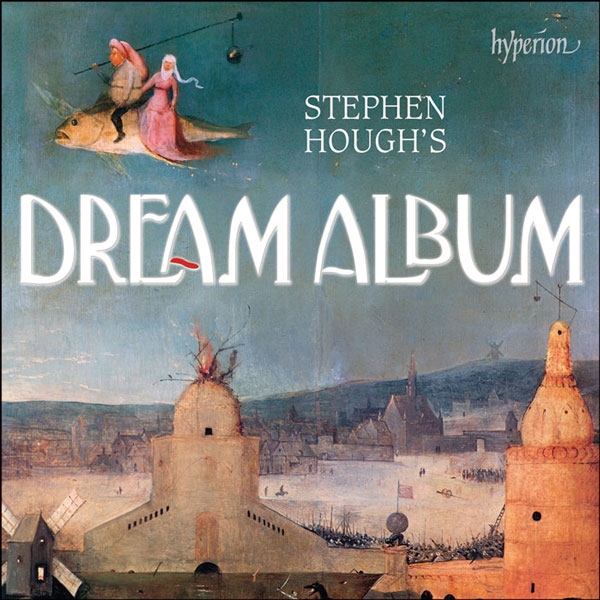 Inveterate news junkies of the world, your way out has come. For at least one good hour of your otherwise doom-laden day, you have a reason to turn off Fox or CNN and drift on feathery clouds to a far sweeter place. Your exit has been most graciously supplied by pianist Stephen Hough—he of
Stephen Hough's Dream Album
—whose latest recorded achievement may well be hailed as the most engaging, charming, and delightful recording of the year... or even the decade.
Hough not only has a special fondness for the little gems of yesteryear; he is also gifted with the ability to imbue pieces that some might call schmaltz with the grace and charm that transform them into high art. Thus it may come as no surprise, at least to aficionados of the singers of the 1920s and '30s, that "Das alte Lied" (The old song), the second piece on this 27-track bouquet from UK's Hyperion label, was recorded in 1928 by the great Austrian tenor, Richard Tauber (1891–1948), whose ability to transform dreck into gold (and best-selling discs) was legendary.
Given that the album begins with Hough's own "Radetzky Waltz," which transforms Johann Strauss's "Radetzky March" into a waltz into paradise, you might think that the Dream Album is sheer escapism. While it can seem such, there is also no escaping the facts that "Das alte Lied" came from the pen of Hilda Löwi, a Jewish female composer who used the pen name of Henry Love and the pseudonym of Hilde Loewe to escape Austria for London in 1934, and that Tauber, whose father was Jewish, headed to London four years later.
But let's briefly close the curtain on sorry realities past and present. Let's instead savor Hough's gift of rubato, which transports to us a bygone era when musicians possessed an innate sense of when to move forward and when to linger. Let's also celebrate his velvet touch, which makes his Yamaha piano seem far less the percussive instrument that it is, especially in a recording (auditioned in 24/96 FLAC) where recording engineer Simon Eadon has strived to cushion the sound.
While in celebration mode, let us also enjoy Hough's ability to coax out the unique flavor of each piece of music while making them indelibly his own. Morsels by Julius Isserlis (grandfather of cellist Stephen Isserlis), Léon Fyodorovich Minkus, and Vassily Soloviev-Sedoi ("Moscow Nights") are as Russian sentimental as it gets. Two of Liszt's 12 Transcendental Etudes elicit Hough's all-out response, with the 11th, "Harmonies du soir," presented as an ultimate case romanticism in "excessis," Lightening his touch, Hough renders Albeniz's "Capricho Catalan," No 5 of España "6 hojas de album," Op.165 with quintessential dreamlike delicacy. Ponce's Intermezzo No.1 is all gentle heart-tugging; and two pieces by Dvorak are so melodic and charming that it's impossible not to smile.
Hough contributes a number of his own pieces in addition to the opening number. Some are quite short. I especially got a kick out of "Osmanthus Romp" and "Osmanthus Reverie," which he introduces thusly: "After meeting my now-partner for the first time I wrote him a little piece based on the letters of his name. It became the six pieces of Suite Osmanthus. [These] are two more pieces using the same material. The 'Romp' was once given a rude title by the actor David Hyde Pierce . . ." Given Hough's love, had he been born in Austria near the dawn of the 20th century—you might think as much, given his wholehearted embrace of music from days gone by—he might have either followed Löwi and Tauber out of Austria in the 1930s or not been around to share his music after WWII.
There's a lot of humor on this album, not the least in Hough's sly transformation of "Waltzing Matilda" into "Matilda's Rhumba." TThere are also many pieces that hark back to old radio broadcasts, eg, Elgar's "Salut d'Amour," Tate's Edwardian era "Somewhere a Voice is Calling," Chaminade's "Pas des Echarpes" (Escape Dance), and that Kathleen Ferrier favorite, the traditional "Blow the Wind Southerly." John Atkinson, along with many other Brits, will undoubtedly smile at both that and the sound of Coates's "By the Sleepy Lagoon," which has served as the theme music of BBC radio's Desert Island Discs program for over 75 years.
Hough ends the Dream Album with his own short "Lullaby" and Mompou's "Jeunes Filles au Jardin" (Young Girls in the Garden), the fifth of that composer's Scènes d'enfants (Children's Scenes). The latter was on the first record his family bought when he started to learn the piano. Which is another way of saying that this album is as much for the innocent child within us as it is for the adult who wishes to dream of happier and less threatening times, when bliss seemed not to be under lock and key.