CAS3: Constellation, Magico, AudioVision and Beyond
The good news is that the smaller rooms on the lobby level of the Burlingame Crowne Plaza were not plagued with the same treble truncation that sabotaged the larger exhibits. Hence Alon Wolf of Magico had a lot to smile about. Shown here with his two handsome sons, Yonathon (18) and Yuval (14), he paused in the hallway outside the Constellation/Magico room, which showcased Constellation's Virgo preamplifier ($19,000) and Centaur power amplifier ($24,000); Auraliti's L1000 Media Server ($4000) and prototype DAC; Magico's small, classy-looking Q1 2-way monitor loudspeakers ($26,500/pair including stands); and MIT's Oracle MA-X SHD speaker cables ($40,000/pair) and MA-C interconnects ($3000/pair).
The sound in this room blew me away. With the Auraliti combo subbing for Constellation's Sirius HD digital music source, which was overseas in preparation for the Hong Kong audio show—both units are designed in part by Demian Martin—the sound was open, impeccably controlled from top to bottom, maximally colorful and illumined, yet remarkably neutral in timbre.
"Sounds fabulous," I wrote in my notes. "After too many rooms with sucked out treble, we actually have highs!"
And wonderful highs they were. Frankly, I couldn't get enough of the Constellation/Auraliti/Magico room. I was so blown away by the sound of a file Rickie Lee Jones' "Altar Boy" from Naked Songs that I had to ask if it was 44.1 (which it was) or high-resolution (which it sounded good enough to be). Similarly impressive was an as yet unidentified French operatic duet that I suspect is either from Rossini's William Tell or, less likely, Donizetti's Daughter of the Regiment.
So carried away was I by the sound that I failed to snap a photo of the room. Thanks to Demian Martin, to whom I sent an S.O.S. during his late night dog walking, for the above iPhone snapshot of part of the equipment rack. Try to ignore the wonderful-sounding prototype Auraliti DAC, because it's not going to be available for a long time.
Thinking this room might be a contender for Best of Show, and stunned to learn that the 7" woofer in Magico's 44" high 2-way monitor descends to 32 Hz ±3dB, I made a point to return on the last day, close to closing time. I immediately asked Constellation's Peter Madnick if he could play my HRx master file-sourced 176.4/24 WAV file of Reference Recordings' new disc of San Francisco Ballet Orchestra's performance of suites from Delibes' ballets Sylvia and Coppélia.
The music sounded fabulous, with color and clarity for days, but the volume wasn't nearly high enough for a symphonic presentation. Hence, I asked Peter to crank it up. Oooh, better. "More, more" I gestured, wishing to achieve levels comparable to a live symphonic experience. Wonderful, incredible, mind-boggling, so much unforced, full-range sound from such a small speaker.
Next the big drum thwacks began. "Pound, pound, kkkkkkzzzzzzzzzz." Oh no! That's when we blew the left woofer in the speakers that had blown me away.
As I've since learned, I was not the first person to unwittingly subject this system to brutal high volume transits. The day before, Demian was playing some pop music without watching the volume control, and strained the left woofer by driving it to what he terms "stupid" levels. Shortly thereafter, show organizer Constantine Soo arrived with his favorite heavy metal tracks, which audibly pushed that same woofer to the breaking point. And finally, the ecstatic Serinus, with a little help from his friends, delivered the coup de grace disguised as balletic fluff.
Given this history of abuse, what this says about the limits of the Q1's dynamic range, and how much intensity the speaker can handle, is unclear. Is it most suited for audiophiles who must live with volume constraints, or for people who prefer Diana Krall and chamber duos to the Grateful Dead and Wagnerian immolations? Hopefully, when the Q1 receives a full review from a credible reviewer who subjects the speaker to all the appropriate bench and room tests and isn't afraid to ask tough questions, the truth will be told. Meanwhile, what I was able to hear of the Q1/Constellation/Auraliti combo sounded so good that I consider it a runner up for Best of Show.
The first of four rooms sponsored by AudioVision San Francisco gave me my first listen to Unison Research electronics. I really loved the sound of Unison Research Unico Secondo integrated amplifier ($3100) and Unico CD player ($2295). These were paired with the very first showing of the KEF LS50 loudspeakers ($1499/pair), which alternated with KEF's R700 loudspeakers ($3399/pair). Everything was connected by Nordost's excellent Frey 2 power cable ($1599), Heimdall 2 power cable ($599), Heimdall 2 interconnects ($699/1 M pair) and speaker cable ($2089/3 M pair), and QB8 ($1399) and Quantium QX2 power distribution systems.
The larger KEFs produced a gorgeous midrange and lovely highs on a track of soprano Elly Ameling singing Schubert to Dalton Baldwin's piano accompaniment, and sounded just as wonderful on Gene Gertoncini's guitar. The smaller speakers, which JA will be reviewing in the November issue of Stereophile had an especially beautifully leading edge to treble tones, as well as some lower octave resonances that were perhaps room-induced. I absolutely loved the sound of these speakers and electronics on CDs of a Brahms trio and Sonny Clarke's "Cool Struttin'."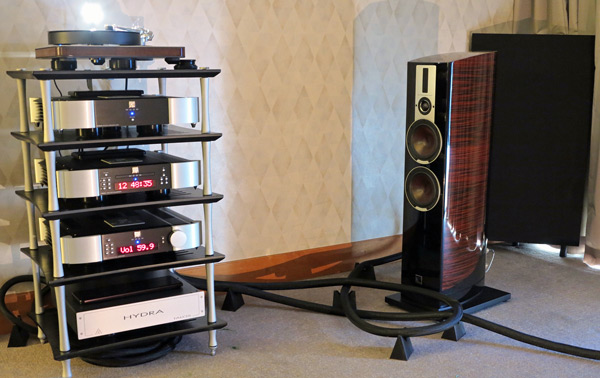 In the next AudioVision SF room, DJ Andy Schneider was playing an LP of Pucifer's "V is for Vagina." Folks who know me know that this isn't the music I normally kick back with, but I was astonished at how well the brand new Dali Epicon 6 loudspeakers ($16,000/pair) handled low-level information with utter clarity and control. Tori Amos' "Little Amsterdam" was equally impressive in its beauty and control. I regret that I could not return to this room before the show concluded; I really wanted to come back for more.
Of course, none of the beautifully controlled upper bass and lower midrange information would have been possible without a Clearaudio Ovation turntable with Clarify tonearm ($5,500) and Benz Micro Ebony L phono cartridge ($3,500); Simaudio Moon's 6008 integrated amp ($8500), 659d CD player & USB–S/PDIF DAC ($9000), and 810LP phono stage ($12,000); and Shunyata Research's ZITRON Anaconda interconnects ($2250/set), speaker cable ($4500/pair), power cords ($3000/each), and Talos power conditioner ($5,000). Everything rested on a Quadraspire Sunoko 5 level stand ($1975).
I was less touched by the sound of the AudioVision SF room feeding computer files via iTunes into a set-up that included the Micromega CD30 ($2495) and AS400 ($4595); Anthony Gallo CL4 ($3499/pair) and Ref 3.5 ($5999/pair) loudspeakers; Rega RP1 Performance Pack ($645), RP3 w/Elys II ($1190), and Fono Mini A2D ($175); Nordost Red Dawn RCA 1M ($499) and Red Dawn speaker cables ($999/2M pair); and the Nordost QB8 ($1399) and QX2 ($1799) power distribution systems, all supported by a Quadraspire Sunoko Vent T rack ($395 per shelf).
Although I initially gave up entering this final AudioVision SF room because someone was holding forth non-stop in such a loud voice that listening was out of the question, I returned on day two to discover a system that did a great job on the Burmester Sampler #2 track from Shostakovich's Symphony 9. That this set-up was using Pure Music rather than iTunes for computer music playback certainly helped matters. Why in the world did so many exhibitors handicap their computer sources by sticking with iTunes rather than investing in either Pure Music ($129) or Amarra ($189) for Macintosh, or J River for PC?
"Great inner vitality, warm but with a welcome and appropriate bite," I wrote in my notebook. A recording of Rodrigo y Gabriela performing a guitar version of "Stairway to Heaven" sounded equally beautiful to my ears.
The system consisted of the Margules Audio TT-10 turntable ($1800 w/arm, projected price), SF220R preamp ($3000) and phono stage ($450); Simaudio 380d DAC ($3900); Dynaudio's excellent Focus 340 loudspeakers ($7499/pair) and XEO3 Wireless loudspeakers ($2300/pair); Audioquest DragonFly USB DAC ($249), Victoria RCA interconnect ($295/1M pair), Hawkeye digital interconnect ($350), and Gibraltar speaker cable ($1410/8 ft pair); Quadraspire Sunoko Vent 2T ($695); Shunyata HYDRA Model-4 ($1750), Anaconda Helix CX ($2000/1.8M), and Venom 3 ($150).
Caught in a welcome light moment in the hallway: Barnaby Fry of The Sound Organization and Randy Johnson of AudioVision SF.
In the first of Electrocompaniet's two rooms, Peder Beckman was playing using an Otari MX-55 open-reel deck playing tapes from Kool Kat Jazz Records to feed Electrocompaniet's EC4.8 preamp ($5129), EMC-1UP 24/192 CD player ($7290), AW250R Stereo Amp, and Nordic Tone Model One loudspeakers. A Stillpoints Isolation Rack and Isolators for amp and speakers, and MIT cables and power rounded out the system. This system did a wonderful job on piano and bass. Duke Ellington sounded especially warm, mellow and smooth. For a small room, Reference Recordings' Arnold Overtures had surprising verging on stunning three-dimensionality. This is one exceptionally musical system that I wish I could have spent more time with.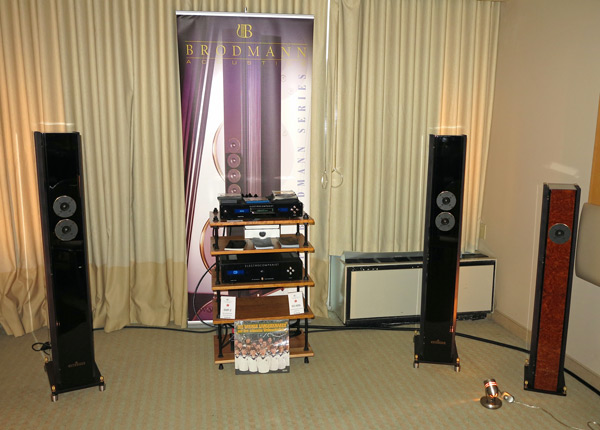 Electrocompaniet's second room, featuring Brodmann Acoustics VC7 ($20,000/pair) and VC2 loudspeakers—the company's products are used in the music hall in Salzburg—was less effective, I'm afraid, in part because of the room's small size. Feeding these babies were Electrocompaniet's lower-priced ECI-6D and EMP-2 High Res Multi-Format player, with Stillpoints speaker isolators and MIT cables and power rounding out the chain. Again, I wasn't given prices.
Robert Lee of Acoustic Zen and Santy Oropel of Triode Corporation / TWIN Audio Video again teamed up to present their characteristic beautiful and warm sound. David Oistrakh playing Beethoven's Violin Concerto and Ansermet's rendition of Falla's Three Cornered Hat sounded especially liquid and clean. At first I thought bass was recessed; then I heard an organ recording and realized that it's just warmer than usual. This combo's oft-feted soft, warm sound is the kind that you can listen to forever without fatigue.
Doing the honors were Triode's TRX-1 tube preamp ($3200), TRV-CD5SE tubed CD player ($2500), and TRX-M845SE 50W single-ended class-A monoblocks ($20,000/pair); Acoustic Zen Crescendo loudspeakers ($16,000/pair). Absolute Copper interconnects ($1498/3 ft pair), Absolute 75 digital cable ($480/3 ft), and Gargantuan power cords ($1040/6 ft). I wasn't given information on the speaker cable, but you can be sure it was Acoustic Zen. Definitely an easy system to love.
More warm and sweet sound flowed in the Audio Note UK room. Neutrality took a hike on Jane Monheit's No Detour and a 45 rpm LP of the Kronos Quartet's music, but not everyone craves neutrality. Heard were Audio Note UK's TT Two Deluxe turntable ($3650) with Arm Three VS ($2100) and 101 moving-coil cartridge ($4250); S4L step-up transformer ($6400), CD4.1x CD player ($12,000), Meishu Phono Silver Signature 9 watt, Class A, single-ended MM phono integration amplifier ($20,600), and E/SPe HE loudspeakers ($9600/pair) with stands ($650/pair).
Andy Gon, designer for Northern California-based Win Audio and Florence Audio, was using a Sony transport, Florence Audio DAC and Florence Audio loudspeakers ($9000/pair) to dem the impressive looking Win Analog preamplifier ($45,000) and 100W monoblocks ($75,000/pair). The sound was strong and bright on a cut by Stevie Ray Vaughan, and distorted and buzzed like crazy on my recording of baritone Matthias Goerne softly singing Schubert.
Sean Casey of Zu Audio was playing surprisingly low-key music through Zu Audio's Definition 4 loudspeakers ($12,700/pair with a 60-day satisfaction guarantee), SL-1200 Zu-modified deck ($1600) with AudioMods arm ($999) and Zu/DL-103 pickup ($439), Audio Black Shadow monoblocks ($13,999/pair), Music First TLC preamp, K&K Audio Maxxed Out phono preamp, and Zu Event cables. Delightful tracks by Lucinda Williams, Ryan Adams, and Janel & Anthony (who performed at the Capital Audiofest) had the characteristic metallic edge that draws many to Zu's presentation.
Audio Space, distributed by GINI Systems of Pomona, CA, was showing the Audio Space Reference 3.1 300B-21W integrated amp with MM phono ($4290), CDP-8A tubed CD player ($1290) and DAC-US ($3000), paired with the LS-3/5A monitor loudspeaker ($1790/pair) sitting atop the SW01A subwoofer ($1190/pair). Despite a beautiful warmth on the cello in a Brahms trio, the system sounded a bit wiry on violin, and got congested when the volume was turned past "soft." Played softly, it displayed a warm, inviting mono-tonality.
The familiar and always welcome combination of deHavilland electronics and Sonist loudspeakers, here demmed by deHavilland's Kara Chaffee, brought out the warmth, delicacy, and beauty in soprano Elly Ameling's voice. Kara favors a somewhat dark presentation with an especially rich midrange that conveys the care, dedication, and heart that a great artist devotes to their work. That's why so many people love her stuff.
Doing the honors were the Sonist Concerto 4 all wood loudspeakers ($5895/pair) fed by deHavilland's 50-A monoblocks ($10,200/pair) and Mercury III preamp ($4495). A Cary 306 CD/SACD and Snake River Audio cabling enabled these babies to sing, sing, and sing some more.