CAS 2013 Day 3: Return to Terra Infirma
Hey, we were in earthquake country, the land from which Carole King may have received inspiration to write, "I Feel the Earth Move Under my Feet." Then again, she could have received equal inspiration from the Von Schweikert VR-100 XS 4-piece loudspeaker system ($140,000/pair). Paired with the debut of Raven Audio's Silhouette monoblock amplifiers ($12,995/pair) and Reference Silhouette preamplifier ($12,995), it sure inspired me with its ability to move air with musicality.
I returned to this oversized exhibit on the last day, after a defective cable and music server had been replaced. Instead of the server, I found an Esoteric UX-1 CD/DVD/HDCD player ($15,000) with APL-HiFi tube mods. I also encountered, from left to right, Raven's Gabrielle and Dave Thomson standing Texas tall, Albert von Schweikert equally so, and his European rep, Cor Dekker of Musical Reality, no midget either. Cor, I might add, also happens to be a sound engineer who has frequently worked with Jared Sacks of Channel Classics, and knew intimately the Channel Classics recordings in my collection.
Freed from its sonic dungeon of a ballroom at AXPONA Chicago, the VR-100 XS handled bass extremely well, with the timpani thwacks in the 4th movement of Mahler's Symphony 1 (Channel Classics) totally in control. (They were not in control, either in Chicago or on day one of CAS.) Once Albert returned his adjustable tweeters to "flat"—they had been turned down after a visitor insisted on playing an impossibly bright recording—I really enjoyed the system's depth and air, and the ability of 100W tube amps to drive the whole thing. I would have liked a bit more transparency on dramatic soprano Eileen Farrell's voice, but the fullness of the orchestra behind her was very special.
I don't know the tonal signature of the Master-Built Signature interconnects ($3600/pair), Master-Built Signature bi-wire speaker cable ($7500/pair), sundry Master-Built Signature power cords ($6200), and Master-Built Ultra interconnect ($12,000/pair), but I did learn from the Esoteric player's owner that Alex Peychev's tube mod darkens the sound. Perhaps that what accounted for the lack of sparkle on one of the two finest systems I heard on Day 3. I look forward to learning the tonal signature of the Raven components the next time I encounter them. RMAF perhaps?
Time to return to the headphone meet. Dan Clark of San Diego, who has spent the last 25 years designing headphones and audio gear on the side, demmed his original MrSpeakers Mad Dog ($299), new Balanced Mad Dogs ($399) and Alpha Dog ($599). I believe all of them have modified Fostek T50RP planar magnetic drivers, and are extremely comfortable. The Alpha Dog, modeled with a 3D printer, has an extremely rigid cup with an air gap filled with a matrix. Paired with a Barron headphone amp, the sound was lovely, with gorgeous warm intimacy.
How exciting to finally meet Theta founder Mike Moffatt (in front), founder of Theta Digital, who, with Jason Stoddard (behind him) designs Schiit headphones and amps. Pictured are the Schiit Bifront headphone amp ($350, or $450 with USB), topped by the company's original product, now in its second generation, the Asgard 2 amplifier ($250). When I asked to hear something I wouldn't normally play, which wasn't difficult to find on Schiit's playlist, the man to the far right (whose name, mea culpa, I stupidly forgot to write down) played someone's "Still Rockin'." The system certainly wasn't shy when it came to transmitting rock's edge, but it also passed along just a modicum of mellowness. Quite impressive.
Given that John Atkinson recently gave a glowing review to Astell&Kern's portable music player, which handles files up to 24/88.2, I took but a momentary listen to the company's AK100 with 32GB flash drive ($699), and never even heard the new AK120 dual DAC baby ($1299). A 24/88.2 file of Ivan Fischer's performance of Mahler Symphony 6 sounded good enough to make me regret that I didn't have either the time to linger more, or the financial means to grab a player on the spot.
It was great to reconnect with MSR Acoustics' Anthony Grimani. The man virtually saved my life late last year, sitting me down and talking me through two losses of consciousness and lots of bleeding after I collided with an extremely transparent plate glass door as I was attempting to cover an event at Century Stereo for Stereophile. Thankfully, albeit perhaps not to the joy of my most frequent online detractors, I recovered, and can now report on MSR's four new Living Sound acoustic art panels. Sound dampers covered with Merryl Jaye's paintings of famous artists—Diana, John, Bob, and Eric for starters, with four new panels of artists added per quarter—the panels are designed to dampen 10–15% of sound reflections without looking like acoustical treatment. MSR will also decorate panels with your art of choice.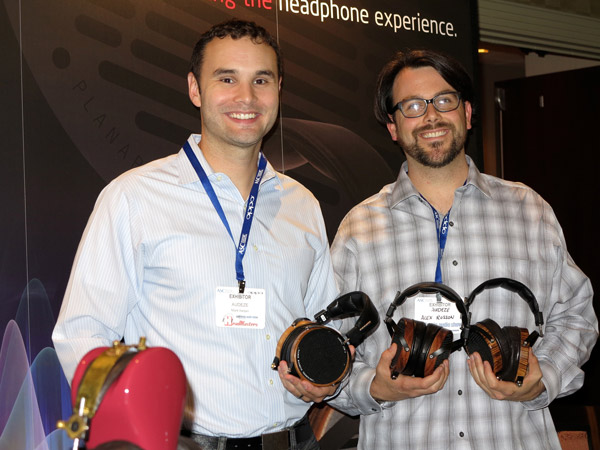 Mark Harper and Alex Rosson of Audeze were showing their highly coveted LCD2 ($995) and LCD3 ($1945) planar-magnetic headphones. The former are available in rosewood and bamboo veneers, and the latter, whose price bears the year of my birth, have my name (if not my budget) written all over them. Tyll Hertsens of our sister online publication, InnerFidelity.com, says of them, "Luxuriously appointed and you've-got-to-hear-it-to-believe-it sonics . . . but you do—sometimes—get what you pay for." Through an Eddie Current Balancing Act headphone amp, Mark and Alex let me hear the difference between the phones outfitted with a stock cable vs an ALO Audio after-market cable. The ALO made a noticeable improvement to an already fine presentation.
At the booth shared by Jon Reichbach of Amarra (by Sonic Studio) and Bob Hodas of his eponymous Acoustic Analysis company, I learned that after another issue of Amarra in September—one that will include room correction (!)—we can at last expect a version that will play DSD files. When I quibbled that Jon's plan is to convert DSD to PCM, he replied, "A version that converts to PCM is the first step. The ultimate issue is the sound." In other words, if Amarra's DSD to PCM trumps the competitor's "uncompromised DSD," Amarra may stand its ground as audiophiles gather 'round.
Bob Hodas' goal is to optimize listening environments, to the extent where room correction is either unnecessary or the icing on a very satisfying cake. His toolbox includes careful speaker placement, a variety of different companies' acoustic treatments, and the Meyer Sound SIM System 3 for room analysis and measurement in real time at 48th octave resolution. Change that last word to disassociation, and you know where my head is going toward the end of my third day of blogging.
Somewhat hidden around a bend in the lobby area, Mark Van Berg was attempting to dem the Music Vault Diamond Music Server over impossibly loud music pouring from the Acoustic Zen room. Sold online, the server is manufactured in Colorado, "20 minutes south of RMAF." Using a bespoke Music 7 (custom tweaked out) computer, the Diamond model ($4500) comes equipped with JRiver and balanced digital output. Neal says the design bypasses the Windows OS, and converts files up to 192kHz. The Platinum model offers custom drivers for files up to 384kHz sampling rate. I wish I could comment on the sound, but I couldn't concentrate on the music over the music.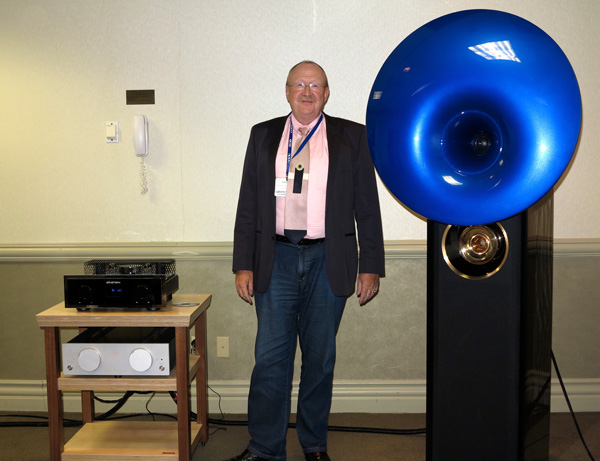 The first shall be last, and the last first, or so they say. Returning to Loggie Audio of Redwood City's second room, dominated by Acapella Atlas loudspeakers ($99,000/pair), I discovered the sound very different than when I heard it on day one. Different as in much, much better. Perhaps it took awhile for Acapella LaMusica integrated amplifier ($99,400), Einstein The Source II CD player, and Acapella "Authentic" cabling (approx. $16,000 total) to settle in on the Core "PlyKraft" equipment stand ($1775). The voice of Maria Callas was no longer distorting while singing "Caro nome" from Verdi's Rigoletto, and Stevie Ray Vaughan sounded very direct and strong. I did wonder if Callas was recorded so distantly on the master tape, with so much air around her voice, but the presentation sure was captivating.
As I was about to depart, Hermann Winters of Acapella decided to have some fun by putting on a recording that that demonstrates dynamic microphones via doors slamming, glass breaking, and other sordid sonic dislikeables. Thus did my show history come full circle. It was at my first CES, sometime in the last millennium, that I encountered a character whose ultimate speaker test was to see how a pair handled the sound of an old-fashioned railroad train barreling down the tracks. Haunted by images of silent film heroines tied to RR tracks as the approaching engine throttled up to full speed, I gunned my engine through the wicked Hermann's wide open door and, after schmoozing with Lord knows how many people, made my way to my first whiff of uncanned, uncompressed air in 17 hours.