CAS 2013: Day One, Lots More Lobby
Time to settle into deeper listening. We'll spend a bit of time in Loggie Audio's second room, built around Ypsilon and (TEAC) Esoteric electronics and the equally excellent YG Acoustics Sonja 1.2 loudspeakers ($72,800/pair), not only because it sounded so good, but also because it presented the US debut of what may very well prove to be a major cable line.
The YG Sonja 1.2, which has one less woofer that the 1.3 that John Atkinson called "superb" in the July issue of Stereophile, joined forces with the mighty Ypsilon Aelius monoblock amplifiers ($36,000/pair); Esoteric's P-02 transport ($23,500), D-02 DAC ($23,500), and G-01 master clock ($23,000); Audio Reference Technologies' (A.R.T.) cabling and room tuning devices (note that A.R.T. stands for Audio Reference Technologies, and is not related to Synergistic Research's Acoustic ART System); and Harmonic Resolution's SXR equipment rack ($4495), SXR amplifier stands ($1895/each), and S1 isolation platforms ($1895/each). Listening to violinist Rachel Podger and the Holland Baroque Society play Vivaldi Violin Concertos on Channel Classics' well-recorded SACD, La Cetra, I immediately took note of the beautiful, copious air that surrounded the instruments. The soundstage was set back and huge, the violin's timbre gorgeous.
Singing Schubert lieder, soprano Elly Ameling sounded equally beautiful, albeit a bit toned down on top. Her singing was easy on the ear, but her golden instrument wanted to glow with greater luminosity at the top of her range. Changing gears, Fink's "Trouble's What You're In" again arrived in an absolutely wonderful, airy and spacious presentation, but I began to notice a slightly burnished, brushed gun metal finish to the midrange whose source puzzled me.
Not having any reference for the sound of previously unheard cabling, we tried changing power conditioners from the unidentified prototype conditioner I had just heard to another unnamed baby. With the switch, the tonal balance completely changed, but the spaciousness remained. Rachmaninoff's Symphonic Dances, on Eiji Oue's justly praised Reference Recordings' performance, now sounded as I would expect it to sound on a superb system, with instrumental colors neutral and highs beautifully open and extended. Hopefully these differences will be taken into account as the prototype conditioner design is further refined.
Audio Reference Technologies' senior engineer, David Huang, and US rep, James Liu, displayed their Italian-made cabling. A.R.T., whose products are reportedly "big" in Asia, is just launching in the US after 20 years in the business.
Used in the system were the Super SE Classic Mains power distributor/cable ($4250/1.5m), Analysts SE Classic speaker cable on the bass ($19,440/3m pair) of the bi-wired YGs, and top-of-the-line, aptly named SENSOR Haute Couture cabling for the rest. Try $57,300/3m pair for the SENSOR Haute Couture speaker cable on the 1.2's treble, and $17,300 for a 2m AC power cable.
Also making their debut, all over the room, were ART's little metal and wood precision tuning accessories. (A set of metal cones runs $2050). Given how many were scattered about, I had to leave a with/without demo for another time.
This time around, my only chance to listen to the oft-blogged KEF Blade Reference loudspeakers ($30,000/pair) took place in the context of Michael Marko's Nordost cable comparison in the third Audio Vision room. As Michael changed a single power cable from Valhalla to Valhalla 2, it was easy to discern the richer and fuller midrange conveyed by the excellent system. Marko explained that one factor responsible for the change in sound is Nordost's use of its own new proprietary connectors, which even include the new spade terminations on Valhalla 2 speaker cable.
Without listening to the Clearaudio analog front end—hey, it's both easier and kinder to vinyl to confine cable comparisons to digital source material—I really enjoyed digital sound through Nordost's Valhalla 2 speaker cables ($14,850/pair), interconnects ($7600/pair), and power cables ($6000), Nordost's Quantum Qx4 power ($2700 for something I can't imagine living without), Qb8 power distributor ($1400), and Qv2 noise suppressors ($350); Simaudio Moon's Neo 340i integrated amp ($4600), Network Player ($1250), 750D DAC/transport ($13,000), 850 preamplifier ($28,000), and 880M monoblock power amplifiers ($42,000/pair); Stillpoints/ ESS equipment suspension support rack and Ultra isolation devices ($12,000 total); Sonos Connect ($350), REL Gibraltar G2 subwoofer ($3250), and of course, the KEF Blades. I'm sorry I couldn't come back for more.
Speaking of sorry, I owe an apology to Tim Ryan of Simpli-Fi. I first tried to visit his set-up opposite the lobby's registration area on Friday, but a van breakdown en route delayed his arrival at the Westin until Saturday morning. When I stopped by, Tim told me the system wasn't yet ready for critical listening. After that, my simple brain spaced, and I failed to return. Tim. I owe you and Stereophile's readership a big write-up next time.
Yes, shit happens. Thus did the CD player in Loggie Audio's Acapella / Einstein room, and both a music server and digital cable in the Von Schweikert/Raven Audio room fail to function optimally at the time of my visit. Here, I acknowledge the room's major presence, and save detailed discussion of its superior sound for my much happier return on Sunday afternoon.
Also in the Shit Happens department were the MartinLogan CLX ART speakers ($25,495/pair) that got trashed in transit from Santa Rosa to Soundscape Audio & Video's room on the second floor. More on that later. Instead, please keep in mind that if equipment disasters seriously sabotaged the sound in at least three rooms at a show with only 42 exhibits (besides those in the headphone room), and delayed the opening of another for over a day, any number of exhibits you'll visit at any show are bound to include equipment that is either malfunctioning or serving as a last-minute replacement. If you don't like the sound you hear, it's a good idea to ask if everything is broken in, settled in fully, and operating as intended.
Rather than displaying Electrocompaniet gear, the company's US rep Peder Beckman brought along a generous sampling of the Kool Kat Jazz LPs that he and his partner sell at koolkatjazz.com. The boys, who live in Oakland, handpick their titles as they scour record stores and flea markets from Santa Rosa to Monterey.
"We're very picky in terms of condition of vinyl and sleeves," Peder told me. "All our records are cleaned in advance, inspected, and drenched in love."
Right next door, Brad Palmer and Jeff Marriner of AudioLuxuries.com and AudioNerdUSA.com were selling enough records, tweaks, and goodies from companies as solid as Micromega, Jolida, and Elecrocompaniet to make many an audiophile happy.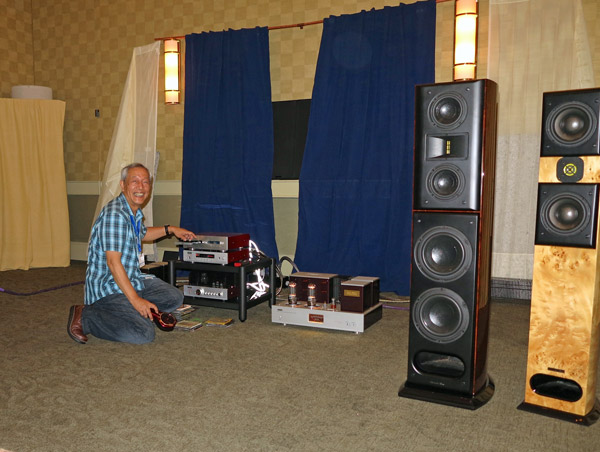 Skipping two lobby exhibits that I returned to on the final day, my last stop on ground level was in the Acoustic Zen/Triode Corporation room. There, the ever delightful Robert Lee used Acoustic Zen's Crescendo speaker cable ($1600/6 ft pair), Gargantuan power cables ($1680 each), Absolute Copper interconnects ($1980/1m pair) and Hologram speaker cable ($1880/8 ft pair) to connect Triode's TRV-CD4SE CD player ($3200), TRX1 preamp ($3200), and TRX-M845SE monoblock power amplifiers ($22,500/pair) to his Acoustic Zen Adagio 2-way transmission line (positioned on the outside in the photo) and bigger 3-way transmission line Crescendo loudspeakers (featuring a 2" horn-loaded ribbon tweeter). Robert forgot to write down speaker prices, and I failed to ask which speaker was producing the exceedingly spacious sound that, despite some room treatment, excited some resonances in the room.