Bryston's $9590/pair Model T subwoofer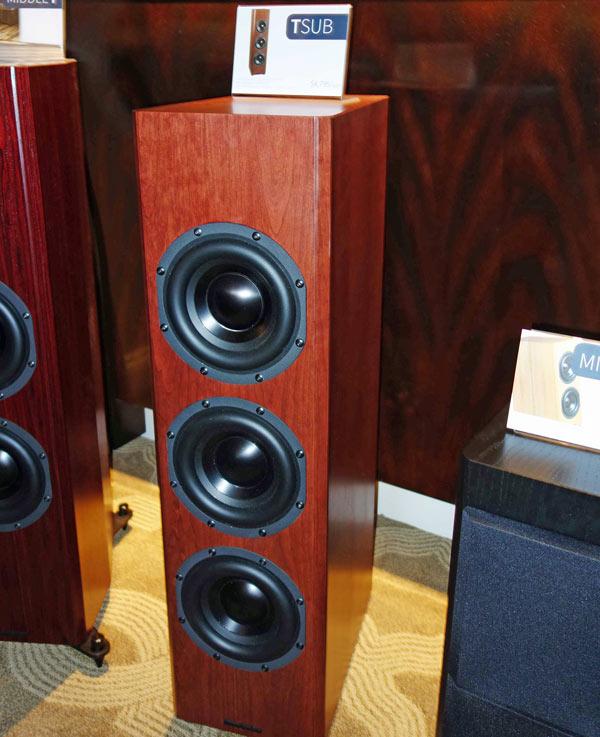 "This is our new top-of-the-line subwoofer," said James Tanner, as he proudly showed a non-playing Byrston Model T subwoofer that will retail at $4795 each. He described why Bryston built a 110' tower to confirm that sub's anechoic response does actually reach down to 12Hz.
This depth of response was achieved by a thorough vibration analysis, crossover refinement, and new driver design. Three 8" long-throw cone drivers, powered by an internal class-D 600W amplifier, are used to generate the sub's 18Hz–150Hz (±3dB) response with a maximum SPL of 108dB measured at 1 meter. The sub's internal low-pass crossover can be set at 40Hz, 80Hz, 100Hz, or 150Hz. The 105 lb Bryston Model T sub stands a little over 3' tall.
As with many subwoofers being developed today, no high-pass crossover option is offered. James Tanner, like me, uses a Bryston 10B sub external electronic crossover to roll off his main/satellite loudspeakers so they don't have to play the deepest bass notes when the Model T sub is working. Both he and the designer of the Thiel subwoofer claim that audiophiles these days don't ask for high pass filters for their after-market subwoofers.