A Better Traveler's Sanctuary: The Bose Quiet Comfort 25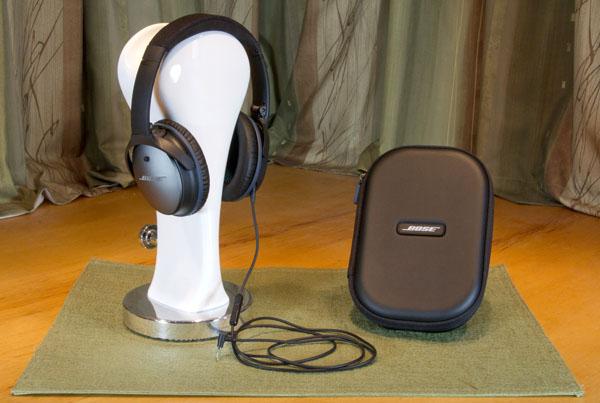 This story originally appeared at InnerFidelity.com
Noise Cancelers for Loud Environments Only
It needs to be said right off the bat, the fidelity of reproduction with noise canceling headphones is generally not very good. But that's not the point. The fidelity when listening in a very loud environment without decent isolation will be poor regardless of the headphone's performance—all that outside noise just gets in the way too much for good listening fidelity. It also needs to be said that in-ear phones will often provide better isolation than noise cancelers can provide, and with better fidelity. But lots of folks simply don't like the discomfort of in-ear phones.
I consider noise canceling headphones to have a very specialized purpose: Listening in very loud environments. If you're listening in only moderately loud environs, you're usually better off, in terms of sound quality, with full-sized or on-ear sealed headphones. However, if you are in very noisy situations a lot, and don't want to stick IEMs in your ears, a good noise canceler is the way to go...and Bose knows how to do that very well.
Bose Quiet Comfort 25 ($299)
It must be going on 5 or 6 years now that I've been recommending the Bose Quiet Comfort 15 as the best noise canceling headphone. Time after time when comparing the QC15 with newcomers to the field, they either slayed the competition with their ability to isolate from outside noise, or with their competent sound...usually both.
Then last year at about this time, Bose introduced their Quiet Comfort 20, a shallow insertion in-ear noise canceling model. I thought it was awesome. The shallow fit is remarkably comfortable—similar to just gently putting your finger against your ear canal—and their ability to isolate astonishing. When recently I heard that Bose was about to introduce a new over-ear model to replace the QC15 I emailed my contact at Bose immediately—when it comes to noise canceling headphones, Bose is the maker to keep an ear on. They did not disappoint.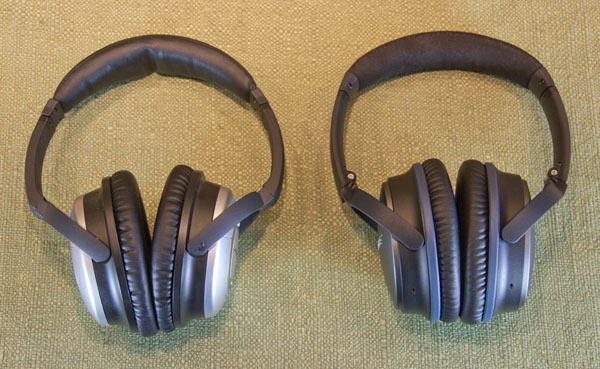 Physical Description
The Bose Quiet Comfort 25 is a circumaural, sealed, noise canceling headphone. Though similar in size and shape at first glance, numerous improvements have been made relative to the QC15. The headband shape has been changed to allow the QC25 to conform more closely to the head; the pleather of the QC15 earpads and headband pad have been replace with protein leather on the ear pads and a synthetic suede covering on the headband pad. I feel the comfort of the headphones has improved modestly—the QC15 is a light and comfortable headphone already, but I do suspect that the protein leather of the QC25 earpads will be significantly more comfortable in hot climates, and the depth and materials within the ear cup make it feel slightly more comfortable. Earpad openings are the same on both models (60mm x 39mm). Earpads are replaceable; $34.99 here.
Folding mechanisms and compactness of storage is significantly improved with the QC25. The QC15 simply has earpads that rotate flat. So does the QC25, but it also has cast Zinc hinges that allow it to become a bit more compact when folded flat and stored in their case—which is about 25% smaller than the QC15 case, and has a rectangular shape that's a bit more packing friendly. They can also be folded with cups not rotated for an even smaller package.
Likewise, the travel case that comes with the QC25 is about 30% smaller than the QC15. In fact, on almost every front, the new QC25 is incrementally improved over the QC15. The QC25 now continues to play if the battery dies (though sound quality suffers in passive mode, 35 hour battery life with one AAA). It has a little more room for your ears within the cups. The 56 inch cable is a little larger in diameter and a little softer to the touch. A bumper now surrounds each earpiece to protect the finish when laying it on the table. This headphone is clearly a step-wise evolution for the better in almost every way; not huge steps in any one area, but nice incremental steps every where you look.
The styling is a bit more contemporary with less chrome flash than its predecessor with a more understated and sophisticated gray and black, or tan and white look. Also available for an additional $100 is the ability to customize the color of the various headphone parts through Colorware.
The big question for me is whether this trend of incremental improvement included noise canceling and sound quality...