Autonomic Controls Mirage MMS-5A media server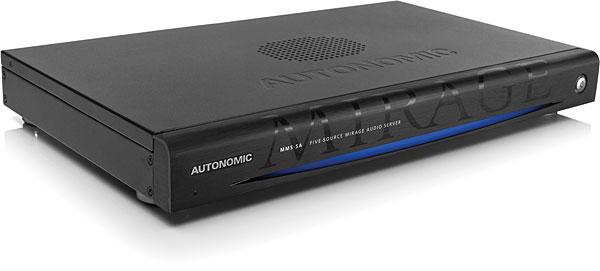 I bought a Slim Devices Squeezebox network player in the spring of 2006 and my life changed. Having audio files on a server and being able to play them through my high-end rig via the Squeezebox's S/PDIF output liberated my music from the tyranny of a physical medium. As I wrote in
my review
, "physical discs seem so 20th century!" After Wes Phillips reviewed the Squeezebox's big brother, the Transporter, in
February 2007
, I bought the review sample and lived happily ever after in the world of bits rather than atoms—at least until the summer of 2010, when Slim Devices' new owner, Logitech, brought out the Squeezebox Touch. The
Touch
did everything the Transporter did, with a full-color display, at one-eighth the price!
Inexplicably, Logitech discontinued the Touch. These days, my music is stored on a local FireWire 800 drive, backed up with an NAS RAID array on my network, and I use Pure Music to send, via USB, the audio data from a 2.7GHz i7 Mac mini with 8GB of RAM to my digital processor du jour. But I'm still interested in one-box solutions, so when I heard about Autonomic Controls' Mirage MMS-5A media server ($4250), which boasts an S/PDIF output capable of handling 24-bit data sampled at 192kHz, I agreed to a review.
Mirage
While an unfamiliar name to audiophiles, Autonomic Controls is well known in the world of custom installations, offering media servers that can be operated with the ubiquitous controllers from companies like AMX, Control4, Crestron, Savant, and URC. (Mirage servers come with software drivers for all these systems.) Local music can be synchronized with the MMS-5A from a Mac, PC, or NAS, but the key feature in that world is the media server's ability to upload local content to the cloud for offsite backup, automatic library synchronization with other Mirage media servers at a different location, and remote library access from anywhere in the world. The MMS-5A can also stream audio from all the usual Internet sites—Last.fm, Pandora, Rhapsody, SiriusXM, Spotify, and TuneIn—at native quality, and access to all content, local and streamed, is aggregated within one easy interface.
The new MMS-5A differs from the earlier MMS-5 in adding what Autonomic calls an "audiophile-grade" digital output to four pairs of "standard grade" analog outputs. Its owner would drive his existing high-quality D/A processor in his main room with the MMS-5A's digital output while using the analog outputs for multi-room (distributed audio) purposes. I understand that a future firmware upgrade will allow both these outputs and the digital output to be used for streamed multichannel content.
The MMS-5A . . .
. . . is a slim (1U tall), black-finished box with, on its front panel, only a pushbutton power switch and a blue, almost chassis-wide, horizontal accent light. (This bright light can be turned off with a rear-panel button.) The rear panel features, from left to right: a jack for the separate 12V power supply, two USB ports, DVI and HDMI display ports, an eSATA port to supplement the Mirage's internal storage with additional hard drives, a 10/100/1000 Base-T Gigabit Ethernet port, two more USB ports, a coaxial S/PDIF output, and the four pairs of analog outputs.
Inside the chassis, there was less than I was expecting. The heart of the MMS-5A is a single-board PC labeled Intel Desktop Board, to which are mounted the USB, DVI, HDMI, eSATA, and Ethernet ports. This board is connected to a 1TB Caviar Green 3.5" hard drive from Western Digital, this kept cool with a fan exhausting to the rear panel. A small board behind the output jacks appears to take the digital and analog signals from the Intel motherboard's onboard Realtek ALC892 processor without there being a standalone soundcard. (The Bryston BDP-1, reviewed by Larry Greenhill in June 2011, which costs $2150 when reviewed, is also based on an embedded PC but uses a high-quality Juli@ soundcard for its digital and analog outputs.)
Setup and Use
I connected the Mirage MMS-5A to our home network's router with a long Ethernet cable and powered it up. (The Mirage is programmed to automatically obtain its IP address from your router or switch.) I entered the address http://mirage-1/config into my laptop's browser, but it couldn't find the Mirage. The solution was to add ".local" after "mirage-1," as instructed by the manual, and all was well. In the Source Settings tab, I set the outputs as shown in the illustration, with the first analog output set to Fixed Gain, the second to Variable Gain, and I disabled the other two analog outputs. I set the Main digital output to Fixed Gain; the control panel can also be used to set this output's bit depth and sample rate.
Autonomic recommends that you set this value to the highest setting your D/A processor or A/V receiver can support. When you do so, the MMS-5A plays a spoken ID, then a burst of white noise at that sample rate in first the left, then the right channel. If you hear the noise, you click Okay. If you don't hear the test signal, you need to lower the sample rate until you can. This makes setup foolproof, even reviewer-proof—so long as you remember to click Save Changes after you've changed the data format! I set the digital output to 24 bits and 192kHz, as I have an increasing amount of content at that resolution and sample rate since I began ripping my LPs to digital with Ayre Acoustics' QA-9 USB A/D converter. One drawback of the Mirage is that it does not offer as options the common 88.2 and 176.4kHz sample rates.