Art's Saturday Afternoon at the Show
I have an impression of Yamaha as a company that can not only make anything they want, but can do so exceeding well. My first contact with the brand came when my sister got a pair of Yamaha skis; a couple of years later,
ca
1970, I bought a Yamaha acoustic guitar—a professional quality instrument at a dirt-cheap price. (Loudon Wainwright III played one on his 1970 debut album; nearly 30 years later, Elliot Smith played a Yamaha at the Oscars ceremony.) Later in the '70s, Yamaha audio gear—their stereo receivers in particular—came to prominence in the US (although the company actually got their hi-fi start making crank phonographs in the '20s).
At Montreal Audio Fest 2017, by means of some creative signage as well as their presence in one of the show's larger ballrooms, Yamaha had a simple message: "We're back." This was reinforced by a system comprising the latest Yamaha gear, much of which maintained the company's traditional styling: their A-S3000 170Wpc integrated amplifier ($CDN8999), CD-S3000 CD player ($CDN6999), and NS-5000 three-way loudspeakers ($CDN17,999/pair), demonstrated with all Luna cables. The loudspeaker design seemed especially interesting, with all driver diaphragms made of a synthetic fiber called Zylon, and with intricately shaped loading mechanisms attached to the insides of the woofers and midrange drivers. The sound, especially on Nick Cave's "Into My Arms," was clear without being overly "hi-fi," and compellingly forceful.
Yamaha shared space with Quebec-based Luna Cables, whose Orange AC cord ($CDN900), seen on the right in the above pic, so impressed me that last year I bought one each for my Shindo preamp and stereo amplifier. New from Luna, but unavailable for photographing, is a new entry-level line called Luna Gris (French for grey) cables, with the price of a 1m interconnect projected to be $CDN300.
It seems the Norwegian-made Little Fwend tonearm lifter, which I first saw in 2015, now has a competitor: no less well-machined, and no less candid about the debt it owes to the original Audio-Technica Safety Raiser, is Integrity HiFi's made-in-Canada Tru-Lift. The Tru-Lift buyer can select one of three different heights ($US199 each), or opt for a kit ($US259) that provides all three height-setting sleeves. Shown in the photo above is the very extended range of heights available to the user who buys the even fancier Tru-Lift Totem kit ($US499).
In Toronto-based retailer Sonic Artistry we have an exhibitor with the courage to demonstrate with recordings valued not for their potential to sell gear on the basis of audiophile appeal but for their artistic worth: Sonic Artistry appeared to have faith that their show system was good enough that the musical merit of their demonstration would be abundantly evident.
They were right.
When I entered their room, the UK version of Gentle Giant's fourth album, Octopus, was playing. I had heard Gentle Giant's music maybe two or three times before, and it did nothing for me; this time, I was enchanted by the ever-shifting styles, superb musicianship, and compelling melodies and rhythms. After that came the ninth album by the Incredible String Band, Liquid Acrobat as Regards the Air, also in a UK pressing. The playback was so compelling that, about 30 seconds in, I realized that I need this record. (I have since found on eBay an apparently nice pink-rim Island copy.)
Components in this analog-only system included Thrax Audio's Lyra loudspeakers ($CDN26,000/pair), Teres monoblock amplifiers ($CDN39,000/pair), Dionysus line-level preamplifier ($CDN26,000), and Orpheus phono stage ($CDN26,000), with cables by EnKlein and beautiful support furniture by Massif Audio Design, also of Toronto.
The analog source in Sonic Artistry's system was the Dohmann Helix 1 turntable ($CDN52,000) with Frank Schroeder-designed CB 12" tonearm ($CDN5720)—a combination that recently won high praise from Michael Fremer. One again, Mikey got it right: all of the characteristics that I have learned to associate with the best record players—drive, momentum, impact, and a high level of musical excitement overall—were evident in this system, which also included the Charisma Reference 2 MC phono cartridge ($CDN 3820).
Fresh from the New York City event where their company's formation was first announced, representatives of the new subsidiary Luxman America headed up to Montreal, where they joined services with Edmonton, Alberta retailer the Gramophone. Their demonstration system included the following Luxman products (all prices applicable in both Canada and the US): the D-06u SACD/CD player ($8495); EQ-500 phono preamp ($6495); C-700u preamplifier ($8995); and M-700u power amplifier ($8995). Also in the system were the Marten Mingus Quintet loudspeakers ($US50,000/pair), Melco M1ZH-V2 server ($US5000), and Perpetuum Ebner PE-4040 record player ($4800) with Hana SL cartridge ($650). All wiring was by Luna Cables. I recall being impressed by the system's musicality and by the apparently good top-to-bottom balance of the Marten loudspeakers, but in this very popular (read: crowded) room, serious listening and note-taking was beyond me.
In the room sponsored by Beloeil, Quebec dealer Audiophile Experts was a system fronted by a VPI Prime Signature record player and Esoteric K-01X SACD/CD player, with Esoteric's C-03XS preamp and S-03 power amp and a pair of Focal Scala V2 loudspeakers. (Pricing information was not supplied.) Proprietor Philippe Renaud built a thoughtful demonstration around two selections in particular, one of which—Felix Leclerc's "Moi, mes souliers"—was musically and sonically charming: the very French arrangement was beautiful, and the system put it across in a nuanced and colorful way. (The other selection—a recording of "Blowin' in the Wind" by Ben Sidran—was sonically impressive, with a believably weighty piano, but musically execrable.)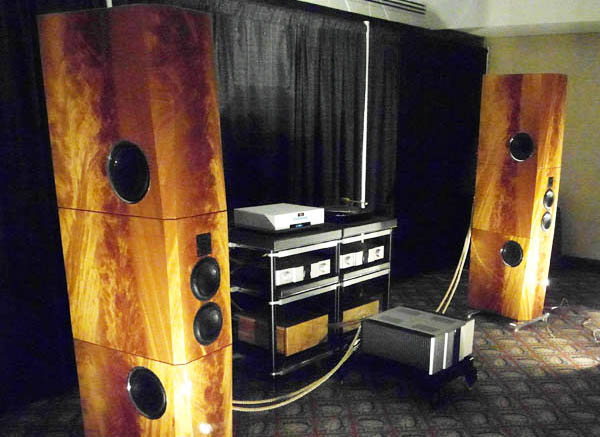 A friend who shares my tastes in hi-fi told me, on Saturday, that the system assembled by Ontario dealer Wynn Audio sounded impressive, and I soon discovered how right he was. Wynn pulled out all the stops and built a system around the enormous—and enormously attractive—Tidal Audio Sunray loudspeakers ($CDN185,00/pair), with Karan Acoustics' S 600 (600Wpc) stereo amplifier ($CDN40,000), L Mk3 preamp ($CDN13,000), and Ph1 phono stage ($CDN20,000). Source components were a Goldmund Eidos 36U+ CD player ($48,000) and a Thales TTT Compact II turntable ($CDN18,800) with Thales Simplicity II tonearm ($CDN12,500). ZenSati Seraphim cables were used throughout. A number by the O Zone Percussion Group, with marimba, orchestral bells, snare drum, and other percussion instruments offered thunderous lows, believably crisp highs, and lots of sheer excitement and drive.
A Montreal show wouldn't be a Montreal show without the chance to enjoy a pair of big Tannoy loudspeakers in the room sponsored by Zidel Marketing, so I was pleased to hear the ginormous Tannoy Kingdom Royal in the system Rich Zidel had assembled—which also included Krell's Vanguard DAC, Illusion II preamp, and Duo 300 power amp, with all Wire World cabling. (Pricing information was not supplied.) Using Roon playback software on an iPad, Zidel played "Dust of the Chase" by Ray Wylie Hubbard; the very tactile, present sound was just the latest reminder that there's nothing quite so convincing as a hi-fi built around very efficient loudspeakers.
It was the home stretch, literally: I had just entered the corridor that separated my assigned half of the downstairs exhibit area from the half assigned to my colleague Robert Schryer, when I saw the table set up by online retailer AudioW3.com, which specializes in gear from Rega, Exposure, Musical Fidelity—and IsoAcoustics . . .
Dave Morrison of IsoAcoustics was on hand with his Gaia series of isolation products, which combine precision-machined housings with polymer inserts of very specific shape, thickness, and durometer. Three sizes are available—the smallest is the Gaia III, which starts at $US199 for a set of four—and each set comes with three different sizes of connecting bolts, to suit a variety of loudspeakers and other products. Dave demonstrated the Gaias on a small system with two identical pairs of Wharfedale loudspeakers—one fitted with Gaia isolation feet, the other fitted with spikes of the usual sort. The difference was remarkably easy to hear, and the superiority of the sound with the Gaias was indisputably better, with superior clarity and scale.