Art's Friday Afternoon at the Audio Fest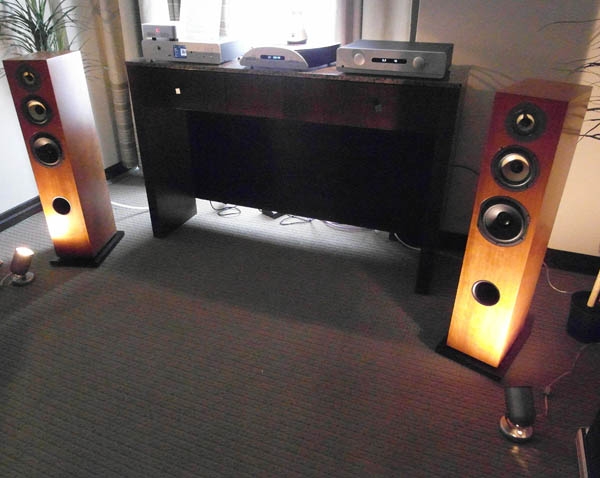 One is bound to hear at any hi-fi show—even a superior one such as this—the live, acoustic version of the Eagles' "Hotel California," just as one is bound to hear, at any Catholic mass, a Hail Mary: no surprise at all, and under the best possible conditions the aural equivalent of comfort food. At the 2017 Montreal Audio Fest, I first heard it at the exhibit sponsored by France's Atoll Electronique—and it reminded me of Ian Anderson's gracious comment, when asked if he was dismayed at the undeniable similarities between that Eagles song and Jethro Tull's own "We Used to Know," from the album
Stand Up
: "[Hotel California] is a very, very fine song."
And so it sounded—just about as impactful and non-tizzy as that record is capable of sounding—on a system comprising Atoll's 150Wpc IN300 integrated amplifier with built-in USB DAC ($CDN4800), Atoll ST100 streamer which also functions as a preamp and is capable of driving active loudspeakers on its own ($CDN2500), and Davis Acoustics Cezanne HD loudspeakers ($CDN4500/pair, and not yet available in the US).
The music of Diana Krall—another audio-show staple—sounded especially good in the room sponsored by the Montreal dealer Acoustic Technologies. Doing the honors were a Unison Research CD Due CD player ($CDN4880) and Unico 150 integrated amp ($CDN6255), the latter driving a pair of Opera Grand Callas loudspeakers, in walnut ($CDN13,500/pair), with Furutech cabling.
At the Montreal Audio Fest there were exhibitors who hewed to standard-issue, good-sounding audiophile fare—not without reason, of course—and there were a brave few who chose to play whatever musical works appealed to them at any given moment; the folks representing PS Audio, NEAT acoustics, and Kimber Kable were definitely among the latter, demonstrating the surprising bass power and dynamic punch of NEAT's diminutive floorstander, the Iota Alpha ($CDN2500/pair), with Grace Jones's "Nightclubbing" and the title track from Television's Marquee Moon, both of which sounded as impactful and huge and engaging as they should have. Also in the system were PS Audio's Stellar S300 power amp ($CDN2100), Stellar Gain Cell preamp/DAC ($CDN2400), and P5 Power Regenerator, and all-Kimber cabling.
At the room sponsored by Montreal retailer Audio D'Occasion,a pair of MartinLogan Expression 13A hybrid electrostatic/dynamic loudspeakers ($CDN20,000/pair) were driven by a Simaudio Moon 6700i integrated amplifier ($CDN16,000), itself fed by a Moon 650D DAC/transport ($CDN9500), with all Nordost cabling. A recording I'd never before heard—of chanteuse Anne Bisson performing "In the Wee Small Hours"—sounded lovely: detailed without etch, and tonally well-balanced from top to bottom.
Montreal dealer Sonor Filtronique occupied a well-appointed and far larger-than-average room, in which the majority of gear was on static display. An exception was this system comprising an Aurender W20 server ($CDN25,300), dCS Debussy DAC ($CDN12,999), Simaudio Moon 600i integrated amplifier ($CDN9500), and Vienna Acoustics Beethoven Baby Grand loudspeakers ($CDN7995/pair). The system sounded spacious and pleasant enough, although volume was maintained at background-music levels.
Also on (static) display in the Sonor Filtronique room was this fetching Gold Note Valore 425 Plus turntable ($CDN2100 with tonearm).
Quebec-based vintage-audio specialist Christian Fatu reminded me: "Art, you've already photographed me holding a Tannoy Gold driver—at the Montreal show two years ago."
"Did I? Really? Sorry. I'll just shoot this one on the table."
And there it is: a vintage Tannoy Gold dual-concentric driver, in excellent condition (approximately $US2500/pair). John and George, who surely heard their work over any number of Tannoy monitors, look on with approval.