More Montreal from Robert Schryer
My pretend-award for this year's "speakers most like Mega Bloks" category goes to Israeli company PureAudioProject, whose Trio15 modular open-baffle speaker concept proved a hit at the Montreal show. A pair of Trio15 speakers is sold in kit form, in the loose sense of that term, since there's not much kit to assemble. What there is is a metal frame, two outboard circuit-board crossovers (below), and three rectangular panels, each pre-fitted with a driver, that "snap" together vertically to create the speaker's front baffle. Customers can choose between a variety of different drivers and crossovers—shown above is a panel with a Voxativ unit—and even swap those parts themselves at a later date; any modification is a "snap" that requires no soldering.
The Trio15 version playing at the Montreal show was the PAP-Horn1 ($US7500/pair), which, in combination with a Tidal-streaming MacBook Air, an Audio Note Mentor Signature 5.1 WE274B DAC, and a 9Wpc Audio Note Kit 1 transformer-upgraded 300B SET amplifier ($US4400 w/tubes), delivered music with aplomb, tactility, and a liberating sense of fun.
At the other end of the spectrum, in terms of price and square footage of shiny surfaces, was the system holding court in the Audio by Mark Jones room. It included a Kronos Pro turntable ($US38,000) equipped with a Kronos Black Beauty tonearm ($US8500) and a Lyra Etna SL cartridge ($US10,000). A CH Precision P1 phono stage ($US31,250) was being used, but not in the way one might imagine: rather than going through a proper preamp, the P1's analog signal was being fed directly into the phono input of a CH Precision's C1 DAC ($US33,000), thereby digitizing the signal.
Mark Jones admitted to me that it was a less-than-ideal, shortcut solution, but I didn't care. Driven by a 200Wpc CH Precision M1 amplifier ($US54,850), the Focal Sopra No.3 speakers ($US20,000/pair) produced sound that was rich, bold and beguiling.
More great sound was on tap in the room next door, where Kevro International was showing off a system comprising a Cyrus XP 2QX preamp/streamer ($CDN3500), a 150Wpc Roksan Blak integrated amp with USB DAC and MM phono input ($CDN5700), and a pair of Monitor Audio Platinum 300 II. speakers ($CDN18,000/pair).
The sound that poured out from this grouping of gear was yummy enough that I returned twice for a refill.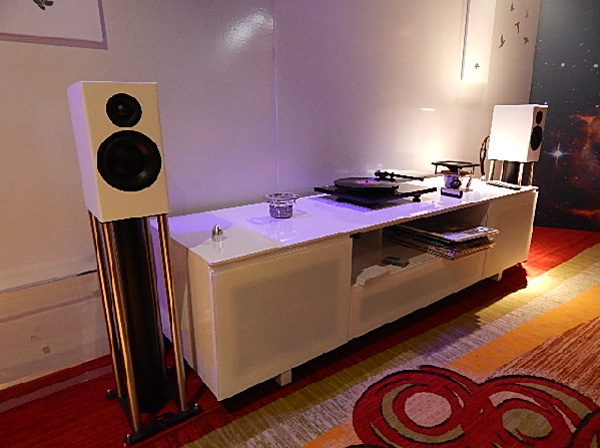 One of the rooms that really surprised me this year belonged to Totem Acoustic. At the tail end of a trail of audio components that included an Aurender A10 with MQA decoder ($US5500), a 105Wpc Rega Elicit-R integrated amp ($US3000), a Rega DAC-R ($US1200), stood before me a pair of diminutive stand-mounts I initially refused to believe were the speakers responsible for flooding the large space I was in with waves of rich, reverberant music. But they were—they being the brand new Totem Sky monitors ($USI850/pair). Such was their ability to pressurize the room with sound that I was hard-pressed to reconcile what I was seeing with what I was hearing. I feel that Totem is on to something with these new babies.
Oh, and Lucy Lentini, Totem's VP of sales and marketing, made a point to mention that the good sound I was hearing was due in no small part to the a/c purifying effects of a Torus TOT power conditioner ($US900–$US2000), a product I noticed in several of the showrooms this year (along with equipment racks from company Massif Audio Design).