Aesthetix Saturn Romulus DAC/CD player Measurements
Sidebar 3: Measurements
I examined the Aesthetix Saturn Romulus's electrical performance with Stereophile's loan sample of the top-of-the-line Audio Precision SYS2722 system (see www.ap.com and the January 2008 "As We See It"); for some tests, I also used my vintage Audio Precision System One Dual Domain. For USB tests, I used my MacBook Pro running on battery power and the Romulus set to USB2.0. I played back test-signal files with Bias Peak Pro, using Apple's AudioMIDI utility to make sure that the sample rate and bit depth were correctly set for each file.
The Romulus's error correction was superb, there being no glitches in the player's output with the Pierre Verany Test CD until the gap in the disc's data spiral reached 2mm in length. The S/PDIF inputs locked to datastreams with sample rates ranging from 44.1 to 192kHz—even the TosLink input, which is intended to operate only up to 96kHz. The USB input operated with all sample rates up to 192kHz, including 88.2 and 176.4kHz. Apple's USB Prober utility identified the Romulus as "Aesthetix USB Interface" from the "Aesthetix Audio Corporation," with the serial-number string given as "Streamlength(tm)," confirming that Romulus uses Gordon Rankin's asynchronous protocol.
Our review sample was not fitted with the optional volume control. The maximum output level at 1kHz was 4.8V from the balanced XLR jacks, 2.35V from the single-ended RCA jacks. The latter is 1.4dB higher than the CD Standard's 2V. Both sets of outputs preserved absolute polarity (ie, were non-inverting), meaning that the XLRs are wired with pin 2 hot. The balanced output impedance was very low in the treble and midrange, at 152 ohms, though it rose to a very high 4k ohms at 20Hz. The single-ended output impedance was high, at 2.2k ohms at 20kHz and 1kHz, rising to 3k ohms at 20Hz. The Romulus needs to be used with a preamplifier having a high input impedance, especially when using its balanced outputs; otherwise, the bass might sound a little lean.
The Romulus had a conventional, time-symmetrical, linear-phase impulse response (fig.1), which, in the frequency domain, corresponds to a steep rolloff above 22kHz with white noise (fig.2, red trace); the aliasing product at 25kHz associated with a full-scale tone at 19.1kHz is suppressed by 100dB (fig.2, blue trace, footnote 1). The second harmonic of the 19.1kHz tone can be seen at –74dB in the left channel and –68dB in the right, but higher-order harmonics are well down in level.
The player's frequency response with CDs is shown as the gray and green traces in fig.3. Some passband ripple is evident above 10kHz (cyan and magenta traces), but this is absent from the response with 96 and 192kHz external data (blue and red). Channel separation at 1kHz was a good 95dB in both directions, but decreased, due to the usual capacitive coupling between channels, to 70dB at 20kHz (not shown). The noise floor was free from power-supply–related spuriae. However, as can be seen in fig.4, the Romulus had a sufficiently high level of analog noise in its output, particularly at low frequencies and in the right channel, to obscure the increase in resolution that should have accompanied an increase in bit depth from 16 to 24 and that I expect from the Burr-Brown PCM 1792A chip. Certainly, the Romulus could not resolve a 24-bit/1kHz tone at –120dBFS (fig.5, bottom trace). This graph was generated using a swept 1/3-octave bandpass filter; using a more modern FFT technique gave an identical result (fig.6), but unmasked some very low-level, odd-order distortion with the 24-bit data (blue and red data).
The highish noise floor meant that the Saturn Romulus could not properly resolve an undithered 16-bit tone at exactly –90.31dBFS, the three DC voltage levels described by the data being obscured by noise (fig.7). There was no change in the waveform with 24-bit undithered data (fig.8).
Used to drive the recommended higher impedances, the Romulus offered low levels of harmonic distortion. The primary harmonic with a 50Hz tone was the second (fig.9), but this was well below audibility, at –80dB (0.01%). With a 1kHz tone (fig.10), the second harmonic was still the highest in level in the left channel, at –80dB, but dropped to below –100dB in the right channel, leaving the third harmonic the highest in that channel, at –90dB (0.003%). Intermodulation distortion was similarly low (fig.11).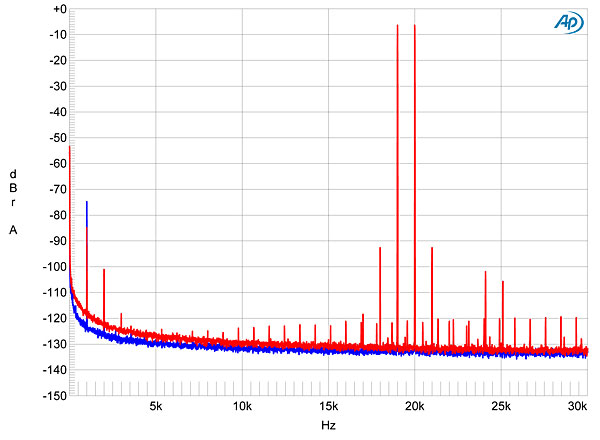 The fact that the analog noise floor lay at the 16th-bit level obscured the odd-order harmonics of the low-frequency, LSB-level squarewave component of the 16-bit Miller-Dunn J-Test signal (fig.12). Some spectral components can be seen in this graph, which was taken with CD data—the Romulus performed identically with S/PDIF and USB data—but most of these are not word-clock-jitter–induced sidebands. These enharmonic spectral components can be seen more clearly with 24-bit J-Test data sourced from USB or S/PDIF (fig.13). Peculiarly, they are spaced at 900Hz intervals; I have no idea what causes them.
Like every Aesthetix product Stereophile has reviewed, the Saturn Romulus has superb finish and build quality, which makes it all the more disappointing that its analog noise floor obscures its effective resolution of digital data with >16-bit word lengths. Lying at the 16th-bit level, this noise will not be audible as such, but it detracts from the Romulus's otherwise excellent measured performance and I do wonder if it underlay JI's feeling that the Romulus was doing something very subtle to the sound.—John Atkinson
---
Footnote 1: My thanks to MBL's Jürgen Reis for suggesting this way of presenting a digital product's ultrasonic behavior; click
here
for more information.