The 2017 Warsaw Audio Video Show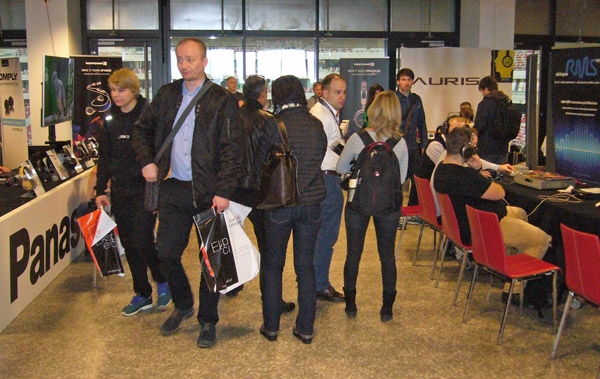 Poland's Audio Video Show, held in Warsaw each November and now firmly established as Europe's No.2 hi-fi event, has a very different feel from Event No.1: High End, held each May in Munich, Germany. Unlike High End's business-to-business approach, the
Audio Video Show
is very much for regular consumers, of whom more than 14,000 attended over the show's three days, November 17–19. Boosted by a modest "Smart Home" presence, that was an increase of nearly 18% over last year's show, alongside more modest growth in the numbers of exhibitors and exhibit rooms.
Having grown steadily over some 20 years, Audio Video now takes place in three venues. The main location, especially for Polish brands, is the Sobieski Hotel, where the show occupied a large number of rooms on eight floors. There were also a handful of large demo rooms at the nearby Golden Tulip Hotel, and the show's organizers ran a shuttle bus between the Sobieski and Warsaw's relatively new PGE Narodowy football stadium, where many major brands and headphone manufacturers occupied large skyboxes.
Although the Audio Video Show didn't open until 1pm on Friday, I managed to get 'round six of the Sobieski's eight floors of exhibits. Perhaps most striking was the huge number of tubed amplifiers displayed by Polish brands. I didn't attempt a count, but would be willing to bet that tubed amps outnumbered solid-state—very unusual for 2017. Although I wouldn't go quite so far as that regarding vinyl spinners, there were still plenty of examples, and many were in evidence, as were some rather weird and often bulky loudspeakers, particularly horns and dipoles. Although the attendance did tend to be male-dominated, they tended to be rather younger than I see at UK audio events, and a number were accompanied by wives, girlfriends, and/or children.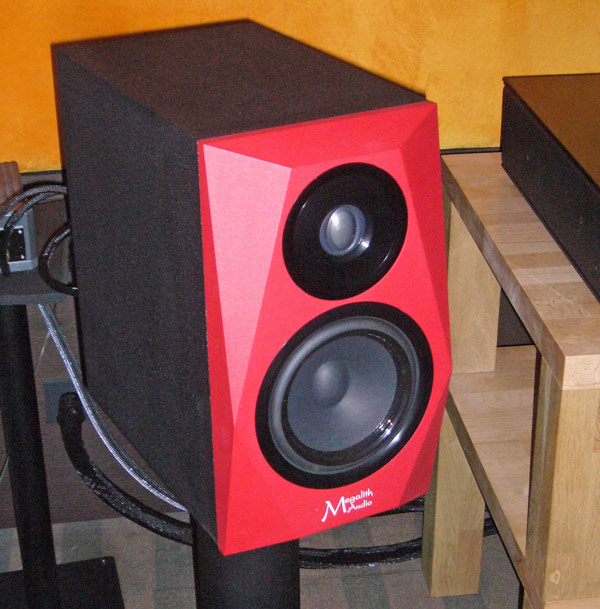 The names of exhibitors at the Sobieski were less familiar —many were dealers and/or distributors from different parts of Poland. I was pleased to find that Tonsil (which I once visited, more years ago than I care to remember) continues to thrive and make affordable speakers in Wrzesnia. Another Polish brand, TAGA Harmony, was entirely new to me—they concentrate on making affordable speakers, which they manufacture in Asia.
As most speakers still have cabinets made of wood-based products, it was intriguing to see an example from FNCE, from the Czech Republic, that's available in your choice of MDF or—at twice the price—concrete.
The material of choice for the Dutch-based, Greek-Australian brand Metaxas & Sins is aluminum machined from solid billets. After displaying its floorstanding speakers in a large room at the recent Indulgence Show, in London, Metaxas showed, in a much smaller room in Warsaw, a pair of their Macrophone stand-mounted minimonitors driven by the company's own distinctive electronics. [These look like giant bugs—Ed.]
While the Audio Video Show was dominated by conventional speakers—two- and three-way models in wooden cabinets—some idea of the wide variety of speaker systems could be seen in two models from Czech company RDacoustic (above). Both use an 8" full-range driver, but while the Evolution provides bass by horn-loading its single driver's rear, the much smaller Euphoria also has a 15" woofer.
I then saw several dynamic dipole speakers (despite inevitable bulk), from Canadian operation Tri-Art Audio (above).
UK manufacturer Audio Art Technology showed an omnidirectional speaker, with a cabinet that appeared to be made of ceramics. The latter sounded horrid in one room, lovely in another. Which is why I don't judge audio gear based on what I hear at hi-fi shows.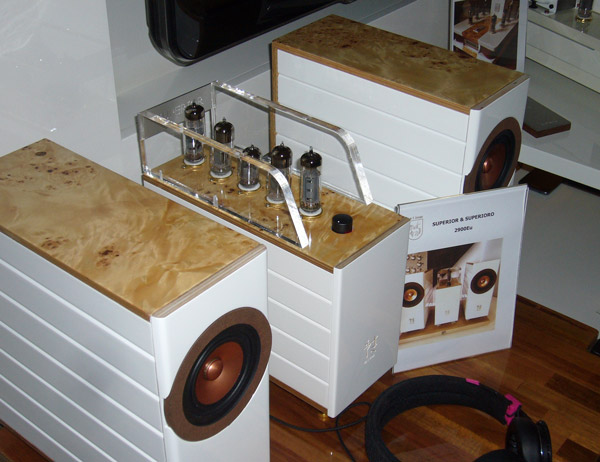 I was flabbergasted by the numbers of tube amps displayed, especially at the Sobieski. Plenty of different output tubes were being used in both push-pull and single-ended configurations, but I was surprised to find that many manufacturers, such as Polish company Eryk S Concept, were using little EL84 tubes, usually in push-pull circuits, à la the Leak Stereo 20 from a half-century ago!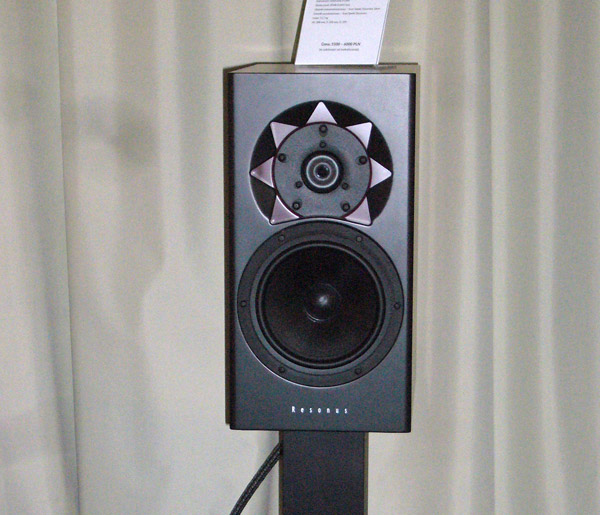 If I had to name a system that seemed to do the business with a refreshing lack of BS, I'd pick the Dictum DAC, Altum 70Wpc integrated amp, and two-way, stand-mounted Studio speakers from Resonus (above). The company is Polish, but the system was being demonstrated with a CD transport from Cyrus Audio.
Good news on the business front included the facts that Swedish speaker maker QLN is back, now apparently operating alongside Entreq. And following the retirement of the notorious Ashley James, Martin Hill has taken over at AVI, and is attempting to undo some of the damage caused by his predecessor.
On day 2 of the show I took the shuttle across the Wisla to the football stadium, where lurked the headphone zone and the larger, more international brands. There I found Bang & Olufsen tucked away, demonstrating a cleverly programmable "wall of sound" that combines multiple hexagonal, powered, two-way speakers interspersed with matching hexagons that act as dampers, all controlled by software to maintain precise imaging.
The weirdest speakers of all were Italian, from Architettura Sonora, based near Florence. Their website shows a number of mostly omnidirectional speaker systems in the shapes of spheres, cylinders, cubes, teardrops, helmets, and the aptly named Shark. As I understand it, the Polish category "Glosniki Ogrodowe," under which they were exhibited, refers to outdoor or garden speakers, which helps to explain where Architettura Sonora is coming from.
Harman and JBL focused on portable audio products, both brands fielding large collections of tiny powered speakers. The largest of these was probably JBL's still-compact Boombox (which says much about the exploitation of historically important brands).
At the other end of the size scale, Sonus Faber's new Aida floorstander was being powered by Audio Research electronics, while dCS source components and Dan D'Agostino Master Audio Systems power amplifiers were driving speakers in the Wilson Audio Specialties room. McIntosh Laboratory was using a live Grateful Dead recording to publicize its wares, but failed to mention the clever way the Dead managed to stand in front of their PA speakers without producing feedback: They used matched pairs of B&K vocal mikes connected in anti-phase, and sang into just one of the pair.
I didn't stay long—I have no interest in portable products—but the headphones zone was very busy, and dominated by younger attendees. Also young were those who gawped at the largest, most powerful amplifier ever: six channels of 20kW class-A sound, yours for just €1.6 million. However, its total weight of 3300 lbs may require reinforcement of your floor.
An exciting British development was Neat Acoustics' new Iota Xplorer loudspeaker, essentially a scaled-up version of the Iota Alpha, itself a floorstanding version of the original Iota desktop model. Still unusually low, with an upward-angled panel for its midrange driver and AMT tweeter, the Iota Xplorer also has a downfiring, isobaric-loaded woofer and uses Mundorf crossover components.
During a long chat with Harbeth Loudspeakers' main man, Alan Shaw, he mentioned the brand's 40th anniversary, which some at Harbeth wanted to celebrate by spicing up existing models with classier terminals, etc. Initially skeptical, Shaw has been forced to eat his words—sales of those spiced-up models are going really well.
I could go on and on, name-checking numerous other brands, some internationally known, others relative newcomers from the Eastern bloc. One thing is certain: Hi-fi is alive and well, especially in Poland!