Squeezing the Music...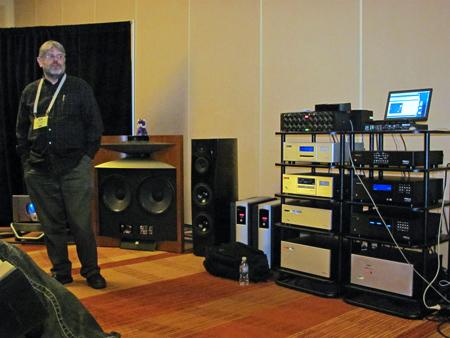 John Atkinson was one busy camper at RMAF. In addition to blogging the show and moderating Saturday afternoon's information-packed, standing room only
Computer Audio Panel
, John presented four hour-long seminars entitled
PC Audio—Squeezing the Music Till the Bits Squeak
, playing all his music examples from his MacBook laptop via a Metric Halo FireWire interface. The setting was Evergreen E, the large, excellent-sounding exhibit (Sony and JBL speakers, Mark Levinson amplification, EMM Labs preamp and digital source components, Kimber kables) assembled by Ray Kimber of Kimber Kable.
At the final seminar, presented Sunday at 11am, John set the tone by playing his reference-quality, 24-bit, 88.2kHz recording of the male acappella choral group Cantus singing Eric Whitacre's transporting Lux Aurumque. The sound, as you might expect, was extremely natural and inviting, and captured the natural dynamics of a small ensemble in peak form.
However, "It's getting increasingly difficult to find albums to review that don't have the life squeezed out of them," John told the packed house. "Recently, Robert Baird presented me with Delbert McLinton's Acquired Taste, which he thought would be a candidate for "Recording of the Month" if the sound was good. But when I played one of the tracks, "Mama's Little Baby Doll," "I discovered relentless, in-your-face sound."
John then played the raucous track, and ran real-time software that showed the waveform banging its head against the top. The entire dynamic range had been compressed to 4, 5, and at the most 6dB, and was mostly composed of square waveforms that were responsible for its clipped sound. He also challenged Don Was, the A list producer responsible for the sonic travesty, for caving into to music industry honchos who believe that unrelenting loudness is what people want to hear.
Next he played "Californication" by the Red Hot Chili Peppers. "This is great rock," he said "but again, while it starts supposedly quietly, it soon bumps its head at the top end. Look how it constantly peaks into the red zone, which shows danger. It's clipped, it's distorted, it's universally loud.
"If you squash the dynamic range this much, you get something close to noise. The light and shade are gone. You're close to not having any music at all. Miles Davis expressed it best years ago, when he said, 'Music resides in the silences between notes. If you minimize those silences, you minimize the music.'"
Dynamic range is not the same as loudness, John explained. The ear and brain judge loudness by the music's average level, but maximizing loudness minimizes music's peaks. Hence the paradox: the louder the music, the lower the dynamic range. Record companies squash the music more and more to make it louder and louder, and damage it in the process. [For further information on this point, as well as addresses of organizations trying to reverse the louder is better trend, see John's "As We See It" in the November issue].
"Compression," John asserted, "is not a bad thing if used judiciously. On the Mary Chapin Carpenter cut I'll play, "Party Doll," the engineer slightly lowers the level of the guitar when the voice comes in. But he uses compression judiciously. This is not a bad thing. Compression can work if you compress one instrument but not others." But, as demonstrated when playing back a cut of Pink Floyd's Dark Side of the Moon, the arch of dynamics can be distorted even by moderate compression that is not applied with discretion.
The killer came with playback of a classic Beatles track, "Nowhere Man." Real-time analysis revealed a 13–14dB dynamic range. John then replayed the track, this time compressing it by 6dB, then by 10dB. There was no question that what was formerly beautiful had become raucous. It's one thing to read about this; hearing it, and feeling how heavy-handedly applied compression kills the music and squashes detail, space, and beauty, is another. Even when he turned it down, it wasn't any better. Wholesale compression had destroyed both the micro and macro levels of the music.
Compression destroys the beauty of classical music as well as rock. After noting that Robert Silverman's Mozart sonatas, recorded using Ray Kimber's IsoMike technique, are due out from Ray in both SACD and Blu-ray, John subjected his own recording of Silverman's second movement of Beethoven's Sonata 31, Op.110 to the kind of compression heard on the radio. Again, the artistry, dynamics, and increasing sense of drama were destroyed. Fans of John's work will hear the opposite next year, when his new Stereophile recording of Silverman playing Brahms and Schumann becomes available.
After irrefutably demonstrating that many current recordings are not worthy of playback on our high-end systems—"the more you turn them up, the more you want to turn them down"—John closed the seminar with his high-resolution Cantus recording of "There is Sweet Music." It was a joy. After going room-to-room for two days, hearing little more than snippets of recordings, it was wonderful to be reminded just how beautiful well-recorded music can sound.