Miracle At Merkin
On Saturday, February 10, collaborative improvisation band Attention Screen gave its debut at Manhattan's Merkin Hall at Kaufmann Center to a packed house. The event was recorded by John Atkinson for release in May as a
Stereophile
CD, possibly followed by a limited-edition DVD-A.
All four musicians in Attention Screen are composers as well as consummate instrumentalists. As a result, each "song" is an investigation into sonic possibilities; the group might discuss a direction, but the pieces evolve completely in the moment. As John Atkinson observed onstage, during an intermission Q&A, the group starts together and ends together, but what happens in between those points is always an odyssey of exploration.
Attention Screen's heartbeat is supplied by drummer Mark Flynn. That's Mark as in mark time; he's a creature rarer than a unicorn: a drummer who listens as explosively as a rim shot. His constantly shifting textures don't simply propel the ensemble, they offer textural support and contrast. He's in control, but capable of dropping the occasional dynamic bombshell, as Atkinson will attest, having watched his meters all but peg-out in the evening's second number.
It's difficult to call the bass and drum center of Attention Screen a rhythm section in the conventional sense. Flynn's drums and Chris Jones' fretless bass do drive and anchor the band's sound, but they steer the band's excursions just as hard as the "front line" does. Jones was a source of constant surprise on February 10—while he always anchored the compositions solidly into swingtime, he also boldly drove many of the pieces straight into the heart of strange territory. My listening notes refer to his setting up a "Venusian boogie" and steering the group's second collaboration into a "Mekong Delta blues stomp."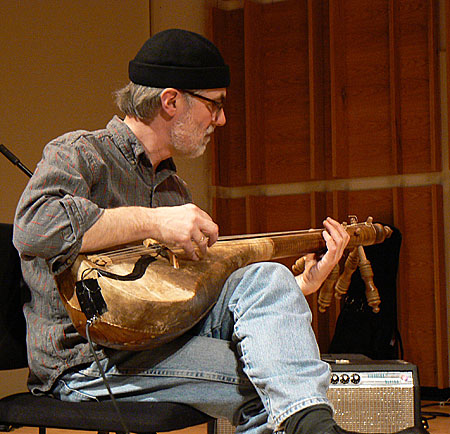 Don Fiorino played utility man, pretty much the master of anything that had strings on it. He rocked steadfastly on a heavily processed hard-tailed Strat with a left-hand neck that just looked wrong to this observer. (Sure sounded right, though.) Fiorino is a straight-out monster on conventional guitar, capable of screaming as hard as both Sonny Sharrock and John McLaughlin on Jack Johnson. For me, however, the evening's most transcendent moments occurred when he played other instruments in his arsenal: the four-stringed lotar, a Moroccan proto-lute; his 8-string mahogany ukelele; and his lap steel.
The evening's second composition (where he played lotar) and fourth (uke) had an acoustic balance I found delightful. The difference in balance brought out heroic efforts from the other three band members, including some of the evening's best sustained melodic riffing from pianist Bob Reina. For sheer aggressive punch, however, nothing else came close to the two improvisations driven by Fiorino's screaming lap steel guitar. He just lights up with a steel in his left hand, and then the fun really begins.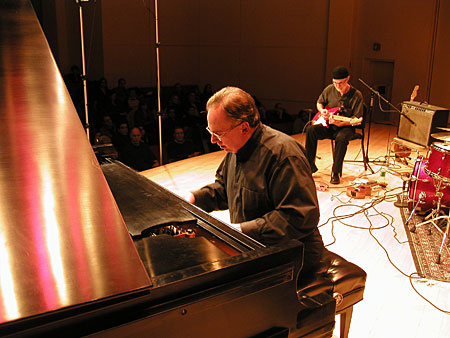 Bringing an acoustic instrument to an electric concert might seem an odd choice, but when you're Bob Reina and the instrument is a concert Steinway, somehow it all works out. Reina is, in many ways, the acoustic glue that holds Attention Screen together. He loves to throw in harp-like arpeggios that cascade from one extreme of the keyboard to the other (and back), but his forte is the shattered melodic fragment that adds a dream-like touch to Attention Screen's sonic attack. I was particularly enamored of a repeated phrase in the evening's second improvisation that sounded like "Twinkle Twinkle" as re-imagined by Prokofiev. It was the acoustic okra thickening Attention Screen's gumbo.
As though an evening of great music in a superb acoustic space wasn't enough, John Atkinson recorded everything with an eye toward presenting an amplified ensemble as honestly as his classical recordings—a dream that JA, erstwhile rock session musician that he is, has long harbored.
JA used a distant pair of Earthworks omnis to capture the overall "picture" of the band, with individual spot mikes on the Fender guitar amp (a Shure SM57), the Steinway piano (a pair of Neuman TLM103s); the kick drum (an AKG D112); and the snare drum (a Shure Beta 98). He also used a pair of DPA cardioids above the Gretsch drum kit and took a direct feed from Chris Jones' Trace-Elliott bass amp. The 10 signals were taken to an 8-channel Metric Halo MIO2882 mike pre-A/D converter and a 2-channel Metric Halo ULN-2 mike pre-ADC, this word-clock–slaved to the MIO2882. Both boxes were connected to a Mac mini computer via Firewire and the 10 channels of data were stored as mono 24-bit/88.2kHz AIF files on the mini's internal hard drive using the "Record" function of the Metric Halo control software. This program was also used to produce a 2-channel mixdown for monitoring on Sony MDR-7506 headphones, which was then stored on an Alesis Masterlink hard-disk recorder.
Also on hand was Core Sound's Len Moskowitz, who brought along his four-channel TetraMic to record everything in point-source Ambisonic surround sound. The four-channel TetraMic fed four 48V mini-XLR-to-XLR phantom power adapters with channels one and two feeding one Core Sound Mic2496 24-bit dual microphone preamp/ADC and channels three and four another. The Mic2496s also provided phantom power to the TetraMic.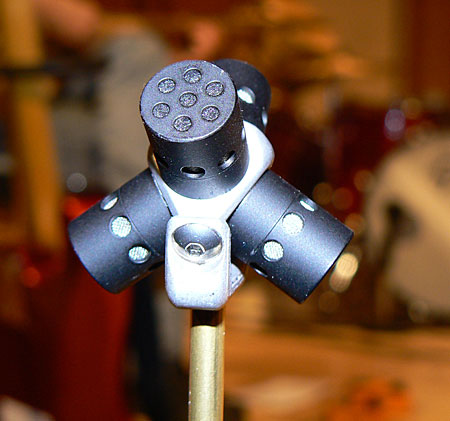 Each Mic2496 has two digital audio outputs: one S/PDIF coaxial and one S/PDIF optical. The two optical outputs went to two Core Sound PDAudio-CF S/PDIF interface cards mounted in the Compact Flash slot of two Windows Mobile PDAs (one Dell Axim X50v and one HP iPAQ h2215). The 24-bit/44.1kHz PCM files were recorded to the PDA's Secure Digital flash memory cards by Gidluck Mastering's Live 2496 recording software.
Here's the fascinating thing about Moskowitz's recording set-up: Except for the TetraMic's 12' stand, it all fit into a single attaché case. I asked Moskowitz what he was planning to do with his surround recordings, "They don't belong to me, but if they're good enough, perhaps Stereophile will make them available for people interested in hearing how good Ambisonic can sound—and perhaps I can put a sample up on Core Sound's website."
Gosh, I hope so. If Moskowitz and Atkinson can really capture the you-are-there essence of February 10's Attention Screen concert, that truly will be a miracle devoutly to be wished for—at least for this rapt audience member.
Stereophile will have copies of the Merkin Hall Attention Screen concert CD available at HE 2007, which will be held in New York, May 11–13. Attention Screen is provisionally booked to play a concert at the Show on Saturday May 12.