Stereophile's Products of 2004
For the 13th consecutive year,
Stereophile
has recognized the components that have proved capable of giving maximal musical pleasure with its "Products of the Year." Based on a vote by the magazine's reviewers and editors, the 2004 winners were announced in the
December 2004 issue
and the awards were presented by
Stereophile
editor John Atkinson at last week's 2005 Consumer Electronics Show (CES) in Las Vegas.
The biggest winner was Linn Products, whose Linn Unidisk 1.1 multichannel universal player was our 2004 Digital Source Component, our 2004 Multichannel Music Component, and one of our three Products of the Year. And to add to that, the Scottish company's venerable Linn Sondek LP12/Lingo turntable with its Ekos tonearm was our 2004 Analog Source Component. Seen here, trying not to drop any of his four awards, is Linn's marketing maven Brian Morris.
The second of our three Products of the Year was Aerial Acoustics' Model 20T loudspeaker, which was also one of our two joint Loudspeakers of 2004. Aerial's Michael Kelly had no trouble holding on to his two awards.
The third Product of the Year and second Loudspeaker of the Year was the Focal-JMlab Nova Utopia Be. The award was accepted by Focal-JMlab's Gerard Chretien (right) and Daniel Jacques of the French manufacturer's US distributor, Audio Plus Services, who held one award each, thus avoiding the potential for an award to slip out of their grasp.
The preceding products are expensive, of course, but we do recognize real-world components with our Budget Product of the Year award. In 2004 we had two winners, both loudspeakers. The award for Spendor's S5e was accepted by Philip Swift of English manufacturer Spendor (right) and Mike Grubb of US distributor QS&D.
The joint winner of the Budget Product was Magnepan, for its Magneplanar CC3 center & MGMC1 surround loudspeaker system. The award was accepted by Steve Winey, the son of Magnepan founder Jim Winey, who is now running the Minnesota company.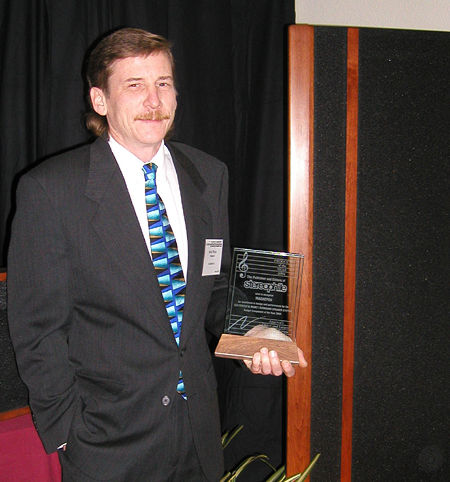 Winning the 2004 Amplification Component award was the McIntosh MC501 monoblock power amplifier. Shown here holding their award are McIntosh's senior electronics engineer, Chris Bomba, who designed the amplifier, and Charlie Randall.
Reflecting the growth in personal listening engendered by the iPod, our 2004 Accessory of the Year was Shure's E3c in-ear headphones. Shure's well-deserved award was accepted by Mike McGinn.
Finally, we give an award to the product that John Atkinson feels made a significant impact on the world of high-end audio in the previous 12 months. Our 2004 "Editor's Choice" award went to the bargain-priced but great-sounding Benchmark DAC1 D/A headphone amplifier. Shown here accepting his award, at what it turned out was his first CES, is Benchmark president Allen H. Burdick.