Classé Omega Super Audio CD player
Classé's Mike Viglas watched the audiophile skies, scratched his chin, and thought about his business. As he gazed, it occurred to him that if everyone in audio was moving downmarket to invade
his
territory, why not take his company and head
up
market? Thus was born Classé's much-lauded Omega series.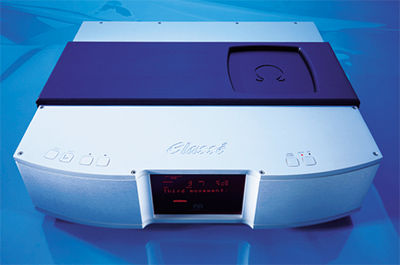 Classé has guts. These are uncertain times, but here they are with an audiophile classic: an expensive two-channel Super Audio CD player that will also spin CDs and CD-Rs and sports lots of inputs and outputs, "Your last CD player, my friend!" enthused Viglas after he'd installed the unit in our loft.
"Lots of aluminuminun..."—George W. Bush
Big swaths of brushed aluminum make up the front of the Omega's slab-sided box. The faceplate's large, central display is all done up in red. Like all SACD displays, and even with a few late-model 16-bit/44.1kHz recordings, the display scrolls title information, then stops and reads out again as many characters as the display supports. That and time and track number, all the usual stuff, along with a Sample Rate Converter (SRC) indicator. There's also an HDCD indicator, an Internal indicator for the unit when it processes discs rather than external data sources.
The front of the top surface has an array of control buttons, all in large, chunky, squarish, firm-press Classé style—the opposite of Japanese machines' mini-pips. These buttons control Stop, Play, and Skip Forward/Back—just like the original Sony SCD-1, if memory serves. (I had the Accuphase DP-101/DC-100 two-box player on hand for SACD comparisons, but not the Sony.)
A thick, black band runs around the middle third or so of the top plate and continues down the sides. This band is black-anodized aluminum set into the brushed aluminum of the rest of the case, and makes the whole affair stiffer and less resonant. The finish is called Satin Shadow Silver. Go figger.
While its design is not over the top, the Classé Omega is handsome and distinctive, and right up there in build quality with Mark Levinson and Boulder—pretty much the best you can get.
The "media well," which hides the same solid gold-colored brass CD weight on the spindle as the Sony, sits to the right of the top plate in regal Classé black. The well cover slides open to the left, and doesn't raise or lower itself in any way, like the Accuphase or Sony SACD players. And it's a bit prissy; left open for more than a few minutes, it chastely slides closed again to protect the optics. I like that. It's got brains.
But it's that Sony mechanism all over again. There's just no getting away from it—the Classé takes an age and a half to read the ToC and ready itself for play. Yawn.
There are two more top-panel buttons to the right front of the "media well": Open/Close and SACD/CD. The Omega defaults optimistically to the SACD setting—we all live in hope of new releases before growing old—but takes the change to CD with equanimity. Just...slowly and deliberately. You've got to be in Stop before you switch from CD to SACD; if left inactive for five minutes, the Omega returns to Standby mode.
All of these control functions and many more are to be found on the hefty remote. Bitch, bitch, bitch—why can't everyone put those cheap rubber footers under the four corners of these substantially built remotes, many of them, like the Omega's, made of metal? I mean, there's no expensive furniture around here, but I'd hate to scratch the flat, beautifully finished top of my left JMlab Utopia, a natural resting place for remotes chez Scull.
The Omega's remote includes buttons for SRC (96kHz sample-rate conversion), Display On/Off, input selection, direct track access, search forward/back, track forward/back, Index, Mute, and volume controls for a Classé preamp or integrated amp (if used). Minor quibbles aside, it's a nice remote, and perfect for controlling the player while remaining comfortable on my substantial audiophile butt in my well-broken-in listening chair.