Sony SCD-1 Super Audio CD/CD player
Rarely have I anticipated the arrival of a review component as I did the Sony SCD-1 Super Audio CD player. I'd first heard the machine itself with the enthusiastic audiophile hordes at Chicago's HI-FI '99. I'd also been lucky enough to enjoy a few of the Direct Stream Digital-encoded recordings Tom Jung had made for DMP right off the hard drives of a prototype DSD processor via Ed Meitner electronics. (See my interview with Jung
elsewhere in this issue
.)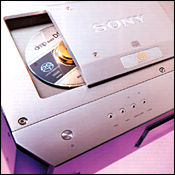 During that afternoon's DSD listening session, we heard seriously deep bass chuffing the cheeks of our listening room with powerful, felt-as-much-as-heard pulses o' power. So that information was on the master; would it be there on Sony's and Philips' Super Audio CD, which features DSD? (See the sidebar for a DSD overview, and Table 1 for an overview of SACD compared with CD.)
This Old House
Sony's $5000 SCD-1 is a two-channel Super Audio CD player. Right out of the box, it impressed me with its hewn-of-a-piece construction. This is a serious high-end device, and built accordingly. The lavish engineering thoughtfulness is matched by every satiny panel and control surface. Fit'n'finish come no higher. The SCD-1's base unit is made of 6mm solid aluminum plate—very rigid, very firm. The cutout for the traveling spindle assembly is reinforced by an additional plate drilled for lightness and rigidity, thus avoiding vibration-induced "squeaking." Ahem. The whole construct floats on four thick pillars mounted directly to the chassis with "a minimum number" of rubber dampers.
The spindle motor sits in a die-cast aluminum housing incorporating sapphire bearings, with a ruby bearing on the spindle shaft. A substantial weight—Sony calls it a "disc chuck"—is placed on the CD before play. If you forget, a warning is displayed.
Symmetrical double-sided glass-epoxy circuit boards are arranged for short signal paths. A discrete analog power supply is located directly on the audio circuit board. A copper bus bar runs down the center, creating a low-impedance ground path for the current-pulse D/A, the digital filter, and the pulse generator. The ground terminal of the analog board is connected by a three-layer insulated-element bus bar to the back panel for a firm connection to chassis ground. There are two transformers: one for the audio side, one for the servo and digital circuits. These are potted in a resin-sealed case to reduce magnetic flux leakage and eliminate vibration.