Zu Essence loudspeaker Page 3
I was
very
impressed with the Essence's reproduction of the great Clifford Curzon recording of Brahms' Piano Concerto 1, with George Szell and the London Symphony Orchestra (LP, Decca/Speakers Corner SXL 6023). From the very first notes, all of the sonic attributes one might hope for from such a product were in place, including powerful, surprisingly well-extended bass, very good string color and texture, and—again—a big, spacious soundfield. Yet the Essence's
musical
attributes were equally obvious and compelling, including an almost uniquely clear exposition of the timing between the entrance of the timpani on one hand and the brass and strings on the other: Among loudspeakers capable of reproducing the drum's fundamental at a convincing volume level, it's rare to find one that can also be that explicit about a timing distinction, no doubt measured in microseconds, that helps communicate the humanness of the playing.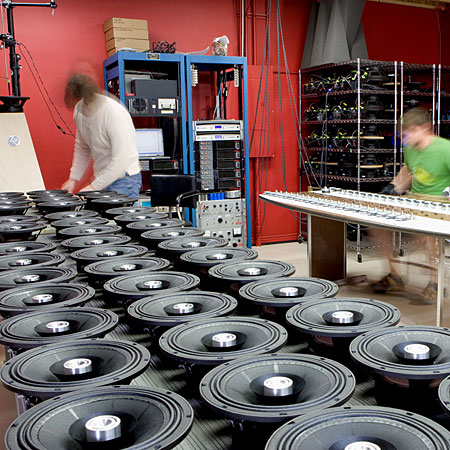 The Zu Essence was a timing champ in the broader sense of the word, as well; for that reason, and thanks to its very good bass extension and impact, it proved a wonderful speaker for uptempo pop music. Bill Berry's galloping drumming on "Pretty Persuasion," from R.E.M.'s Reckoning (LP, IRS SP 70044), was as propulsive as I've heard from any home system. The same could be said of the altogether more synthetic percussion throughout Sade's Love Deluxe (LP, Epic 472626 1). On "No Ordinary Love" from that album, the electric bass had temporal realism, believable timbral color, and what seemed to me just the right amount of decay at the end of each note. And I heard and admired that last quality equally well while listening to plucked string basses in various classical recordings.
Notwithstanding its affinity for rock'n'roll, the Essence played with excellent timbral realism such natural, small-scale recordings as a 1960 release of members of the Vienna Octet performing Brahms' Clarinet Quintet (LP, Decca/Speakers Corner SXL-2297). The Audio Note AN-E, despite its fine sense of touch and humanness, sounded a bit nasal and chesty by comparison. Solo singers, too, came through the Zu quite free of such timbral distortions. Dame Janet Baker—whose famous recording of Elgar's Sea Pictures, with Sir John Barbirolli and the LSO (LP, EMI ASD 655), has so interested me in recent months—sounded herself: uncolored, physically there, melodically limber, her artistry intact. And on the most recent entry in the Neil Young Archive Series, Sugar Mountain: Live at the Canterbury House 1968 (LP, Reprise 512563-1, footnote 4), both voice and guitar sounded just plain right—as did Guy Clark in his sprechgesang on "The Guitar," from a collection given me by Zu's Ron Williams (AIFF file, no catalog number).
In today's audio marketplace, where products priced in the five figures no longer turn so many heads—sadly—I would expect a $5000 pair of speakers to offer less than perfection. The Zu Essence cooperated with that expectation, but only a little. It had slightly less clarity and resolution than the finest speakers I've heard, a shortcoming that was most noticeable in the music's middle two or three octaves (say, 300–1200Hz). Thus, on very dense recordings—Romantic piano concertos, such as Martha Argerich and Claudio Abbado's performance of Liszt's Concerto 1, also with the LSO (LP, Deutsche Grammophon 139383), come to mind—the Essence sounded at times a bit congested: not so much a darkening or coloring of the sound as a slight lack of resolving power compared with, say, an old Quad ESL or a new Wilson MAXX.
While it wasn't a shortcoming per se, I found the Essence a bit less enjoyable with mono recordings than I do the Audio Notes or other corner-loaders—in which regard the Zu was no better or worse than any other freestander, I suppose. The Essence brought the same snap, impact, and realistic color to Arturo Toscanini and the NBC Symphony's recording of the overture to Donizetti's Don Pasquale (LP, RCA LM-6026; coincidentally, one of the maestro's most modern-sounding recordings), but I preferred hearing it and other similar mono selections played back with less air and more substance.
Beyond that . . . well, the Essences weren't capable of sounding quite as big as the best big horns, or quite as shockingly dynamic. And I know that there remain some loudspeakers that can "disappear" even more completely. Yet those products cost in the neighborhood of ten times the price of the Essence or more, when they're available at all. (The vintage Klangfilm horn system that I heard at Home Entertainment 2004 is probably the "best" loudspeaker I've ever heard, but it's also something that seldom shows up for sale.) For its part, the Zu Essence is remarkable for warranting even a distant comparison, I think.
Conclusions
The Zu Essence is not a hair-shirt product, in which regard alone it has surpassed at least half the high-efficiency loudspeakers in the domestic marketplace. Inasmuch as it's among the more affordable choices—exponentially, in some cases—it has surpassed many of the rest. The Essence is something of a milestone.
With its very good bass extension, superb musicality, lack of egregious timbral colorations, and impressive spatial performance, the Zu Essence qualifies as the first loudspeaker I've heard that combines genuinely high efficiency with a level of audiophile performance for which no excuse needs to be made, all while being priced within the reach of the serious-but-not-crazy hobbyist. I'm really impressed with the Essence—and, yes, I could happily live with it myself: It's that good.
---
Footnote 4: I've enjoyed the other live outings in the NYA series, but this one was a disappointment, partly for the tediousness of those numbers that really
don't
hold up, such as "The Last Trip to Tulsa," and partly—surprisingly—because I feel that some of the goofier between-song raps detract from the overall artistry of the show. If you already have the title song, you already have the show's best moment.