Yamaha A-S3200 integrated amplifier Page 2
Given that the recording's air and depth is exceptional, and that I could only hear it in full measure when balanced interconnects ran between the dCS Rossini DAC and the A-S3200, I stuck with them save for when I listened, briefly, to the A-S3200 in amplifier-only mode, which required the use of single-ended interconnects from the volume-controlled Rossini DAC.
At first, I used the Rossini DAC's 6V output, which, in my opinion, usually delivers more colorful and nuanced sound than its 2V output. I detected distortion on a number of tracks (footnote 2), so I switched the Rossini to produce 2V full-scale output. I could have just flipped the A-S3200's attenuator switch to –6dB instead, but changing the load at the source seemed the best route forward. As Jim Austin pointed out when I checked with him about my choice—John Atkinson seconded Jim's assessment—amplifying and then attenuating a signal more than necessary will not yield the best technical performance. I kept the Rossini at 2V throughout the entire review period.
After I made the above decisions, the review process was straightforward . . . at first. File and disc playback was via the Rossini, sourced either from a Synology NAS/Roon Nucleus+/optical/Ethernet interface or the dCS Rossini CD/SACD transport. In both cases, the Rossini DAC's volume control was turned up to 0dB, effectively removing it from the signal path and allowing accurate assessment of the A-S3200, including its volume control.
Sweet music
The Yamaha's sonic signature remained consistent throughout the review period: Air and depth were pretty good, the soundstage was as wide as I've come to expect from other integrated amplifiers I've evaluated, and musicality was a constant. But what stood out most was a predominant midrange whose color palette, compared to my reference, seemed somewhat restricted. A strong midrange that resembles the toned-down sound I hear in some drier, less resonant halls, especially from seats farther back suits some audiophiles to a "T."
To these ears, one of my long-time standbys, Murray Perahia's uplifting, smile-inducing piano performance of Handel's Harpsichord Suite in E, HWV 430, from Murray Perahia Plays Handel and Scarlatti (CD, Sony Classical 62785), lacked the last bit of sustain and natural die-off that I experience with my reference. Some of the sparkling life and joy I expect from this music was replaced by smoothed-out tonal contrasts that brought to mind the sound of pianos in San Francisco's Herbst Theatre, pre-renovation, especially when they were positioned farther back on the stage. The hi-rez files of Patricia Barber's Higher (32/352.8 WAV, ArtistShare AS0171) sounded quite good but lacked the last bit of the pristine silence that engineer Jim Anderson captured between the notes. Emotionally, both recordings affected me differently than I had expected.
What about fixing that with tone controls? On Barber's "In Your Own Sweet Way," I turned the treble up a notch, only to discover that sound grew a bit hard. Cymbals sounded wetter, but some of the air around Barber's voice was lost. If I turned up bass control a notch, it became somewhat shapeless and overbearing, while air and spaciousness took a dive. The tone controls were not an asset in my system configuration (footnote 3).
One question was whether the Yamaha, which outputs 150W into 4 ohms, delivered sufficient current to control the bass on my Wilson Alexia 2's. The question was first raised by frequent online commentator Ortofan when I mentioned the A-S3200 in the comment thread of my review of the Aavik Acoustics U-380 integrated ($39,000).
Barber's refreshingly unsentimental take on "Once I Had a Secret Love" includes a prominent bass obbligato that continues during the song's extended instrumental riff. With the Yamaha, bass lacked a firm core and was unquestionably lighter than with either my Progressions or the Krell K-300i integrated that was recalled to Krell HQ just days before the Yamaha arrived. I don't usually describe bass in terms of color, but once I returned to the Progression monos, I realized how much color and textural differentiation they convey from a single drum thwack. Multiple colors are far less noticeable on synthesized percussion, but they are a defining characteristic of snare drums, tuned timpani, and some other percussion instruments, as I hear them at least. These colors may reside above the bass range and be conveyed by overtones, but to these ears, they're of macro importance.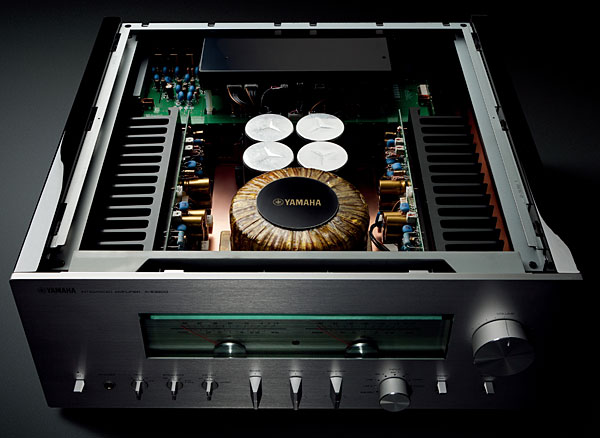 Continuing to explore bass response, I turned to three pieces that abound in snappy rhythms and deep, driving percussive jolts: the quirky "Fit Song" from Cornelius's Sensuous: la musique du 21éme siécle (16/44.1 FLAC/Tidal, Warner Bros. EVE016)—thanks to Jon Iverson and John Atkinson for recommending that one—the campy-to-me and equally hot "Electrified II" from Yello's Toy (24/48 WAV, Polydor 4782160/HDtracks)—thanks again, Jon; please feed me more goodies—and the final, percussion-rich movement of Stravinsky's The Rite of Spring, from Ludovic Morlot and the Seattle Symphony (24/96 WAV, Seattle Symphony Media SSM1005). The bass on each of those tracks seems intended to jolt you from your seat, raise your eyebrows, and stir your soul. With the Yamaha, I missed the last bit of crispness and punch.
In your head
Twice, I evaluated the Yamaha's headphone amp through Audeze LCD-X headphones fed by Nordost Heimdall 2 headphone cable. Both times, I thoroughly enjoyed what I heard. The sound was clear and spacious, with far better bass than through my speakers. Nonetheless, the repeated, pounding bass on "Fit Song" wasn't totally clean, and its center was a bit more resonant than I'd expected. Here, the welcome smoothness and beauty of the presentation, and, on "Fit Song," the excellent left-right soundstaging, earn the headphone amp a big thumbs up.
Few audiophiles—perhaps none—will buy the A-S3200 for its amp section alone. But because they may use it by itself if they subsequently purchase a separate preamp, I checked it out. Switching briefly from balanced to single-ended interconnects, I used the integrated's "Main In" jacks to bypass the preamp section and let the Rossini control the volume. On went the "Chicago, 2012" movement from Mason Bates's Alternative Energy, performed by the San Francisco Symphony and Michael Tilson Thomas on the Jack Vad–engineered hybrid SACD, Mason Bates: Works for Orchestra (SFS Media 0065). This music is more than a bit facile—Bates has written much better—but its multiple sound effects, including far-left–to–far-right, back-and-forth zooms of particles in a Fermi accelerator, zingy computer effects, deep bass, groovy orchestral rhythms, and percussive snap make for a challenging listening test.
The A-S3200's amp section produced a wider soundstage, deeper bass, and less gray sound than with the A-S3200 in full integrated mode. The sound, in fact, was the closest I got to that of my reference D'Agostinos or the Krell K-300i.
In no way do I wish to suggest that the Yamaha A-S3200 is less than musical, or that it isn't a bona fide high-end component, but on my standby recordings, I kept thinking about my much-more-expensive reference.
Questions & Conclusions
Recounting my experience with the A-S3200 led to a back-and-forth between me and Editor Jim Austin about the nature of audio reviewing. At its core—the conversation's core, not my own, which Professor Austin has yet to fully penetrate—lay several questions that I, by myself, cannot answer definitively:
• Is the sound I heard a direct result of asking an amplifier to drive a bass load beyond its means? After all, if the amplifier is struggling down low, there will be less power to adequately reproduce the rest of the sonic spectrum and subtleties will be lost.
• How can any reviewer make definitive statements about a product after only evaluating it in a reference system that was carefully constructed to reflect their particular sonic preferences?
• How does one take into account fundamental differences between the reviewer's system and a design team's reference when the sum of their respective sources, speakers, cabling, supports, and room has a very different sonic gestalt?
• To what extent is the sound I heard a true representation of what the Yamaha A-S3200 can produce and that its design team strove to create?
• Given Yamaha's huge following of loyal fans, who expect a certain legacy sound, how does one balance fundamentally different expectations in a subjective review by a high-end audio journal?
As I pondered these questions, my sorely missed colleague, Art Dudley, came to mind. Art and I shared similar taste in and love for music—classical and beyond—and waxed equally rapturous about some of the same recordings. Yet, his sonic preferences were so different than my own that I doubt we would have liked each other's systems. That doesn't make one system "right" and the other system "wrong." Diversity is a big part of what makes the world so wonderful. But how does one adequately take fundamental differences into account in a review and say something meaningful, while simultaneously acknowledging the humbling fact that experience itself is subjective?
What matters most, to many of us, is that our sound systems bring us joy. Do I believe that many card-carrying audiophiles will love the sound of the A-S3200? Absolutely.
Please stay tuned for another critical perspective, based on an audition in a different system that includes a turntable, in a future issue.
---
Footnote 2: 6V full-scale input, while not uncommon in today's digital sources, is very high for an integrated amplifier rated at a sensitivity—the input voltage necessary to achieve full rated output power—of 200mV.—
Editor
Footnote 3: When I asked Shea about the tone controls, he confessed that he had never used them.