VPI Classic Direct Drive Signature turntable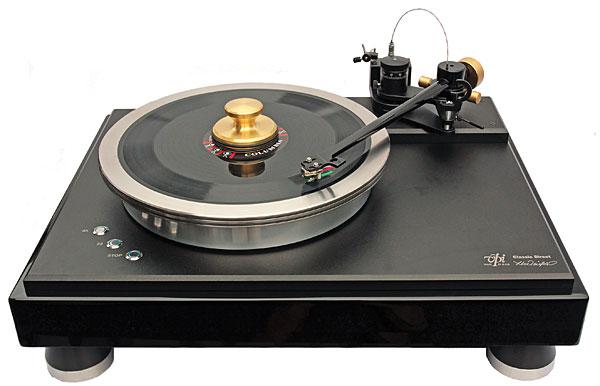 VPI Industries' Harry Weisfeld has tried, built, and marketed almost every known way of spinning a platter. He began in the early 1980s, before many recent turntable enthusiasts were born, with the
belt-driven HW-19
, and since then has produced rim-driven models, and 'tables with motors outboard or inboard, one or three pulleys, one or three belts, and platters of acrylic or aluminum alloy. But while Weisfeld has
owned
quite a few direct-drive 'tables, he'd never come up with his own—until now.
The heart of VPI's new Classic Direct Drive turntable is its motor. Like other turntable makers, VPI claims cogless performance, but in this case the claim is verifiably accurate, and for the same reason the motor in my Continuum Audio Labs Caliburn 'table is cogless: Both are made by the same company, Thin Gap, in Ventura, California.
No mysteries or secret sauces here. Thin Gap builds truly cogless motors. The platter is still the rotor but the stator is made of 100% nonmagnetic material and consists of electromagnetic coils embedded in a composite structure. Thin Gap claims that this design "significantly reduces" torque ripple effects: a periodic increase or decrease in output torque as the output shaft rotates. You can see the stator design here.
The biggest problem with the Thin Gap motor is that VPI pays more than $4000 for each one—before implementation, and before factoring in more than a year and a half of R&D with the direct-drive power supply and motor-control functions, which were engineered by Paul Teseny. In high-performance audio, the rule of thumb is that a component's retail price should be five times its cost. Therefore, at retail, the Classic Direct's motor alone should cost over $20,000. The complete turntable—with 3D-printed 12" tonearm (a variant of the JMW Memorial arm), and the peripheral platter ring and record weight used elsewhere in the Classic line—retails for $30,000. Don't hit me when I say that, at that price, it's a bargain!
The Classic Direct's motor is servo-controlled via an active feedback loop that directly measures and controls the speed of the 18-lb platter, which is machined from a billet of aluminum. The platter has an inverted bearing coated with polyether ether ketone (PEEK), an organic polymer thermoplastic commonly used in bearings, piston parts, pumps, valves, and medical implants. VPI supplies a thin record mat of some kind of rubbery material. An external power supply removes motor-generated line noise.
The Classic Direct's plinth, a variant of the one used in VPI's Classic line, measures 23.5" wide by 17.5" deep. It's made of 2"-thick MDF, to which is bonded a ½"-thick top plate of anodized aluminum, to create a massive, well-damped platform for the integrated drive system. The entire assembly, attractively accented by a piano-black lacquer surround (Rosewood is also available), sits on four height-adjustable corner feet. The compact power supply connects to the turntable via a long umbilical.
On the top left of the plinth are three illuminated buttons for select the speed: 331/3rpm, 45rpm, and Off. The platter's speed can't be adjusted—if you want to play your original pressing of Kind of Blue or Beggars Banquet at the correct speed, you're out of luck.
Setup & use
The plinth, with the tonearm already mounted and affixed to an additional ½"-thick aluminum plate, is shipped in one box, the platter-and-drive assembly in another. Once the plinth has been placed on a level surface (the feet can provide additional leveling as needed), preferably one well isolated from vibrations, it's time to install the 27-lb drive system using the supplied T-handle assembly. This is best done by two people.
Mark Doehmann, designer and project coordinator for the Continuum Caliburn, was in New York for events involving his real job: ModelOff 2013, the World Financial Modeling Championship and Texata, the Big Data Analytics Championships—sort of the mental Olympics. He stopped by, and was impressed with VPI's use of modern manufacturing techniques and their application of the Thin Gap motor to direct drive. He also helped with the installation, which turned out to be a mere matter of connecting a ribbon cable and lowering the platter module into place. That accomplished—and having noted that VPI has yet to design a tonearm lock that actually locks—I installed a Lyra Atlas cartridge in the arm and we had a listen.
We were impressed by the sound—Doehmann declared it "a winner," and I exclaimed "Wow!" But VPI recommends some break-in, so I gave the Classic Direct around 40 hours of play before seriously assessing its sound or measuring its platter's speed. Still, the quick conclusions I'd already drawn were only confirmed by the many records I eventually played. You play some turntables because you have to, others because you want to. I wanted to play the VPI Classic Direct.
Measurements
Since the Classic Direct's speed is preset at the factory, that needed checking. Using Dr. Feickert Analogue's PlatterSpeed app, and the 3150Hz test tone on the accompanying 7" test record, I found the Classic Direct's mean measured frequency to be 3154Hz; the maximum relative "raw" frequency deviation was –0.23%/+0.29%, and the maximum absolute "raw" frequency deviation was –7.4Hz/+9.2Hz. Low-pass filtered to remove the effects of "wow" produced by any eccentricities in the test record, the results were ±0.01% maximum relative deviation and ±0.3Hz maximum absolute deviation (fig.1). Those are superb results, though the frequency chart itself (fig.2) is not exactly a thing of symmetrical beauty. The 45rpm measurements were equally good.
For comparison, the Continuum Caliburn's mean frequency was 3150.6Hz, its raw maximum deviation 0.24%/+0.43%, and its absolute was –7.7Hz/+13.4Hz. Low-pass filtered, these were ±0.03% relative and –0.9Hz/+1.0Hz absolute, or about three times worse—still exceptionally good results, especially after more than seven years of use and abuse. Again, though, the Caliburn's frequency chart isn't exactly "curvaceous."
If you want to see the absolutely best-looking curves (easy, now!), those would be Ondeof's One Degree of Freedom turntable: Its low-pass–filtered results were –0.02%/+0.03% relative and –0.5Hz/+0.9Hz absolute (fig.3). Those are very similar to the Caliburn's, yet the Onedof, with its "one degree of freedom," thrust pad/bearing-free, non-contact bearing system, sounded the smoothest of any turntable I've ever heard. (The Dr. Feickert app wasn't available when I reviewed Rockport Technologies' System III Sirius.) High-resolution needle drops from the Caliburn and Onedof that I played "blind" for audiophiles at store events around the country confirmed that the Onedof sounded smoother, though which turntable people ultimately preferred varied.
My point is that macro and micro speed accuracy are two different measurements. The Onedof and Caliburn measure similarly, but their frequency graphs look very different. Are the sonic differences the result of differences in bearing smoothness, motor control, or both? At this point, I don't know.
Preliminary Conclusion
The VPI combo of Classic Direct Drive turntable and 12" tonearm consistently produced mesmerizing sound that combined the rock-solid musical drive craved by fans of idler-wheel drive with the quiet and nonmechanical tonal richness demanded by devotees of belt drive. Add to that exceptional transparency and retrieval of low-level detail; taut, deep, powerful bass; and a total lack of obvious colorations, and you have $30,000 worth of sound. And then some.
When you consider the velocity-sensitive nature of lacquer cutting and LP playback, and the mix of frequency-dependent, constant-velocity and constant-amplitude elements, perhaps a lessening or a complete elimination of microvariations in the platter's speed of rotation reduces or eliminates minuscule EQ point shifts that could otherwise produce audible aberrations in the frequency and/or transient response. When I posed that question to Professor Gary A. Galo (see Sidebar 1), he said, "It's an interesting question that would take some very sophisticated measurements to either confirm or deny."
I don't know whether or not that explains to some degree the Classic Direct's ear-opening ease, sonic coherence, and fluidity, but that's what I heard. While the Classic Direct is not the only turntable that produces those qualities, it may well be for its price.
Part Two
The day after I submitted the first part of my review of the Classic Direct turntable and 3D-printed 12" tonearm, for publication in the May issue, VPI's Harry Weisfeld e-mailed to tell me that I had to remove the five blue rubber grommets that separate the motor-and-platter module from the plinth: "You won't believe what you hear." He also said that he'd decided that the power supply's plain (as in homely) case was unbefitting a $30,000 product, and so was upgrading it to something more attractive.
Using the T-handle that comes standard with the VPI, a friend and I lifted the platter-motor-bearing assembly off the plinth, plucked the five grommets out of the supporting ledge, and gently lowered the platter assembly back into place. The entire operation took two minutes.
As exceptionally fine as the sound had been, particularly in terms of drive and rhythm'n'pacing, it was now noticeably better in the lower octaves, which were more fully developed and even more solid and dynamically explosive; before, they'd been merely concussive. The sound's overall transparency had also improved. There were more weight and grip, more overall authority. The differences were hardly subtle—so why had VPI at first tried to decouple the motor from the plinth?