Vandersteen Kēnto Carbon loudspeaker and M5-HPA amplifiers, VTL TP-6.5 Series II phono stage and TL-6.5 Series II Signature preamplifier, Aurender A30, AMG Viella turntable with Lyra Atlas cartridge, AudioQuest Niagara 7000 power conditioner and cabling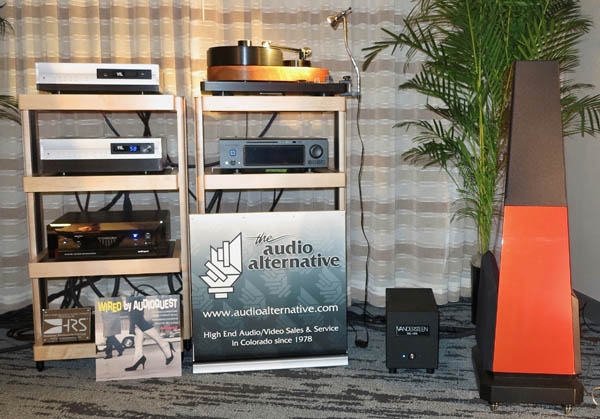 Another speaker debut and another winner. Introducing the Vandersteen Kēnto Carbon ($37,500/pair), which, together with Vandersteen M5-HPA amplifiers ($15,800/pair), VTL electronics, and more sounded open and alive on top on a Mercury Living LP of Dorati's rendition of Stravinsky's The Firebird. Depth and color were so good that I found myself wishing for a bigger space in which to hear how great this combination can sound. (But not
too
big, like the rooms I complained about for the first half of the show.) If that doesn't happen at RMAF 2020, it will be at least partly because everyone at Vandersteen was happy with the sound they were getting in their hotel room. For good reason.
When I mentioned to Richard Vandersteen that the one thing I wasn't hearing on the Dorati was the strong, clear midrange that I associate with his loudspeakers, he begged my indulgence as he turned to an overplayed classic, Stevie Ray Vaughn's "Tin Pan Alley." Two seconds in, I knew why he'd picked it. The midrange was superb. Top-end clarity was exceptional, and bass was full and beautiful. Credit is due VTL's TP-6.5 Series II phono stage ($12,500) and TL-6.5 Series II Signature preamplifier ($18,000), an AMG Viella turntable and arm ($22,000) with Lyra Atlas cartridge ($12,000), the AudioQuest Niagara 7000 power conditioner ($7995) that fed all components including the amplifiers, various models of AQ cabling, and HRS racks. I didn't hear the digital source, an Aurender A30 ($18,000).
Outside the room, Vandersteen explained that the Kēnto Carbon replaces the 25-year old Model 5 series. His goal with the new design is "to preserve the waveform as time and phase correct, and to deliver music with much blacker backgrounds." To do so, he uses only one driver per frequency—no doubling up.
"We've been working on the pistonic action," he said. "Every point on the diaphragm is in exact unison with what the voice coil receives. This requires drivers with incredible stiffness. It's all explained in a 14-minute video on our website that addresses the causes of distortion." The Kēnto Carbon, which weights 110 lbs. and stands 47" tall, has an aerodynamic dual-chamber transmission line-loaded carbon dome with ferro fluid voice coil cooling, a 4.5" "Perfect Piston" midrange with 3-layer carbon fiber/Balsa/carbon fiber cone, and a 6.5" woven fiber cone woofer. Frequency response is 23Hz-40kHz +/1 3dB, sensitivity is 85db, and impedance is 4 ohms. If yours truly who does not review speakers can be so bold, if someone at Stereophile doesn't grab this one for review, and others don't put dibs on the Raidho and Endow speakers, they're not listening.