VAC Statement 452iQ power amplifiers and Statement Line and Phono Preamps; Von Schweikert Ultra 11 Loudspeakers, Kronos Pro Turntable and Black Beauty Tonearm, Airtight Opus One Cartridge, Masterbuilt Ultra Cables, and Critical Mass Stands
Walk through the glass entrance doors, then twenty paces straight ahead, and you find yourself standing at the lip of a dizzying precipice, with a full panoramic view of the Rockville Hilton's vast LP-filled atrium. To your right is a spectacularly lit glass wall that measures about 25' high by 75' wide. Above the glass is a giant banner baring the turquoise Valve Amplification Company's logo: VAC. Standing in front of the wall are groups of urbane sophisticates: handsome men in suits, beautiful women, bright-eyed children. This envy-inspiring display is assembled by The Audio Company out of Marietta, GA; who describe themselves as "purveyors of hi-end luxury audio."
The Audio Company's main brands are VAC, Esoteric, Kronos, and Von Schweikert.
Many years ago, I introduced myself to Albert Von Schweikert, and two years ago I introduced myself to VAC's Kevin Hayes. These are two smart, erudite men whose products started modestly and have evolved steadily to reach the ultra level they are at now. That is why they have this big room and these big products.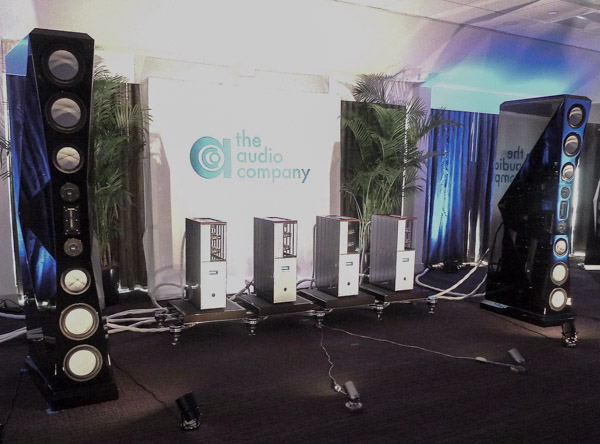 The $300,000/pair Von Schweikert Ultra 11 loudspeaker system stands very tall and features nine drivers in the front and three more in the back. The back-firing woofers are driven by a couple thousand built-in solid-state watts. The main drivers are bi-amped with two VAC Statement 452iQ stereo-mono power amplifiers that cost $75K each (four total for the system).
The Kronos Pro turntable with Black Beauty tonearm and Ultracap power supply ($51,000) was running an Airtight Opus 1 MC cartridge ($16,000), which drove the VAC Statement phono preamplifier ($80,000) and line amplifier ($80,000). The rack and amp stands were by Critical Mass, and the cables were all Masterbuilt Ultra.
So how did this big system sound? Bigger than any Wilson WAMM or giant Western Electric theatre system I have experienced. The soundstage went from heaven above and around the globe. It was clean and detailed. It was fast and beautifully toned. While I listened, I could not help but wonder: What aspect of speaker design determines the size of performers and instruments? Big horns can make ten-foot-wide guitars; and my little Harbeths make four-foot-high musicians. These Von Schweikets made Stevie Ray Vaughn seem like one of those inflatable figures along the highway. Is proper image size a room-speaker thing? Or a measure of accuracy?
I used to sell million-dollar stereos, and despite what the trolls think, in luxury audio you really do get what you pay for. This system played big, beautiful, and dramatic. It looked super-fantastic. It was designed for an architectural setting that was also big, beautiful, and fantastic. Not my little bunker, therefore.
My plan is to review the smallest Von Schweikert speakers and VAC's littlest integrated, just to see how these companies do intimate.