Us and Them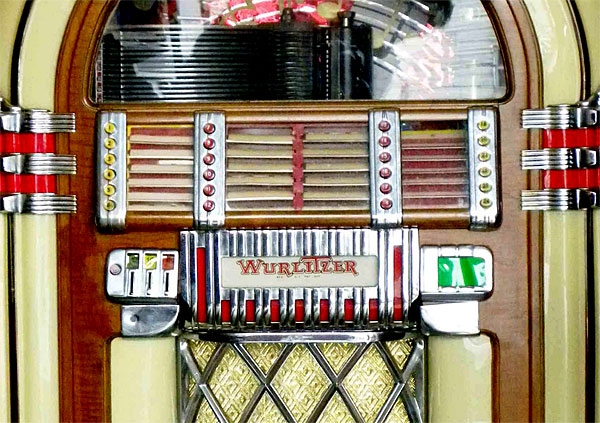 I've known a lot of folks with impressive LP and CD collections who were perfectly content with the sound of the crappiest of hi-fis. This diverse group has included recording engineers, musicians, and owners of record stores. Loving music isn't the same thing as caring about the
sound
of music, and maybe, in some alternate universe, those folks would-have-been, could-have-been audiophiles. But in this universe, they didn't, and I'm not sure why.
It's clear that we audiophiles are a different breed. We crave a deeper connection with the sound of music. We also love gear, so we're much more likely to do whatever it takes to accommodate speakers and electronics that take up an inordinate amount of our living space. To us, the gear looks cool. "Civilians" think we're nuts.
My sound obsession began in the 1950s, when I was a small child frequently found pressing my Sony six-transistor AM radio to my ear. Ah, there's Jerry Lee Lewis singing "Breathless"—or Chuck Berry's "Maybellene." I was always searching for that magic mojo.
Many audiophiles credit early exposure to the audio system of a dad, a relative, or a neighbor as the spark that ignited their passion for sound. My family didn't have a hi-fi, but in 1961 we bought a Wurlitzer jukebox, a refrigerator-sized thing decked out with garishly colored lights that took over the basement den. We'd load it up with 45s and play tunes. The Wurlitzer was my dream machine. There was something about the way its disc-changing mechanism plucked the selected 45 from the rack and the massive tonearm ever-so-gently lowered the stylus into the lead-in groove that I found endlessly fascinating. The whirs and clunks of the machine going through its motions were all part of the intrigue. I spent hours sprawled on the checkerboard linoleum tile in front of the Wurlitzer, feeling the beat, massaged by the low, churning rumble of its mighty woofers.
My pipsqueak six-transistor radio didn't stand a chance. It played the same lyrics, melodies, harmonies, and rhythms, but through the Wurlitzer the sound was completely different—and a whole lot better. I never got over that. I'm still searching for better sound today.
My best friend's dad had a big-rig system that included McIntosh electronics. I can't remember the rest of the gear, but whatever it was, it was impressive, and the Macs' tubes put on a hell of a light show. To me, they looked like rocket ships. My friend's folks didn't play rock'n'roll, just classical music, and I don't recall much about the sound itself—it was background, not foreground, and so no threat to the mighty Wurlitzer.
I began to realize that not all music systems were equally engaging. I was into James Brown, girl groups, and Thelonious Monk, but by the time the Beatles hit I had my own little stereo system with a Garrard turntable, a plastic amp, and XAM speakers. The sound slammed into high gear when I discovered Jimi Hendrix and Led Zeppelin. Miles Davis's Bitches Brew came later, and a little further down the road were Brian Eno's Here Come the Warm Jets, Another Green World, and Before and After Science. Those were the albums I'd play when I checked out new gear. The better the hi-fi, the more of the sound I was privy to. The metamorphosis from music lover to audiophile was complete, and there was no turning back.
It wasn't long after that I began a 16-year stint of selling high-end audio in New York City. I demonstrated great-sounding systems to thousands of non-audiophiles, most of whom were unmoved. They didn't get it. Wilson Audio speakers and Krell electronics, or Quad ESL-63s with Conrad-Johnson amps, failed to get a rise out of most high-end virgins. Worse, they looked disappointed—the visual impact of the gear didn't seem to have anything to do with the sound they heard. I learned that exposure to great sound rarely produces instant converts, so it was especially satisfying when a non-audiophile was turned on by the sound.
In the early 1980s, when folks en masse were dumping their LPs for CDs, I began running comparisons of the formats for walk-in customers. Few non-audiophiles had ever heard a great high-end turntable, and through those demos I sold 'tables to folks who were blown away by the difference they heard—and who then began to really listen. The ones who weren't swayed were much more likely to go for the smallest possible speakers and fuss-free operation. That was all they needed—for them, a hi-fi was an appliance.
One of the things that first attracted me to high-end audio was its human scale. No one knows or cares who designed their iPhone or Samsung flat-screen TV, but owners of Rogue Audio amps can pick up the phone and chat with Mark O'Brien, the man who designs them—or ask John Grado about their 20-year-old Grado Reference cartridge. These guys actually like to hear from their customers. High-end audio companies are for-profit businesses, but the most successful of them are still run by people who put their blood, sweat, and tears into making the best-sounding products they can. That, more than money, is what drives them. It's all about the sound of the music.
No one needs a high-end system to play tunes, but it sure as hell is a better way to emotionally connect with music. Why we can't be satisfied with the "rich" sound of a Bose SoundLink Bluetooth III speaker is a small mystery. I dunno. Those pint-sized things may be good enough for most music lovers, but audiophiles want more than good enough—a lot more.—Steve Guttenberg