Urban Fidelity Art Speakers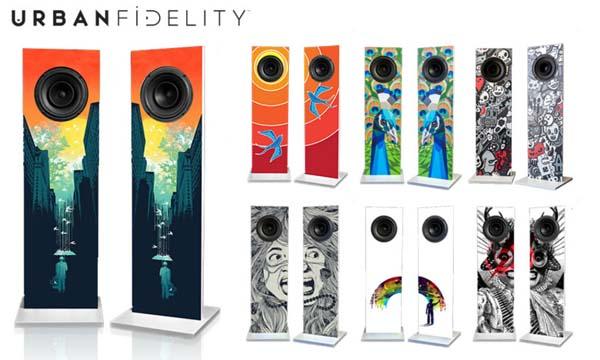 When I first met Josh Ray at a hi-fi show several years ago, I was impressed by his desire to bring high-end audio to a larger audience—an endeavor that I can easily appreciate. At the time, Josh sat atop the masthead of the forward-thinking audio review website,
Sonic Flare
. Along with Danny Kaey and a small cast of writers, Josh made Sonic Flare a fun and interesting web destination. But while SF's reviews were consistently informative, I always wondered if Josh's interests were more aligned with promoting the overall idea and allure of high-end audio.
Today, Danny Kaey has assumed full responsibility for Sonic Flare, while Josh Ray turns his attention to a new endeavor: Urban Fidelity, a loudspeaker company aimed at bringing hi-fi to a new generation of listeners. Josh sees an opportunity:
Skullcandy and Beats by Dre have incited a revolution in the headphone market. Full-size headphones are booming like never before, much to the delight of Sennheiser, Grado, and many new headphone companies. Additionally, DJ culture is exploding, getting front-of-store placement in Best Buy while iPhone docks and computer speakers are only growing in popularity. Every single audio related category is seeing legendary growth.
In Josh's view, home audio should enjoy the same growth. He wants the loudspeaker market to gain just as much interest as the headphone, computer audio, and vinyl markets. But more than a speaker company, Urban Fidelity holds the ultimate goal of bringing hi-fi to the masses. Josh:
With Urban Fidelity, I hope to whet people's appetites for hi-fi and then send them up the food chain to find (and buy) larger, better, more expensive audio systems. We'll recommend to our customers amplifiers, turntables, and, yes, even other speakers. Just like Skullcandy has boosted Grado's business, I hope, with any success, Urban Fidelity can get consumers interested in the rest of hi-fi. With any luck, they'll buy magazines, visit dealerships and check out the audio shows.
The first Urban Fidelity design is a single-driver, open-baffle floorstander featuring exciting artwork from independent artists. Said to be "ecologically sound," the speakers use formaldehyde-free wood, while the artwork is achieved with water-based inks, using a high-quality, long-lasting print process. The drive-unit is custom-made for Urban Fidelity by a US-based manufacturer. The speakers are designed and manufactured in Los Angeles. Because Urban Fidelity avoids the costs of cabinetry, crossovers, and assembly (the customer bolts the speaker base onto the speaker body), the company can keep its prices low. The Urban Fidelity Art Speaker will cost just $399/pair. The company's largest expense will be to its artists: 15% of every speaker sale goes directly to the artist.
But Urban Fidelity needs funding to get off the ground. At this time, with just 12 days remaining on their Kickstarter campaign, the company is over $10,000 shy of its goal. For more info on the Urban Fidelity Art Speaker and to fund the project, visit Kickstarter.
Will Josh Ray and Urban Fidelity achieve their goal of bringing hi-fi to a new generation of listeners? I hope so: I want to review a pair in "The Entry Level."