Tekton Design Impact Monitor loudspeaker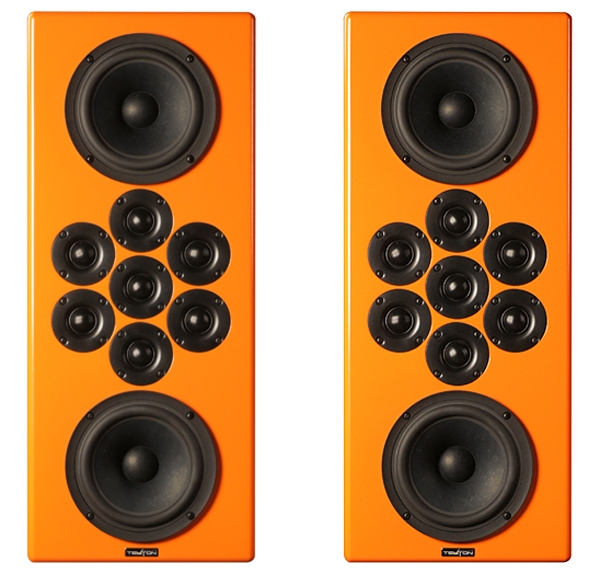 "It was not subtle. The [$2000/pair] Tekton Impact Monitors were doing it all: singing, drumming, shaking the air, drawing me in, and making every CD or LP pure pleasure to listen to. A little soft . . . but not too soft. Imagine a gentle but guiding touch with a most perfect sparkle—and then firm and impactful when necessary."
I wrote that last October, after hearing Tekton Design's new Impact Monitor speakers at the 2017 Rocky Mountain Audio Fest. I repeat it here because, as I listened to the Impact Monitors, I thought, Yeah, these speakers sound pretty damn good, but those seven tweeters are a gimmick if ever there was one. I could imagine no good reason for their presence, nor could I imagine how a gaggle of seven drivers could operate without insane diffraction, comb filtering, phase, or frequency-response anomalies.
Those thoughts forced me to scrutinize these unusual-looking, bulky, flame-orange boxes, and listen extra carefully for what must be wrong. Surprisingly, I heard no obvious problems.
Then I remembered: I'd thought the same thing about Tekton's floorstanding, three-tweeter, Enzo XL, which I reviewed in the April 2015 issue. The Enzo XLs sounded a little polite for my taste, but they imaged clearly, and delivered a consistently well-sorted upper midrange—which is where I imagined the Impact Monitor's tweeter problems would be.
When I returned from RMAF, I asked Tekton Design's president and chief engineer, Eric Alexander, if I could borrow a pair of Impact Monitors "in any color—as long as it's black."
Description
In my small apartment, the Tekton Impact Monitors, in their High Gloss black finish, looked much bigger than they had at RMAF 2017. Each speaker stands 24.5" tall by 10.125" wide by 13.1" deep and weighs 40 lb. It's a three-way bass-reflex design with a rear-firing port that loads two 6.5" mid/bass drivers and, yup, seven 1" fabric-dome tweeters. (Grilles are available for $50/pair.)
According to Eric Alexander, "The woofers are lightweight, natural-fiber, pulp-based cones that include papyrus fibers to aid in rigidity. The result is reduced moving mass and great damping qualities. The woofers and tweeters all incorporate copper-clad, aluminum-wire–wound voice-coils to further reduce the moving mass of the system. We've partnered with the highly respected transducer vendor SB Acoustics, and they produce our Impact Monitor parts."
I asked Alexander why he chose a vertical midrange-tweeters-midrange array.
"I chose an MTM design because this arrangement produces vertical symmetry in the polar response. I believe vertical and horizontal symmetry produce a superior overall sound quality."
Why such a swarm of tweeters?
"The seven tweeters are oriented in what I call a 'polycell array.' The 6.5" woofers handle frequencies below 1kHz, and the seven-tweeter polycell array handles frequencies above 1kHz. Comb filtering in the array is addressed and mitigated by transitioning higher frequencies to the single center tweeter—it acts as a supertweeter. When the loudspeaker system receives frequencies ¼ wavelength shorter than the distance between the tweeters' centers, we transfer the power to the center tweeter. The array of seven handles high output levels flawlessly.
"Going up in physical size, the Tekton Design lineup only gets better. . . . Our Ulfberht model incorporates 15 powerful tweeters in a focused array effortlessly digging down to 200Hz!"
When I admitted that this shocked me and that I still didn't understand, Alexander continued:
"Some of the magic of our patented seven-tweeter polycell array is the dramatically reduced system moving mass and its power-handling capabilities. For example: when the average, single-motor, 6" cone midrange with a BL (the strength of its magnetic motor) of 4–7Tm (Tesla meters), driving a moving mass of 10–20gm, is compared to our polycell-arranged tweeters producing midrange frequencies through seven individual motors, each having a BL of 1.8Tm [and] driving a moving mass of only 1/3gm, we discern an audible improvement."
Why is any of this important to audiophiles?
"The moving mass (the string weight) for the violin note 440Hz is 1/3gm. When the violin note 440Hz is played, it produces many discernible higher-frequency overtones and harmonics, [but] when played back [those are] all lumped up as a single resultant wave; this is how the amplifier sees it and feeds it to the loudspeaker. The classic two- or three-way woofer/midrange/tweeter design contains shortcomings, because the mass relationship is wrong when compared to the recorded source [eg, a violin string]. I realized [that] simply using a transducer built from lightweight materials—beryllium, for example—[wasn't] going to change much of anything. We needed to devise entirely new methods of designing loudspeakers. One example is our patented polycell array, used in the Impact Monitor. We show these methods in the patent, and we show how overtones and harmonics lumped up into a resultant wave are subtly diminished and damped when the transducer has a mass higher than the original source [eg, again, a violin string]. The Impact Monitor is simply an expression of how I believe loudspeakers can be improved upon."
I told Alexander how I imagined that every loudspeaker cabinet is like a piano's soundboard: Regardless of how thick or thin, heavy or light, braced or unbraced, it will contribute to the overall tone of a loudspeaker.
"The Impact Monitor cabinet material is high-quality MDF," replied. "We use MDF over other materials because it is CNC machinable, sounds great when used correctly, and keeps the speaker affordable. It is no secret Tekton Design hangs its hat on affordable hi-fi. We have incorporated several internal construction techniques—including cross-bracing—to ensure [that] the speaker has a solid overall foundation and a rigid launching surface for the nine transducers."
Which left one question that only I could answer: Would the Tekton Design Impact Monitor play my recordings as well as it played the ones I heard at RMAF 2017?
Setup
Tekton's Impact Monitor is just under two cubic feet in volume, but right out of the box, sitting on Sound Anchor stands, the pair of them filled my 1400-cubic-foot room like much bigger speakers. They made copious bass with force and power. Unfortunately, that bass was bloated and boomy.
Hoping to eliminate that bloat and bloom, I moved them farther and farther out into the room, until the rear ports were 38" from the front wall. This pretty much cured the boom, but my room is only 11' deep—having the speakers more than a yard from the wall put my ears about 6' from the speakers' baffles. Where I discovered that, unlike my assorted LS3/5a variants, Tekton's big boxes aren't really suited for nearfield listening. The closer I sat to the speakers, the less focused the aural images were; the farther away, the more whole the sound became.