TAVES 2014: Part 1
The Sheraton Center Hotel, venue of the 2014 Toronto Audio Video Entertainment Show (TAVES), represents a marked change from the genteel elegance of the King Edward Hotel, the TAVES venue for the past two years. Built in 1972 in a modern style, the Sheraton offers a lot more space—it also sports one of the most confusing show layouts that I've encountered. There are long corridors leading who-knows-where, and stairs going up and down that may or may not lead to exhibit areas. TAVES did its best to make things easy to find, with signs and with TAVES staff being as helpful as possible, but on the couple of occasions that I asked a TAVES staff member for directions to a specific exhibit, they had to ask another staff member for help. Some exhibitors with multiple rooms complained that their rooms were not adjacent, even being located on different floors. The layout of the King Edward was much easier to navigate.
The upside was that the rooms themselves generally allowed the exhibitors to produce good sound (at least as far as hotels go), and the Sheraton is accessible to the underground PATH system of walkways, which allows easy access to a lot of stores and restaurants without having to go outside. And, again, the Sheraton gives TAVES greater potential for growth.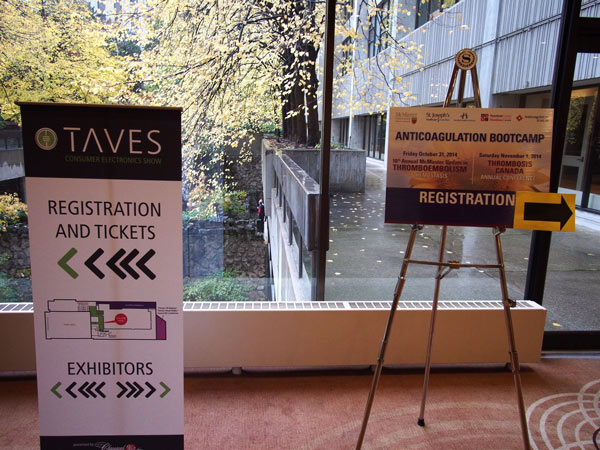 The Sheraton is a big hotel, with a number of events taking place at the same time as TAVES, including the ever-popular Anticoagulation Bootcamp. I wonder if any would-be attendees of the Bootcamp ended up at TAVES—or vice versa.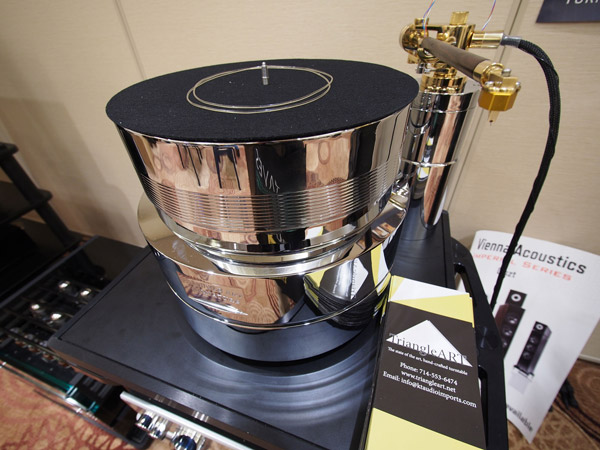 Angie Lisi—owner of retail stores American Sound, Angie's Audio Corner, the new Annex Clearance Center, and the distribution company, Audio Pathways—can usually be relied on to have some interesting products and personalities at shows. She did not disappoint at TAVES 2014. New products included the TriAngleArt Signature SE turntable ($19,000), shown here with the 12" Osiris tonearm. The optional crystal digital controller is $2,500.
Among the visiting audio dignitaries that Angie brought to TAVES was Bruce Ball, whose resume can be communicated more simply by listing the companies he has not worked for. His new company, Questyle, has a kind of wireless-audio-in-a-suitcase, with a wireless transmitter, receiver (proprietary technology, operating at 5.8GHz), controller, and 200Wpc amps, the whole collection fitted in an aluminum suitcase. Each component costs $999. All you need to make music is a source and speakers.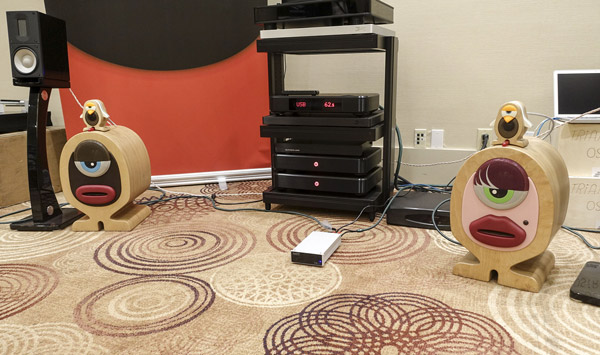 On Sunday, the last day of the show, I had only about an hour to make quick rounds and retake some photos that hadn't turned out as well as I wanted. Then Adrienne Surtees, Angie Lisi's assistant, saw me and invited me to come to their Angie's World of Audio room to check out a product that they had delayed showing until the last day.
The product turned out to be a speaker, made in Italy by a company called Vario, that I can best describe as "whimsical." Each channel has its own name: left is Vincent, right is Lola. Putting aside the whimsy, the technology is quite serious, with high quality drivers and a solid, inert cabinet. The tweeter has a sliding mounting system that allows it to be moved back-and-forth, optimizing time alignment. With the speakers on the floor, I couldn't tell much about the sound, but it seemed promising. Alas, the price is a not-so-whimsical $6000/pair.
Angie Lisi (above left) and her assistant, Adrienne Surtees (right). Yes, it was Halloween.
With their preamp and power amplifier models well established in the marketplace, Bryston has turned their attention to their digital products. The latest such product is the Bryston Optical Transport (BOT-1), which adds CD ripping and playback when connected to the Bryston Digital Player (BDP). "No Computer Necessary," says the product literature, which I think is great. Price hasn't been determined yet, but I'm told it's going to be less than $1000. I've included a pair of Grado headphones in the photo just to show how compact the BOT-1 is.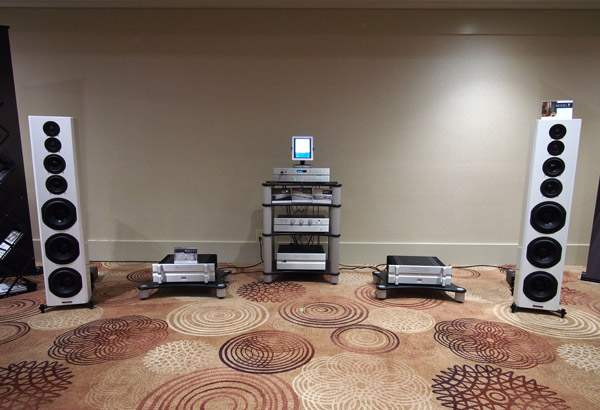 Bryston can now present a complete system (lacking only a turntable), the one being demoed featuring the Model T Signature speakers ($7400/pair), the same as the system at the last Montreal show, other than using 7B monoblocks rather than 28Bs, and with the same lively, dynamic sound and excellent imaging.
Have you heard of Meridian? No not the UK's Meridian, founded by Bob Stuart, expert in all matters digital, but Meridian Organic Amber Lager, produced by the Mill St. Brewery, and available at TAVES. No connection with the British audio company that I know of.
The other Meridian was represented at TAVES as well. This system featured the DSP7200 ($20,000/pair), a relatively modest-sized speaker that is said to perform at a level close to the bigger speakers in this series, but suitable for a smaller room.
The most expensive system demoed at TAVES was probably the one featuring the Naim Statement amplifier and Focal Stella Utopia speakers. The price of the system was just under $400k!
Was it the best sound at the show, as, arguably, at that price it should be? As I said in the sidebar to my review of the Focal Aria 936 review in Stereophile's November issue, judgements of sound quality under show conditions are problematic for a variety of reasons. The system sounded very good indeed—and, strangely enough, it sounded better to me when I was near the back of the room and off-center rather than in the front-and-center "sweet spot." (Maybe that central listening position was too close.)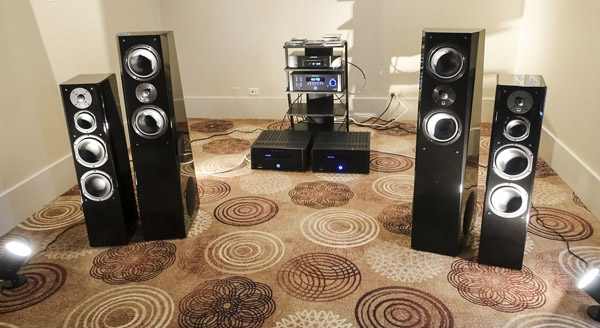 At the opposite end of the price range for speakers with audiophile aspirations are the ones from SVS. At $2000/pair, the Ultra Tower offers an impressive amount of technology. They were paired at TAVES with Emotiva electronics, another value-for-money make.
LPs! Get your cheap LPs here! I can't resist a bargain, and if I were into buying used LPs (I'm not; I just listen to the ones I already have) the boxes of LPs priced at $10 each would have been tempting. I liked the unpretentious white boxes and hand-written signs.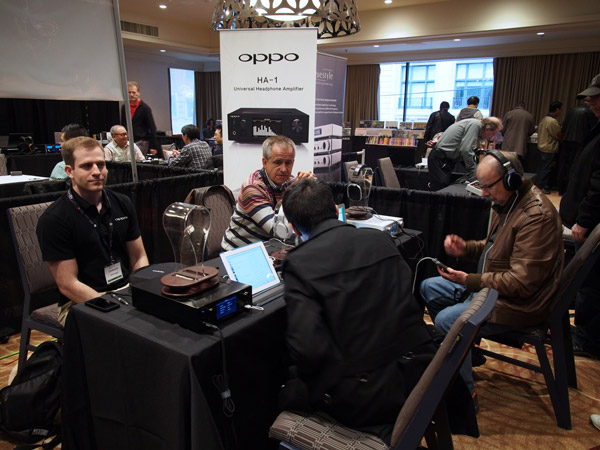 Headphones have turned into a major product category, and shows like TAVES provide a good opportunity to compare them—unlike the case for speakers, which are so dependent on room acoustics. TAVES had a good amount of space devoted to headphones, and this was one of the busiest parts of the show.
Speaking of headphones—and phono cartridges—Canadian distribution of the highly regarded Grado line has been taken over from Michel Girard (who retired recently) by Sarah Tremblay and Stephan Ritch, both familiar figures on the Canadian audio scene.
The machine you see in the picture is called a "three wire braider," and it's the original machine used by Kimber to make the PBJ cable—and it's still being used for that purpose.