T+A MP 3100 HV SACD player/streaming DAC Page 2
Absent a Windows 10 source, the best I could achieve with DSD data was DSD128 via DoP. The MP 3100 HV is Roon Tested, which means that Roon keeps a device on-hand and tests it to ensure it is utilized as well as possible. In my tests, Roon down-converted higher-rate DSD data to DSD128 and then delivered it to the T+A over DoP. (Say that five times fast.) When DSD data came in via the Ethernet jack, Roon converted it to PCM (footnote 2).
For those seeking the best possible high-rez performance, especially via an Ethernet connection, T+A offers a high-performance Network Audio Adapter (NAA)—but only on its HV-series DAC-preamp and standalone DAC. But to make that work, the system constraints are even greater: To get all the performance the NAA is capable of, you need a dedicated gigabit network—independent of your regular home network—and, as a source, a computer powerful enough to run HQ Player and run it well.
On the PCM side, the MP 3100 HV uses four Burr-Brown PCM1795 converter chips—four DACs per channel in a double-differential configuration, in what T+A calls its "quadruple converter" configuration, which averages out nonlinearities to minimize conversion error.
Why Burr-Brown? "Early in the process, our engineers became very close to the design team at Burr-Brown (now part of Texas Instruments)," Shannon wrote in an email—this one, I think, from Hong Kong. "This relationship was very fruitful, as it allowed T+A engineers to use the most critical functions of the Burr Brown devices while bypassing those functions that we knew could be more effectively performed in our high-speed oversampling filter designs. This partnership has allowed us to continue using each new generation of Burr Brown devices with optimum linearity and resolution, while combined with our own continuously improved techniques for very high-speed oversampling and 32-bit digital decoding depth in our most recent digital products."
The MP 3100 HV can accept PCM inputs up to 384kHz and 32 bits via USB. It's limited to 24/192 when receiving data by Ethernet and most of the other digital inputs. The max sample rate via the optical connections is 96kHz—pretty typical for high-end DACs, in my experience. The transport plays CDs and SACDs, two-channel only of course.
What about vibrations and signal conditioning? On the signal-conditioning side, start with the dual power supplies. "The digital and analog power supplies are completely separate, each housed in its own physically isolated compartment on each side of the MP 3100," Shannon wrote. "Those supplies have no point of contact at any point in the design, with very serious galvanic isolation between the fully separate digital and analog sides of the circuit boards. By further isolating the power using separate paths to the AC source, we have eliminated any potential for the digital power supply to influence or generate noise in the analog components of the device. As in all T+A products, both digital and analog power supplies are further regulated very carefully at each point of connection to the active circuits, with multiple-bypass regulation to ensure the purest possible power is delivered to each internal circuit."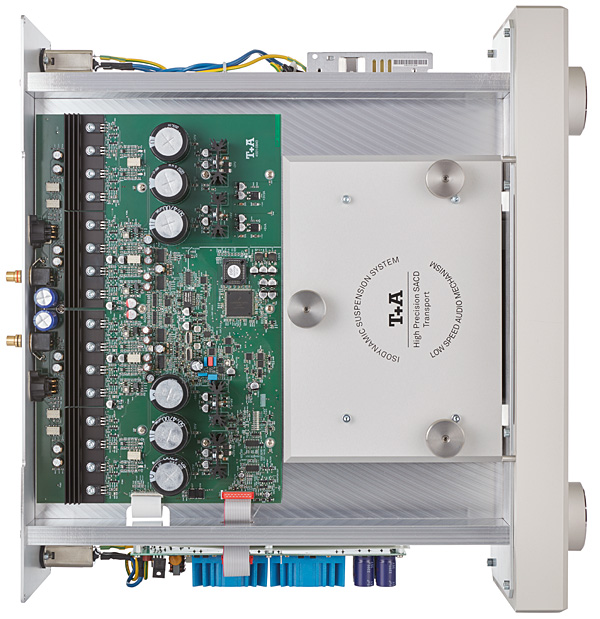 That still leaves the possibility that noise from the world's many noise sources—especially computers and wireless networks—could pollute the pristine power inside the box either via the data connections or radiatively. T+A considers each possible point and mechanism of entry. "The entry points are many," Shannon said. "We must isolate the AES/EBU, S/PDIF, USB, and Ethernet inputs from any and all noise they may be carrying along with the digital audio signal. For each of the above electrical inputs, T+A has designed individual galvanic isolation systems for each input that allow no noise from the source component from passing into the digital receiver section. The galvanic isolation is designed with no limits to bandwidth or other factors that might change the content, phase, or timing of incoming signals, while completely preventing computer or grounds-borne noise from entering the product." Airborne noise sources "are very carefully isolated by the serious attention to RF shielding in T+A components. This means that source-borne noise and airborne noise are virtually eliminated from contaminating the digital audio signals entering T+A gear."
The MP 3100 HV's packaging—the way the case is built—impacts both electrical and mechanical isolation. "The entire chassis is similarly designed for isolation from the environment. . . . Each part of the design is encased in its own sub-chassis of very substantial machined aluminum. This provides physical isolation from the other internal components as well as very serious shielding from external RF or other airborne sources of potential noise and interference. The massive weight of the complete design means that small vibrations from the environment are filtered from entry into the chassis, meaning they have minimal effect on the internal components, and the feet are designed to further isolate the entire chassis from the world outside."
For transport vibrations, the MP 3100 HV has "a very complete system of isolation for the [transport] mechanism we designed, beginning with a very stable three-point support system within the chassis that isolates the mechanism from the other critical components within the MP 3100," Shannon wrote from somewhere in Asia. "This is important in two ways—isolating the mechanism from external vibration allows the spinning discs to be read with greater precision, lowering the need for error correction. Less error correction means greater accuracy of the decoding process."
I'm skeptical that error-correction enters in, except perhaps in damaged discs or in very hostile environments, but I do believe that noise can cause timing issues—call it jitter.
"In similar fashion, isolating the spinning disc and laser assembly keeps vibrations in the disc playback components from causing vibrations in the critical DAC circuits," Shannon wrote. "Noise and vibration from any spinning disc can vibrate circuits that are responsible for decoding the signal, make the D/A conversion process less accurate, so the benefits from very serious disc isolation allow both more accurate disc playback and more accurate D/A conversion."
What do you expect from a high-end source component? To me it seems reasonable to expect a device that dots all the i's and crosses all the t's, on the assumption that every imperfection can disturb the sound. Leave as little as possible to chance.
You also want analog circuitry that's powerful and sturdy—which takes us back to T+A's "HV" technology, its output stages operating at higher-than-usual voltages. It seems to me that this, too, would minimize the influence of noise.
One more thing you might want from a high-end source component: for it to work with all your music sources. And of course you want it to sound superb.
In use
The sophistication of the MP 3100 HV's design is apparent as soon as you start trying to use it. It's versatile but not difficult to use.
The front panel features two prominent knobs, labeled "Source" and "Select," and eight touch-sensitive buttons. Apart from a display, the only front-panel feature (except for a nearly invisible transport drawer) is an easy-to-access USB type-A connector, which makes it easy to play tunes from a flash drive: a nice feature at an audio show, or when your audiophile buddies bring flash drives full of tunes for a listening session. (Just make sure the drives are formatted in a supported format. The list covers most of the important formats, but it does not include exFAT, which is quite common, or any of the Mac-specific formats.)
Plug in both power cords, touch the first touch-sensitive button on the left—it's the only one visible before you turn the power on—and you're off. The MP 3100 HV begins its startup sequence, which takes between a couple of seconds and a few seconds.
Turning the "Source" knob in either direction reveals the many input possibilities: Roon, Internet Radio, Podcasts, Disc, FM Radio, DAB Radio, USB DAC, Bluetooth, Optical-In 1 and 2, Coaxial-In, AES/EBU-In, UPnP/ DLNA, Deezer, Qobuz, Tidal, and USB Media. There's also Wi-Fi (aka "WLAN") and two BNC connections, but these were disabled by default in the review sample. (It's easy to re-enable them.)
---
Footnote 2: Roon will send native DSD over Ethernet if the device allows it. By the way, none of this is problematic, but potential buyers should be aware.