SVS SB-3000 powered subwoofer Using an External Crossover
Sidebar 2: Using the SVS SB-3000 with an External Crossover
During these tests, the high-pass filter of my JL Audio CR-1 crossover was set to 70Hz, 24dB/octave (Quads) or to 50Hz, 24dB/octave (KEFs). Alternatively, I set the CR-1's high-pass filter down to 20Hz to allow the LS50s to run full range with SB-3000 reinforcement. For all satellite setups, the SB-3000's filter remained at 70Hz, 24dB/octave and its built-in room compensation filter was set to 25Hz, 24dB/octave to reduce room overload.
For all measurements, I used the SPL Meter module of Studio Six Digital's AudioTools (version 10.5.6), A-weighting on, plus that company's iTestMic microphone for the iPhone. I matched the outputs of the satellites and subs by turning off the subs, playing a recording of uncorrelated pink noise, and setting (via my preamp's remote) the satellite's output, run full range, to 75dB SPL at my listening chair. I then turned off the satellite speakers and adjusted (using the SVS subwoofer control app) the sub's output level to –15 so its output on bass peaks was 75dB SPL.
I used AudioTools' Fast Fourier Transform function to measure the in-room response with uncorrelated pink noise by setting it to 1/6 octave, 1-second delay, flat frequency response plot, low frequency range (10Hz–3kHz), no peak tracking, averaging mode, and log frequency scale. I averaged five room responses across a 2' horizontal window at the level of my ears sitting in my listening chair. As before, the in-room response revealed a –7dB null centered around 60Hz, which was reduced when I set both low-pass and high-pass crossover filters to 80Hz. I saw minimal changes in the FFT graphs of the null or in my listening experiences, so all test measurements were done with the specific high-pass filter crossover settings listed above.
Fig.1 shows the in-room response of the Quad ESL-989s run full range, high-pass filter bypassed (blue trace), superimposed on the plot of the Quad 989s plus SB-3000 subs, all filters on and set as described above (orange trace).
Fig.2 shows the in-room response of the KEF LS50s run full range, alone (orange trace), superimposed on the plot of the KEF's full-range output combined with the SB-3000, all filters on (blue trace).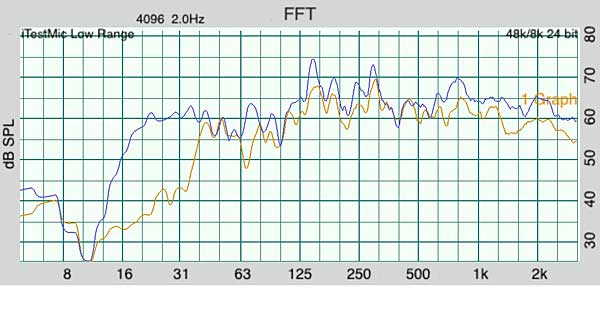 For both the Quads and KEF satellite speakers, the SB-3000 extends their flat frequency response from their normal –3dB rolloff frequency (80Hz and 60Hz, respectively) down to 16Hz, ±3dB. This is an impressively flat, deep bass room response for two 13" subwoofers.—Larry Greenhill