SVS SB-3000 powered subwoofer Page 2
Once SVS's free subwoofer control app was downloaded from iTunes, installed on my iPhone 6, and its Bluetooth functions switched on, the control app quickly found both SB-3000s and paired with them. The app enabled me to adjust all subwoofer control functions from my listening chair. Measurements were made and graphed with another smartphone app, the SPL Meter function in Studio Six Digital's AudioTools (version 10.5.6), in conjunction with the company's iTestMic microphone.
Optimally positioning the SB-3000 subs in my room was critical for attaining smooth integration of its output with that of the Quads. Usually I position each sub behind each Quad panel in the two front corners of the room, but this setup overloaded my small, square listening room. I then moved each SB-3000 subwoofer into opposite corners of the room, as advised in the SVS manual, with positive results, including excellent blending of subs and satellite speakers, consistent bass down to extremely low frequencies, and no room overload.
To fine-tune the distances of the subs from their corners, I played "Cosmo, Old Friend" from James Horner's film score for Sneakers (CD, Columbia CK 53146) through each, one at a time. I used this track's endlessly repeating bass drum beat to adjust phase and optimal distance from the room's corners. I also used the lowest frequency bands of the 1/3-octave warble tones on Editor's Choice (CD, Stereophile STPH016-2, track 21) to check the subwoofers' low-frequency extension. I could clearly hear the 40, 35, and 25Hz bands; I couldn't be sure I heard the 20Hz band, but I felt it as a pressure on my chest.
Listening
The SB-3000 blended well with both satellite speaker systems with minimal effort. I knew from the first listen to Lyle Lovett's vocals on "Friend of the Devil," from Deadicated: A Tribute to the Grateful Dead (CD, Arista DCD-8669), that the sound balance was good: His vocals were natural and focused, with no honk or chestiness.
After that, I listened to my favorite recordings, many of which have been listed in this magazine's Records to Die For. Most of them sounded better than ever.
The one new CD in my collection that caught my attention was Hans Zimmer and James Newton Howard's film score for The Dark Knight (CD, Warner Sunset/Warner Brothers 9362049860-0). The album's "Why So Serious" track had spectacular dynamic range with the twin SB-3000s activated: Its whisper-level opening of a faint, scratchy 294Hz note morphed into a loud, crashing but undistorted heavy-metal segment, followed by a silence punctuated with ticking clock sounds and brutally loud 31Hz jackhammer synth notes, finishing with a concussive meld of these synth pulses mixed with heavy metal chords at top volume. The SB-3000 plus Quad or KEF played the synth full tilt, without evident distortion or overload, producing a mesmerizing, high-impact, crushing experience. The album's next selection, "I'm Not a Hero," featured a sustained, massive 24.9Hz synth note that seemed to suck all the air out of the room. My notes state that the "bass is like a wall and there is constant pressure." Only then did I begin to believe my room response measurements for the combination of SB-3000 and Quads: relatively flat from 200Hz down to 16Hz, ±3dB (see sidebar).
While the SB-3000 enhanced the LS50s' dynamic range and deep bass extension, it created a seamless bond with the Quads on pipe organ recordings. It was as if I heard, for the first time, the weight, pressure, and full force of pedal chords from the 32' pipes in the Gnomus selection from Jean Guillou's recording of his own transcription for pipe organ of Mussorgsky's Pictures at an Exhibition (CD, Dorian DOR-90117), the sustained pedal chords rattling window blinds and the glass in all the picture frames, too many for me to dampen.
A similar transformation was heard during the fourth movement of Mendelssohn's Organ Sonata in F, performed by Thomas Murray (CD, Raven OAR-390).
Not only was the bass massive, powerful, and weighty, but microdetails of bass instruments also became more apparent. I heard subtle details in the bass drum head—muffled but solid—that underpins the chorus and soloist in the Kyrie of Ariel Ramirez's Misa Criolla, conducted by José Luis Ocejo (CD, Philips 420 955-2). Similarly, the large conga drum that opens "Hotel California," from the Eagles' Hell Freezes Over (CD, Geffen GEFD-24725), sounded appropriately muffled but massive. The bass drum in Stravinsky's The Rite of Spring, performed by the Minnesota Orchestra under Eiji Oue (24/176 file, Reference HRx-70), was heavy, punchy, fast, sharply defined, and harmonically correct, with stop-on-a-dime control.
Comparisons and considerations
I compared setup effort for the pair of SVS SB-3000s with that of the less expensive, smaller MartinLogan Dynamo 800X subwoofers ($799.95 each) that were in my listening room when the SB-3000s arrived. These two products have been the only subs I've reviewed using the JL Audio CR-1 crossover and Quad ESL-989s in my new California listening room. Both subs offer optional wireless connectivity, are compact, cost less than $1000 each, and weigh less than 60lb—all characteristics that make them suitable for stereo subwoofering.
Lengthy listening sessions suggested that the SB-3000s, placed in diagonal corners, were quicker to set up and sounded better with the Quad ESL-989s than with the MartinLogans. Because I was not able to try the 800Xes in the diagonal corners, or try to blend them with the KEF LS50s, I am hesitant to draw any final conclusions about which pair of subs might be better for other rooms or other satellite speakers. Within those limitations, the SB-3000s showed better pitch definition, greater dynamic range, and did a better job of covering the audio spectrum below 80Hz evenly in my room. Be aware, however, that each SB-3000 is larger, 25lb heavier, and costs $200 more per subwoofer than the MartinLogan Dynamo 800X.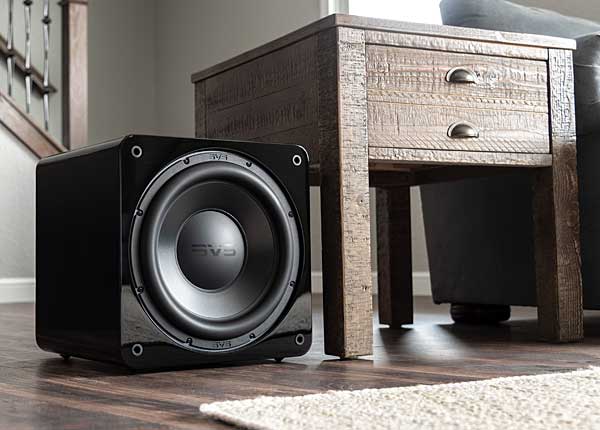 Conclusions
I was unprepared for the fun I had reviewing this subwoofer. Coupled with both the ESL-989s and LS50s, twin SB-3000s delivered solid bass down to 16Hz in my small listening room—I still don't quite believe it—without bloat or overload.
Its bargain-basement price explains why the SB-3000 lacks a front panel display, XLR input/output jacks, trigger on/off connectors, free calibration microphones, automatic room adjustments, and white gloves. Instead, one gets (at $119 per sub extra) wireless connectivity, which saves on interconnect costs and removes a barrier to experimenting with different room locations. The SB-3000's pitch-perfect room-pressurizing bass, small size, low weight, rugged construction, and reliable smartphone app make it an outstanding choice for small to moderate-sized rooms. New lows in reference subwoofer performance, indeed!