Suffering and Celebration in Glorious SACD Sound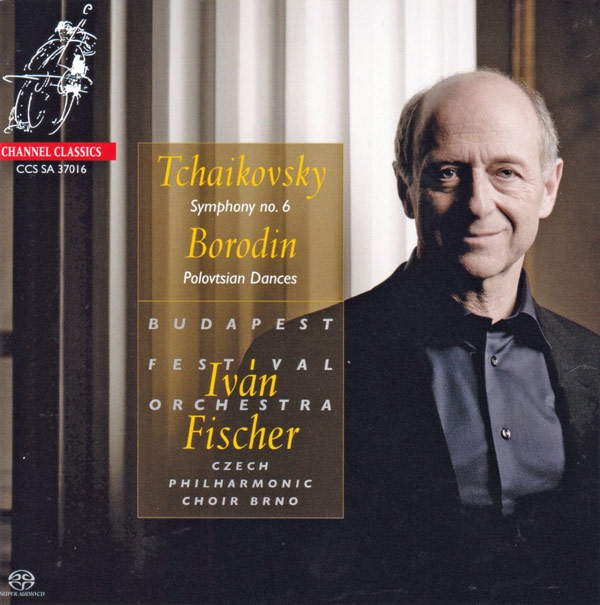 Not having listened to Tchaikovsky's Symphony No.6, aka the "Pathétique," in quite some time, I had forgotten how heart-tugging beautiful it is. While there are many recordings of the work, few can possibly sound as good
and
feel as right as the new hybrid
SACD from Channel Classics
with Iván Fischer conducting the Budapest Festival Orchestra. Due out October 7, when it will also be available for download in high-resolution format from nativedsd.com, the recording also enlists the fine Brno Czech Philharmonic Choir for its atmospheric pairing, Borodin's
Polovtsian Dances
.
Tchaikovsky seems to have been at the end of his rope when, on October 28, 1883, he walked onto the stage in Saint Petersburg to introduce what was destined to be his final symphony. Just nine days later, he was dead of cholera. To this day, it remains unclear if, when he drank a fatal glass of unboiled water in front of his brother and nephew in the midst of a cholera epidemic—"I am not afraid of cholera," he declared before downing the glass—he did so with the hope that it would kill him. Nor do we know with certainty if his possible death wish was connected to his shame around his homosexual relationship with his young nephew.
What is certain, however, is that the "Pathétique" is filled with such overwhelming sorrow and dread as to lead one to despair for Tchaikovsky's societally-induced suffering. Within the first few bars of the symphony, expectations are set by its dramatically dark tone. After a number of vividly painted contrasts, the first achingly beautiful theme emerges. Fischer's pacing is so beautiful—the slowing down at first movement's end is perfectly judged—the strings so silken, and the expression so searing that it's virtually impossible to remain moved.
Perhaps because Tchaikovsky was not playing by the rules in his personal life, he may have attempted to compensate by ceding to audience expectations in the next two movements. He certainly strikes a far different tone in his graceful and lyrical second movement dance. The third movement seems equally out of context, save for its ominous, quasi-militaristic percussive rumblings.
With the final movement, however, comes a major and seemingly irreversible return to despair. The symphony ends, not with a bang, but with a trailed-off, tragic whimper. Given the beauty of the musicianship, the effect is deeply moving.
For Borodin's very different, splendiferous dances, my observations must strike a personal note. I first became familiar with some of the themes in the Polovtsian Dances from Prince Igor in high school, when I appeared in a production of Robert Wright and George Forrest's Kismet. Some of that musical's most famous songs, eg, "Stranger in Paradise," were lifted wholesale from Borodin.
Later on, when I lived in the Bay Area for 42 years, I had the misfortune to discover that classical radio station KDFC was prone to programing the work with dismaying regularity. There is no way to tire of a tuneful classical work quicker than to hear it over and over again on a crappy car radio while crossing the Bay Bridge in rush hour traffic.
How surprising, therefore, to discover the deeply seductive and energizing nature of Fischer's performance. The recording, set down in Budapest in January 2014 by Hein Dekker and Jared Sacks, is immensely atmospheric, with luxurious color surges, splendid percussion, and impressive depth. Even the chorus sounds vibrant rather than hackneyed. With expectations of another dreary romp through Igor Land soundly defeated, I ended up celebrating Borodin's upbeat contrast to Tchaikovsky's despair.