Steve Earle: A hardcore troubadour celebrates Jerry Jeff Walker Page 2
Mettler:
Is there one track on
Jerry Jeff
that's the benchmark for you in terms of how it sounds?
Earle: Well, duh, "Mr. Bojangles"! [Laughs.] That was the one I had to just not fuck up! (footnote 4) That song is so important. I played it at the Opry. I looked up halfway through, and every cell phone light in the balcony was lit. By the time I finished it, every light in the house was lit, so I think it went over well.
I talked with Susan (footnote 5) about this. I said, "All I know about this record so far is I have to cut 'Mr. Bojangles,' and I'm not gonna pussy out on it. I'm going to open with 'Gettin' By,' and I'll ask for your permission to change the lyrics and the verses."
She said, "Yeah, he always seemed to change words in the verses. I knew that." All I knew was I wanted to open with "Gettin' By" and close it with "Old Road." I think it works really well. That's the way I wrote Guitar Town. I wrote "Guitar Town" first, and "Down the Road" last.
"Gettin' By" always killed me, so I wanted to do a really good job on that one. I tightened up the arrangement a little bit. I made the chorus only happen twice, just to get it moving along. I wanted to keep the story together. My band did "Gettin' By" on their own. The Texans in my band—which is like three-fifths of it—they grew up on it, so that arrangement is pretty much the Lost Gonzo Band's arrangement, vocally and all (footnote 6).
"Hill Country Rain" is one I'm really proud of, and that's the one I didn't sing before, because I never could figure out that weird fucking guitar change! Lloyd Maines told me what it was, because he was Jerry Jeff's bandleader for the last several years of his life. He showed me the tuning, and we went from there.
Mettler: That reminds me of that one line in "Gypsy Songman"—"This song is what you need," as in, "We're going to play what you need."
Earle: Yeah, the full line is, "If the blues is all you see / This song is what you need." And that's what it says on Jerry Jeff's tombstone: "Jerry Jeff Walker, Gypsy Songman," so that song had to be there (footnote 7).
Mettler: I feel like "Gypsy Songman" should be on your passport, listed under what your occupation is.
Earle: That's like Bill Monroe. The first time Bill Monroe was going through customs in England, they said, "Name?" "Bill Monroe." Then they said, "Occupation?" "Well, I'm the father of bluegrass music." [Laughs heartily.]
Mettler: What would your tombstone say?
Earle: I don't know. I just think I'm a songwriter. I'm a singer and a songwriter, and being a songwriter is home base. I do a lot of other things, but they all inform that—and that's what makes me a better songwriter.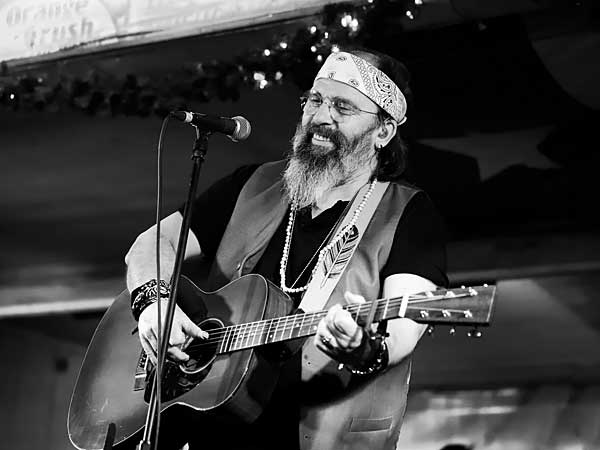 Mettler: That also makes you a better interpreter, because, as a songwriter, you know how to inhabit both character and concept.
Earle: I'm better at inhabiting characters because I started doing some acting. I think I'm better performing these songs than I was, because my songs are all characters speaking to you. They come from my viewpoint, but they're not all me. Well, all the songs are about me when it gets right down to it, but not all the characters are me. I've learned to inhabit those characters better than I did before, since David Simon decided I was an actor.
Mettler: True, and when you're called "Walon" on a certain show of his (footnote 8), I feel like we're really watching you, Steve.
Earle: Yeah, and they had to spell it Walon, because Waylon [Jennings] himself had it patented with a y, and you couldn't use it. And then Harley Watt, my character in Treme, I got to name myself. He's named after a character in one of my short stories.
Mettler: I also think when you're inhabiting characters, you take on different subtle natures of tone in your voice when you're singing certain words ...
Earle: [interjects] Absolutely!
Mettler: Like in "Wheel," the way that you extend the word "room" is something else. Is that a conscious decision, or do you just know how to do something like that?
Earle: I think I've decided on a character when I start singing it. The character in that song to me is very much Jerry Jeff, 'cause I'm emulating him, and that's a very personal song for him. But he and I never had a conversation about it. As I was recording, it was really something I really regretted, not asking Jerry Jeff about that song (footnote 9).
Mettler: Since you mentioned how important the Stones are to you musically, tell me about your dinner with Andrew Loog Oldham (footnote 10).
Earle: I told him the Flowers era was my favorite period of Stones stuff, when they were competing with the Beatles and they knew it. They were writing incredible songs, and it was just healthy for everybody involved. And he said, "Check this out." When the Stones went to Virgin for distributing Rolling Stones Records, he said, in the way as only he could, "Some 20-something with a cell phone called Allen Klein and said, 'Hey, we're putting together a Stones box set to celebrate their signing with Virgin, and we wondered if you'd lease us a couple of tracks so we can fill ours out.' And Klein goes, 'Oh, really? Well, let's see. I've got "Get Off My Cloud." I've got "(I Can't Get No) Satisfaction." I've got "You Can't Always Get What You Want." I've got "Ruby Tuesday." And you've got "Angie"—that's a pretty good song. Why don't you lease me a couple of tracks, and I'll put out a box set.' And then he hung up." [Both laugh heartily.]
Mettler: I love that story! But now I'm thinking of a song like "The Devil's Right Hand," from Copperhead Road, a song I know you still play live. Does that one feel like it's steeped in 2022, or is it more like the world is always going to be that way?
Earle: It's always going to be that way, but the song is about trying to own up to the fact I was fucking around with this dangerous thing that had become a hobby of mine. I kind of leave it alone when I'm describing that song now, since I've been playing it a lot because of all that's been going on.
It's just one of those weird things, but it's better the audience is attached to the song because it's on Copperhead Road. I wrote it before that album came out. There's an earlier recording of it—I don't think it's available anymore, but they called it Early Tracks (footnote 11). It was for a record I made for Epic they didn't release. I wrote it in '77, and I'll never forget it. It's just one of those things I think is best just to leave it out there. The audience is attached to it, the same reason they're attached to Copperhead Road. I think it does more good that way, knowing I don't have to beat somebody over the head with it. Just let them hear those words and be attached to that story. It took a while for it to work on me, and I wrote the fucking thing!
Mettler: That's the thing about songs. Some of them just need a few years to grow or evolve into how you perform them.
Earle: It's like, you can sing things you can't say. I think that's one of the best things about my songs.
Mettler: That's what maybe goes on your tombstone, then: "I sang things I couldn't say." That might have to be it.
Earle: Yeah. Or something. I'm also okay with the song "Copperhead Road" surviving me. I play that song every day. The thing about it is, I'm telling somebody else's story in it, and I think I'm doing it as successfully as I ever did it. It's not me. I don't think like the person that's singing it. And it's a mistake to think I do, but I'm giving that person a voice. That's just the way it works—that's immortality, one way or the other (footnote 12).
---
Footnote 4: Jerry Jeff Walker is perhaps best known for writing "Mr. Bojangles," the title track to his first solo album, which was released in 1968. Two years later, the Nitty Gritty Dirt Band's version, from their album
Uncle Charlie and His Dog Teddy
, would rise to #9 on the
Billboard
Hot 100 chart. Bob Dylan would record it three years later for his album
Dylan
, and—perhaps most famously—it became a signature tune for Sammy Davis, Jr., who sang it for Richard Nixon at the White House, in 1973, at the president's request.
Footnote 5: Jerry Jeff's widow, Susan Streit Walker.
Footnote 6: The "Lost Gonzo" version appears on Jerry Jeff Walker's seminal live November 1973 release, ¡Viva Terlingua!. I'm not from Texas and I'm rarely in London, but I find that, with enough bourbon, "London Homesick Blues" translates well for a southerner who has lived in the north almost his whole life. I own seven copies of that album, on vinyl, and I've been known to pull it out on a Friday or Saturday night after drinking a little too much (or just enough), occasionally accompanying Jerry Jeff with enthusiasm if not well. I named ¡Viva Terlingua! one of my Records to Die For in 2017.—Jim Austin
Footnote 7: Walker is buried in the Texas State Cemetery, in Austin. "Gypsy Songman" is the opening track on Walker's 1987 album of the same name. It is also the title of his 1999 autobiography.
Footnote 8: Earle played Walon in The Wire.
Footnote 9: "Wheel" can be heard on ¡Viva Terlingua!.
Footnote 10: The Rolling Stones' notorious manager and producer, from 1963–67.
Footnote 11: Early Tracks is out of print, but it's quite easy to find on CD or LP, and used copies in VG+ or better condition are cheap.
Footnote 12: An earlier interview with Steve Earle was published in Stereophile in June 2011. Earle's album Train a Comin' was our Recording of the Month in June 1995 and his album The Hard Way was a joint Recording of the Month in October 1990.