Steve Earle: Hardcore Troubador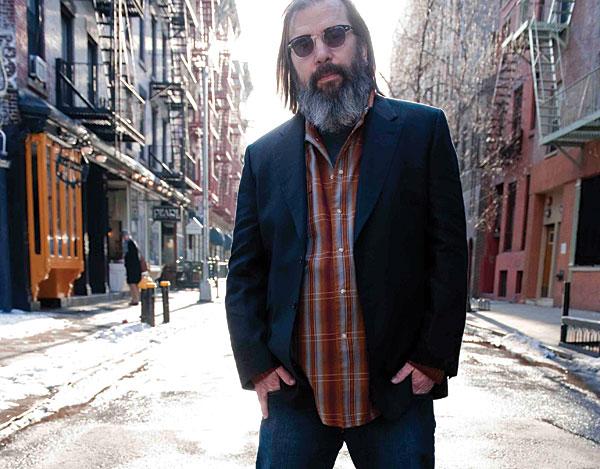 To write about music, you must first come to terms with your fanboy urges. You must brush off the fairy dust and see your heroes for who they really are—a picture that in many cases is all too human. Yet that first blush of idolatry is an experience you never quite forget, no matter how many times you interview a person.
There was a time, back in the St. Elmo's Fire 1980s, when Steve Earle's first album, Guitar Town, was an object of abject slobbery for a generation of rock critics. Turning a near-mint LP copy of that album over in his hands, Earle begins to reminisce about a record that changed Nashville and country-rock music and, for many, remains his undisputed career masterpiece.
"It was a war to get that on the back," he says, looking at the lyrics printed on the LP jacket. "[MCA] wanted to put them on the [inner] sleeves, which would have meant that they would have been gone after the first few thousand records. This was my first war with a record label."
Asked if that 1985 album seems to him, today, to have come from another world, Earle nods. "It does. I did this benefit [recently] where we went and played with as many of the players [from the album] as we could get together. Emory Gordy didn't show up, which pissed me off. We did it for a benefit in Nashville, but I really regretted doing it, though, 'cause it really seemed like . . . you know . . . I was immediately louder than this . . . as soon as we were out playing. I like this record, but it's a digital record from the ground up. It's a DDD record, and it sounds like it. I'm not ashamed of it, but . . . part of it is my own fault. I took these people's money under false pretenses . . . people decided I was part of something . . . new traditionalists or whatever the fuck. But I've always been a folksinger."
A folksinger and, in the 25 years since Guitar Town, an actor, playwright, short-story writer, marriage aficionado, novelist, antiwar activist, West Village enthusiast, and, at the age of 56, once again a new father. And, oh yeah, he's made a clutch of albums whose original material is . . . well, unforgettable. Okay, some fanboys never really get over it.
In jeans and T-shirt and clutching a Diet Dr. Pepper, Earle galumphs into the conference room at the offices of his management company, Gold Village Entertainment, on Madison Avenue in Manhattan. His long, wise-man beard, grown for the Walon character in the HBO series The Wire, has since become a permanent if not controversial part of his look. One glance at the unruly beard and comb-over, and the bright-eyed young rock star clad in a snappy western suit who appeared in the ads for Guitar Town does seem like a lifetime ago. Yet the beard adds needed gravitas to the many ventures Earle has dabbled in since getting sober 16 years ago. On April 26, 2011, he'll conjure the ghost of the Lonesome Stranger, Hank Williams, with the worldwide release of I'll Never Get Out of This World Alive, an album that takes as its name the title of prophetic tune Williams wrote late in his career. On May 12, 2011, a book of the same title, Earle's first novel, will be published. Earle began work on this addition to the canon of the Great American Novel after the publication of Doghouse Roses (2001), his collection of short stories. And although Earle's considerable fame flung open doors closed to most first-time novelists, he still has twinges of first-book jitters.
"I think the point of it all is, everybody's seeing the same things in this book, but not everybody's seeing the same thing."
Called "a ballad of regret and redemption" by fellow Texan singer-songwriter Robert Earl Keen (being famous also helps when it comes to soliciting those ol' celebrity book-jacket blurbs), the novel is set in San Antonio, Texas, in 1963, and tells the story of a dissolute doctor who was, at least initially, based on a mysterious figure who's part of the unknowable circumstances of Hank Williams's death in the back seat of a Cadillac convertible somewhere near Oak Hill, West Virginia, on New Year's Day, 1953.