Like a Sports Car for Your Head: The Audeze SINE and Cipher Lightning Cable
This story originally appeared at InnerFidelity.com
Audeze SINE ($449, $499 w/Lightning cable)
On-Ear sealed headphones are in a bit of a "bastard child" headphone category. They exist mainly for the convenience of small size for portable use, and no self-respecting headphone enthusiast thinks this is a category that promises great sound. Well...the Audeze SINE might just change all that. This is a really cool headphone.
My first thought upon opening the box was, "Man, this is a sexy little headphone! It's like a sports car for your head." This should come as no surprise since the industrial design was done by Designworks, a BMW Group company. Vrooom!
Audeze SINE build quality is top notch. The headband and ear capsule coverings are leather. Adjustment arms, gimbals, and capsule housings are all black anodized aluminum. Earpads apear to be protein leather—a perfectly legitimate alternative to real leather, it seems to me. (Head-Fi thread here.) The only plastic to be seen from the outside is the adjustment slider fittings at the end of the headband, and the cable.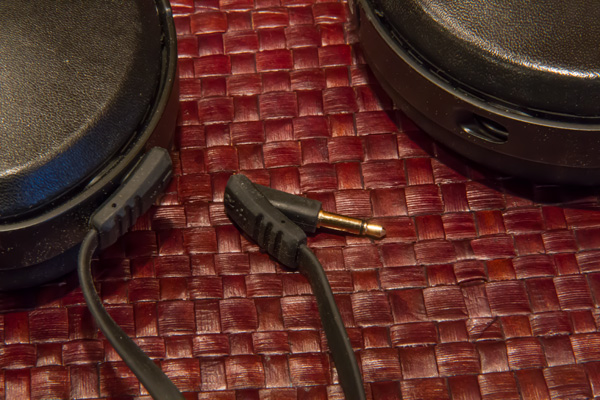 Speaking of cables, I found the SINE cable and optional Cipher Lightning cable very nice indeed. The cable itself is flat and covered in a nice pliant synthetic material. The angled 3.5mm mono plugs slide into recessed pockets and are virtually impossible to pull out accidentally. The design ensures the jacks inside the headphones are protected from undue strain. The angled connector also ensures the cables exit the headphones in a proper direction over the shoulders.
The 3.5mm TRS plug at the player end is a slender straight connector that should easily fit in through any protective case on your phone or player. Though I'd prefer a 45 degree angled connector, the one provided is flexible in the last 1/3rd of it's length providing some strain relief.
The optionally available Cipher cable ($499 w/headphones) will permit connections to Apple iOS devices with a Lightning connector. The cable's electronics module includes DSP, DAC, amplifier, and Siri compatible microphone, and is powered from the Apple device. The Cipher cable internally up-samples all incoming digital signals to 24-bit word size. iOS devices are inherently limited to 24/48 resolutions.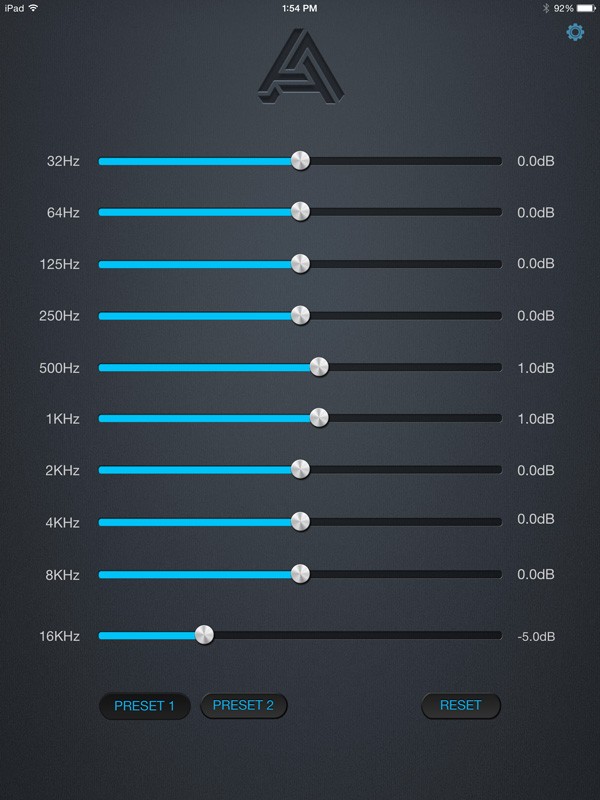 The DSP in the Lightning cable is used to provide some ability to EQ the SINE headphones. It has a built in +3dB bass boost to conform more closely to the Harman target response, but it also has a companion app that provides you with a basic 10-band graphic equalizer. Once you've EQed the SINEs, the curve is stored inside the Cipher cable, which will remember the EQ even if attached to a different phone. The app also allows you to do firmware updates to the Cipher cable. More info about the Cipher cable is available on Audeze's Cipher Guide.
Also included with purchase is a 3.5mm to 1/4" adapter and a simple fabric carry case. The only thing I have any complaint with in terms of the build quality of this product is the carry bag. I really think a headphone at this price would warrant an included had-side case. Fortunately, the $39 EL8 case can accomodate the SINE as well, so a relatively inexpensive solution is near at hand.
I find the ergonomics of the SINE quite good for an on-ear headphone. Sealed, on-ear headphones are rarely comfortable; having your ears squished against you head just can't be comfortable in the long run. Initially, the SINE caliper pressure on my ears was a bit too much. The good news is that if you grab the headband at either end—not the ear cups or extender arms—you can stretch out the internal spring steel part fairly readily. Do it carefully in a few steps as it's harder to squish it tighter than stretch it out.
Once nicely snug on my head, I found the fit of the SINE very stable; absolutely no problems with it wiggling about while walking or working in the garage. My acid test for a headphone with a secure fit is to rise up from a pillow. Most headphones will become dislodged or move around; the SINE for me was stable and I didn't have to touch them for repositioning at all. This is an excellent characteristic for a portable headphone.
Isolation is about average for a headphone of this type. They really won't do the trick for New Yorkers on the subway or for air travel—noise cancelers or IEMs are the way to go there. But for every day walking around the city cans they're just about right. I think a little bleed-though of outside information is a good thing so you have a better chance of hearing traffic.
All-in-all, and apart from the lack of an included hard-side case, I felt the SINE is one of the best constructed, stylish, and ergonomically suitable on-ear headphones I've experienced. This headphone category is littered with "little brother" headphones—V-Moda XS to M-100; Sennheiser Urbanite and Momentum on-ears to their respective full-sized cans; Beats Solo2 to Studio—and I always get the feeling that sealed, on-ear headphones is a junior varsity category touting their small size and low cost, but never really breaking into the quality of performance that the senior full-sized headphones have. The SINE changes all that: this is a headphone built to play in the big leagues that just happens to be small. I really dig these cans physically.
Now, let's have a listen to how they sound.