Spectral X-Contamination: Problems in Op-Amp Chips Page 2
Conventional acoustic and audio knowledge has little enough to say about the sonic effects of harmonics when they're gross (
ie
, 50% to 0.5% of the fundamental). At lower levels, almost nothing is documented, and extrapolation of the high-level effects would seem presumptuous. I have witnessed experiments in which the effects of introducing at below –95dB a spray of harmonics, including the seventh, ninth, and eleventh, by loading-down an IC op-amp, are: a) perfectly audible, but b) perceived more as a dulling loss of detail and air than as dissonant in the usual sense of "anti-melodic" or "gritty." There is much yet to discover.
Spectral X-Contamination
When I looked at crosstalk with the spectral-analysis test setup, the results were surprising: Unlike everyday capacitive leakage, in which high frequencies dominate (see a typical channel-separation plot in a Stereophile amplifier or preamplifier review), the crosstalk spectra were generally higher in level at stimulus frequencies below 1kHz. I therefore chose to use a 50Hz test tone as being the frequency of lowest stimulus that would provide easily identifiable integer harmonics while also allowing reasonable resolution. This is because the goodness of the AP test set's 3Hz selectivity disintegrates progressively with reducing frequency; eg, 3Hz is nicely selective relative to a 1kHz fundamental, but gets to be much wider down at 10Hz.
For easy identification in the results for individual op-amps (figs.5–22), the harmonics all fall halfway between the vertical grid lines. The generally leftmost spikes at 100Hz show the second harmonic, those at 150Hz the third, etc. The harmonics seen in the crosstalk spectra had no relation to those previously logged (in more ordinary spectral tests) at the ch.1 output, nor to the AP generator's own residue.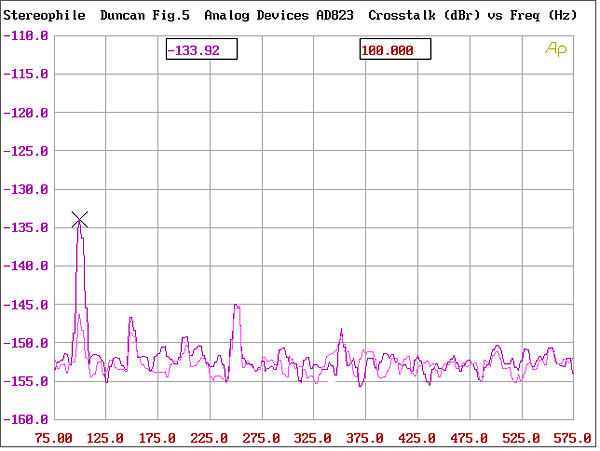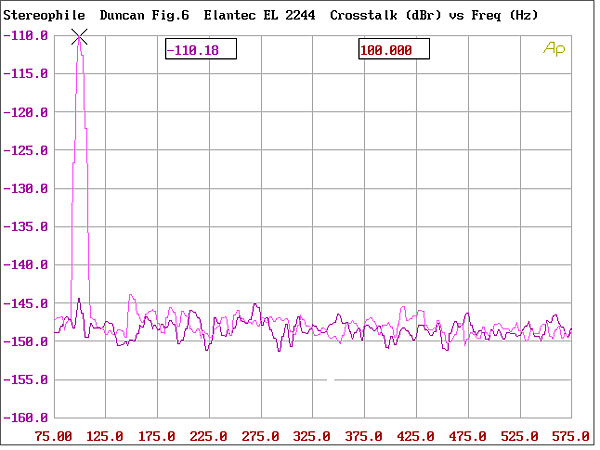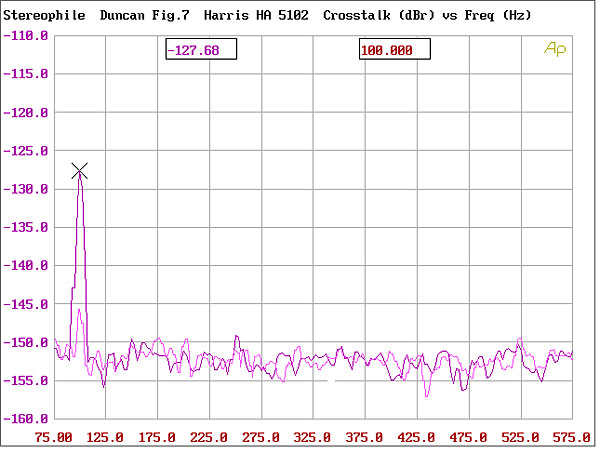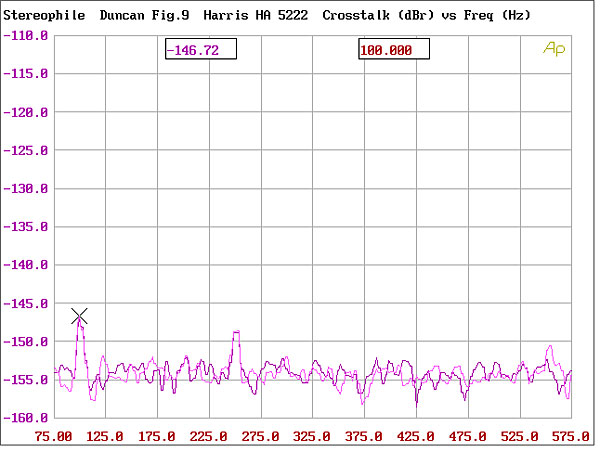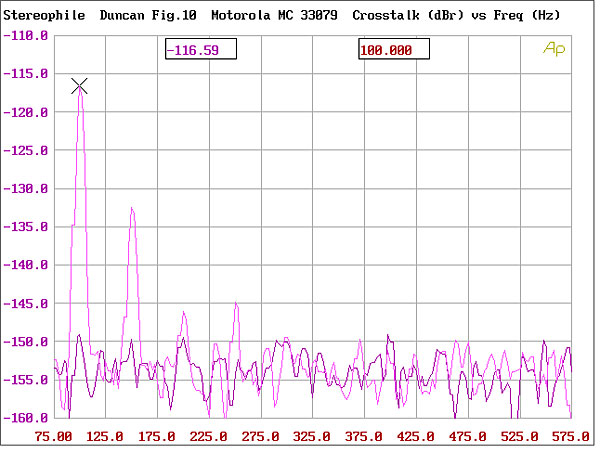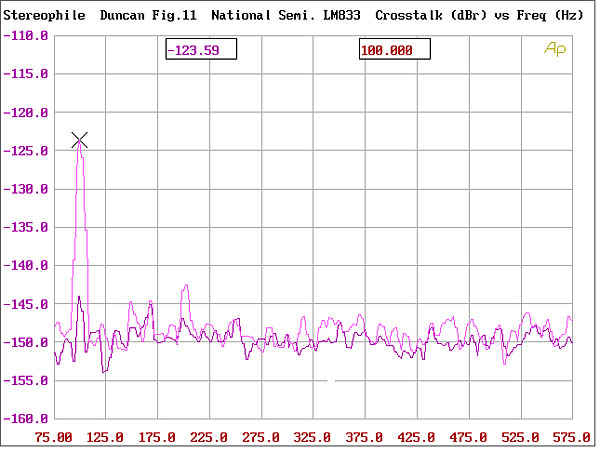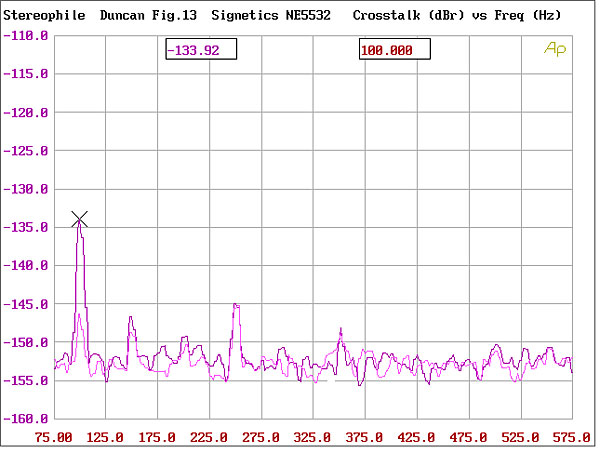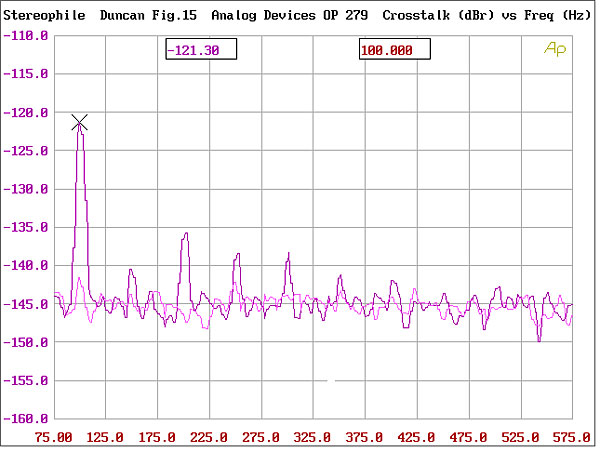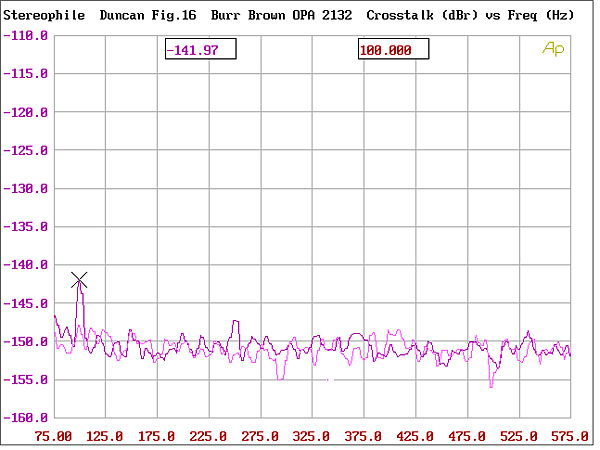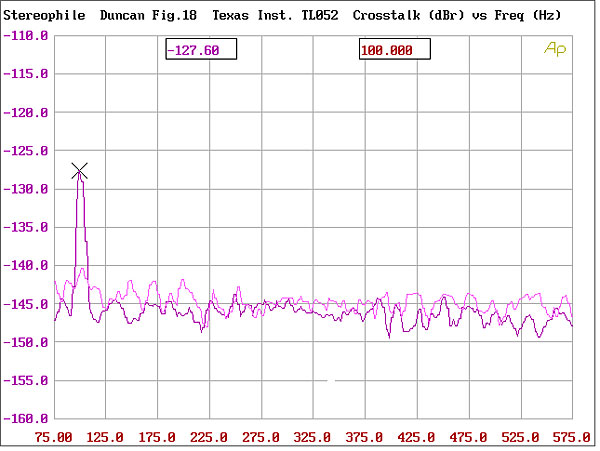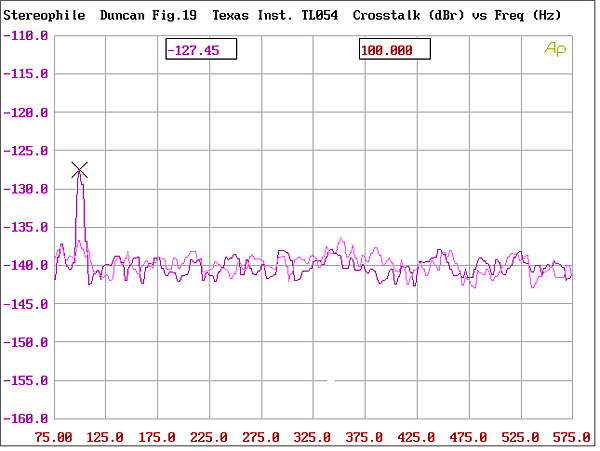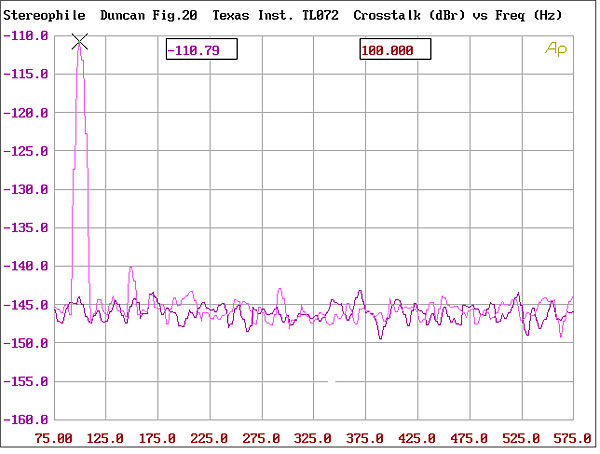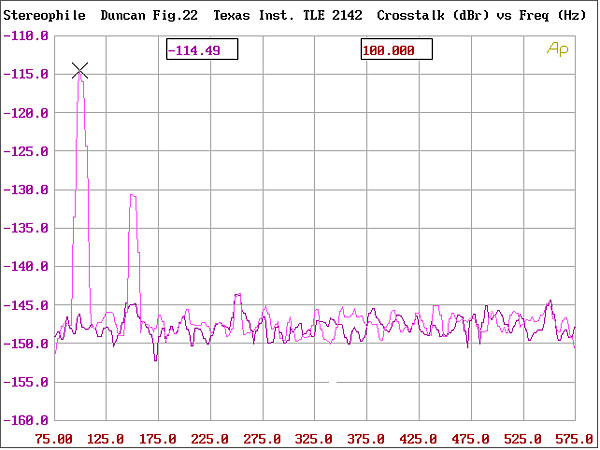 In the plots, spectral components that lie below –145dB, or one part per 20 million, are ignored in the captions. "Low" means "below –145dB," "Dom" means "dominant harmonic." In each case, "4k" means with just the 4.3k feedback resistor loading, while "600" means with an overall 600 ohm load. Remember, what's seen is not the op-amp channel own spectra, but harmonic contamination from a channel that might be doing another job altogether.
I was surprised to see that nearly all the ICs showed a predominant second-harmonic spike. However, the crosstalk harmonic spectra of Motorola's MC 33079 (fig.10) and the Texas TLE2142 (fig.22) differ from most in having a large third harmonic alongside the second with the harsher, 600 ohm load. Note also the distinct fifth harmonic, which appears even in the lightly loaded "4k" condition.
With a dual chip, there are only two channels to crossfeed to one another. However, the test permutations are rather greater with quad ICs. For simplicity, only a quad's ch.1 was driven, and only ch.3 was sensed—the one diametrically opposed to ch.1 on the package. This delivered two surprises: the continuing occurrence of a strong second harmonic; and, in a rather old TL074 sample (fig.21), while noise is rather high, there are no discernible spectra, leading to the conclusion that there are at least two wholly separate chips inside. As a quad die costs far less to produce, the TL074 probably isn't made this way any longer. This shows that, just as with tubes, long-lived IC models of a given type, even from the same maker, can perform and sound quite different over a period of years as their production "evolves."
Thermal Modulation
Derek Bowers, an IC designer who has designed some of the world's best-sounding audio ICs for SSM, PMI, and AD in the US, agreed with my impression that Stereophile readers are among the first in the world to clearly see, in figs.5–22, the effects of "thermal modulation," aka "thermal distortion," in IC op-amp chips. The existence of this as an unconventional mechanism in solid-state audio sonics, whether for good or ill, has been strongly denied by Hard-Line Objectivists, who cite the convenient absence of measured proof. One HLO even performed futile tests with inadequate equipment to "prove" the nonexistence of thermal modulation.
Yet, in listening tests, good audio designers have picked parts that were later discovered to be more thermally stable. And in order to make ICs used for purposes even more demanding of speed and settling times than audio, IC makers have not only had to learn to control and minimize thermal distortion, but have also had to learn to recognize four different kinds, according to their widely varying timescales. The longest-lived of these thermal distortions would explain the benefit of warming up solid-state gear over hours—yet another effect that perceptive users notice and that HLOs ridicule.
How can such tiny results matter?
Hard-Line Objectivists will claim that the tiny levels being measured are utterly insignificant alongside, say, the grosser distortions of loudspeakers. This assessment, too, is too simplistic. The size of something, enumerated in one dimension alone, does not necessarily describe its potency. Homeopathy, biological warfare, holography, and military intelligence, to name but a few, are fields in which exceedingly small amounts of an active constituent can act very powerfully for good or ill. Just so, signals below the floor of various flavors of noise and distortions picked up on the way are by no means automatically masked or made inaudible.
The audio masking theory on which the development of data-reduction codec is based is not the last word, in my opinion. Consider how someone using a noisy lawnmower will still be able to hear their name being distantly called; or how Morse code is still preferred for some jobs because, unlike comms-grade telephony, it can be heard from beneath 20dB or more of static and hash.
First, we should ask whether we are measuring the right things to best describe what we hear. We might not be able to change a test method overnight, but the "weak" measurement of a quite audible effect can then be understood. Most audio measurements are acknowledged by those who listen and test to be of only marginal musical relevance; while better than nothing, it is only a fraction of what we might measure. The late Richard Heyser anticipated the dimensions of audio testing in his essays of a quarter century ago [15,16,17,18]. The equally masterful late David Bohm's "theory of everything"—Implicate Order [4]—explains neatly how it is possible for human senses to perceive effects that are almost too slight to identify within the current dimensions of measurement.
This is particularly true of audio. Bohm wrote, "In listening to music, one is...directly perceiving...an implicate order." In a sense, he means music transmits or permits higher-dimensional events to be played out in our everyday "3 (space) +1 (time) dimensional manifold." Anyone who's experienced musical reproduction that seemed to create a space that was "more real" than ordinary reality will know this.
Second, the effect of the spectral breakthrough becomes more significant than simple noise breakthrough when the channel being contaminated is passing a signal that's either that of another music channel, or a same-channel signal that's later or earlier in the process. When considered in the context of the music signal, the added second harmonic content is almost wholly benign, at least in itself. But having this phantom, pitch-doubled signal (one way to think of the second harmonic!) leak into a later or earlier stage of an amplifier—RIAA phono equalization, for example—and with random phase changes, would seem to risk causing peculiar sonic effects.
Brave Conclusions
With good playback equipment, my experience suggests that you can clearly hear harmonics below –95dB changing in just one IC of the hundred preceding it in the total record-replay chain (see sidebar, "Acid Tests for Musically Refined Electronics"). The measurements presented in this article surely demonstrate, therefore, that the use of almost any one of today's dual and quad op-amps (let alone those of yesterday that are still in use) in any high-quality musical signal path must at best add another layer of unnecessary chaos or dithery noise. At worse, we're talking about serious grunge. Could this be a cause of some of the nastiness that afflicts so many modern recordings?
The only dual op-amps of those tested that would appear to be acceptable for large-scale use in music recording and high-end reproduction paths would appear to be some made by Harris (fig.9) and Burr-Brown (footnote 5) (figs.16 and 17).
If these dark ages of audio reproduction are at some future date recognized as such, we can be sure that the arrogance of some large makers of pro-audio recording equipment ("audio quality is longer an issue"), and the collateral damage their cheapskate engineering (footnote 6) has done to musicians in the past 28 years, might be a cause for regret for more musically aware future generations. The lesson for high-end audio and the recording-equipment industry, if it ever wakes, is that we must make our own parts, or at least learn to trust no one to look after audio interests.
Acknowledgments
The author is indebted to Russ Andrews and audio professionals Tony Andrews, David Cole, Lawrence Dickie, Neil Grant, and John Newsham for their helpful input on listening and higher audio perceptions; and to David Heaton of Audio Synthesis, who helped make the testing possible.
---
Footnote 5: A small, well-loved, dedicated US analog IC maker, bought out in September 2000 by Texas Instruments.
Footnote 6: Every time an engineer specifies a dual IC of the NE5532/TL072 ilk, he saves about 20 cents in parts, making an end-user price savings of typically $400 (0.15%) in a $250,000 premium recording console. Savings in space are more difficult to quantify. But if the recording industry could grasp the concept of minimal signal paths, then the PCB real estate needed to use the better-sounding single-channel ICs might be less costly.