Sony, UMG, NARAS's P&E Wing, and Capitol Studios Present DEG Hi-Res Symposium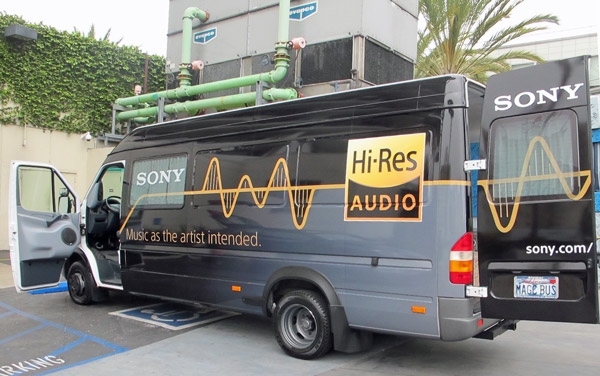 At a Hi-Res Symposium presented by The Digital Entertainment Group (DEG) on June 1 in Capitol's legendary Studio A in Hollywood, representatives from record labels, Sony, Capitol Studios, and The Recording Academy's Producers and Engineers wing discussed the future of high-resolution digital audio.
DEG Senior Director Marc Finer opened the presentation with a short welcome and an outline of the morning's agenda followed by a short from the heart speech by Blue Note President Don Was titled "The Importance of Hi-Res Music." Was outlined his emotional connection to and the importance in his life of Wayne Shorter's 1966 Blue Note release Speak No Evil, which he heard first on vinyl.
Was talked about his becoming president of Blue Note and his oversight of the high-resolution digitization of the storied Blue Note catalog, that including consultations with legendary recording and mastering engineer Rudy Van Gelder.
Marc Finer followed with an industry overview that included many surprising statistics based on CTA (Consumer Technology Association) conducted research that, among other things, indicated that "90% of consumers cited sound quality as most important." and that "more than 60% were willing to pay more for better sound."
The research demonstrated that listeners can be divided into four basic groups: "disinterest consumers" (9% who have no interest in music), "low tech listeners" (44% who listen to music as background while going about life's everyday tasks), "emotional music lovers" (32% for whom music is very important and who care about sound but who haven't made a serious connection or commitment to experiencing it at home) and "high tech audiophiles" (15% who have invested in some kind of high-performance audio system and are committed listeners).
Each was represented with a photograph (the low tech listener, for instance was a woman preparing a salad). For some reason the "high tech audiophile" image was of a young man, not sitting in front of a high performance audio system, but rather playing an acoustic guitar.
The research broke down consumers into two groups: those who were "need-based" (cost conscious) as opposed to those who were "desire based" (performance conscious).
When asked about the most important attribute of a paid music streaming service, 39% cited "control; Pure on-Demand" as opposed to curated type services, while 11% cited "Sound quality as good as the recording studio" and another 11% cited "Work wirelessly in my car."
Another post-research breakdown divided Hi-Res customers into two groups: one called "LISTENing" and the other called "HEARing". The former self-identified as "Music Enthusiast" interested in an "enjoyable experience," while defining good audio as sounding like "Going to a concert." The "HEARing" group consisted of self-described "audiophiles" looking for "Clear, crisp sound" who defined good audio as sounding like "Being in the studio".
A slide showed Hi-Res audio product manufacturers including AudioQuest, Ayre, dCS, Marantz, Esoteric, Audioengine, Chord, TEAC, Sony, etc.
Sony's Senior Content Trainer JP Torres presented an overview of Sony's Hi-Res products that were on display in the studio, including Hi-Res "Walkman" type portable players, an automobile "head unit" and a few others.
A panel discussion followed, titled "The Prospects For Hi-Res Music" and moderated by Finer, with panelists Nate Albert (Executive VP, A&R Capitol Records), Jim Belcher (VP, Technology & Production, Universal Music Group), and Maureen Droney (Managing Director, The Recording Academy P&E Wing (Producers and Engineers).
The discussion touched upon what labels were doing to insure that new productions are recorded in hi-res, and how catalog was being preserved at 192kHz and 24-bit resolution.
The upshot of the discussion was that the labels know archiving must be at the highest possible resolution and that new recordings should be produced at a 24-bit resolution regardless of the sampling rate, but that it too should be at least 48kHz. Also mentioned frequently was the importance of the vinyl resurgence to consumer interest in better sound.
After a "coffee break" at which guests were offered "studio quality" coffee with powdered creamer and a box of Dunkin' Donuts (I know the labels are hurting, but jeez . . . ) the attendees were broken down into three groups to partake in three experiences: product stations in the studio where Sony employees demoed the various Hi-Res Sony products, a listening session in Sony's Hi-Res traveling van packed with a state of the art car system that took up all but the front two seats, and a studio session in the Studio A control room where Capitol Audio engineer Steve Genewick (above) compared a vinyl transfer of a vintage mono Frank Sinatra tune with an early CD version ("when we removed hiss along with much of the music"), and then with a later CD version ("during the loudness wars"), and finally the latest 24/192 transfer.
When I asked what turntable, cartridge and phono preamp was used for the transfer, Genewick couldn't answer. It probably was nothing special, yet it still sounded better than both CD versions but not as good as the 24/192 file, which had more bass than I'd ever heard from that particular track and sounded 'bumped' in the bass, though Genewick insisted it was a flat transfer.
I made clear to UMG's Belcher that I felt purchasers of both hi-resolution files and vinyl were entitled to know the source used to produce the files and/or vinyl, the resolution of the files in the case of digital masters, who mastered and where, and in the case of vinyl, where the records were pressed. He agreed those were important and that UMG at least, was committed to provided as much metadata as possible to produce as complete as possible experience.
As someone who fought to save vinyl, criticized CD resolution as inadequate (for both listening and especially for archiving purposes), the Hi-Res Syposium was music to my ears and vindication for decades' worth of lobbying and agitating.
The record labels are listening. Are the consumers? Only time will tell, but meanwhile, for those who care about sound quality, these are the best of times.